Equate Advanced Recovery Skin Care Lotion, 24.5 Oz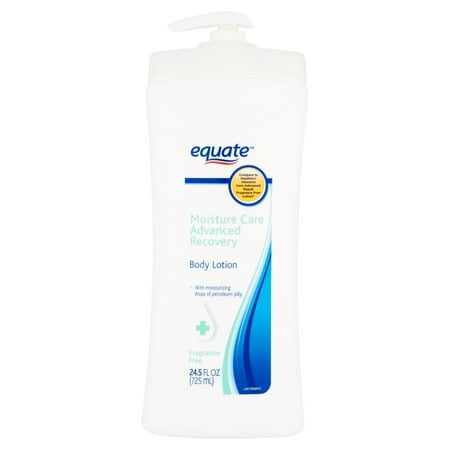 Sale :

$3.42

Sold & shipped by Walmart
Product Description

Additional Information

Reviews
Product Description
Equate Advanced Recovery Skin Care Lotion helps add moisture as soon as it is applied and provides therapeutic hydration. This fragrance-free, hypoallergenic formula is ideal for sensitive skin. When skin loses its moisture, it can become flaky and rough. Equate Advanced Recovery Skin Care Lotion helps nourish skin with what it needs for a healthier look and a softer touch.
Additional Information

Equate Advanced Recovery Skin Care Lotion:
Combines 3 different moisturizing ingredients to help relieve, hydrate and soften dry skin
Hypoallergenic
Fragrance-free lotion
Helps soothe severely dry skin
Ideal for sensitive skin
For a healthier look and touchable soft skin
Contains glycerin and other ingredients to attract and lock in moisture
With petroleum jelly
Use daily all over body or target dry spots
Reviews
Matra27
Sure fire remedy for dry skin.
Went to Walmart to buy Vaseline Intensive Recovery Body Lotion for a chronic Winter dry legs. Quiet embarassed to wear shorts because of the cracked, white & dry brown legs. At times it used to itch. No medical condition per se, but a definite embarassment. Wanted to give my legs to some one else. I found this right next to Vaseline IR Lotion. Wanted to give it a try. As far as the product, within my socks encased feet and lower limbs - were moist and supple 8 hours after using it. My palms were nice and glowing - after probably 45 handshakes in a party. At no point did I get the feeling that it was blocking my skin from breathing. At the checkout - I found a black lady having the very same bottle. However, there were plenty of Vaseline, but only 1 Equate Recovery Skin Lotion. I guess this best kept secret - how do you account for only 4 reviews. People are buying it and shelves are empty of it. Thank you Walmart for this inexpensive but hugely effective product for dry skin.
AV2009
Excellent Lotion for Rough/Dry/Ashy Skin!
Recently, my dog was sick which required frequent cleaning and hand washing. After foolishly using liquid Softsoap several times for almost week, my usually very soft hands were wrecked! They became EXTREMELY rough and dry. Not too long ago, I received a travel size bottle of the Vaseline Intensive Care Advanced Repair Fragrance Free lotion in my seasonal Walmart Beauty Box. It seemed to help, so I headed to my nearest store - Kroger - to check out prices for a larger bottle. It was about $7 or $8 for only a few more ounces than I already had. Crazy! A new Walmart Neighborhood Market just opened in my town, so I stopped by (I've never shopped in a Neighborhood Market before) to check it out. I was THRILLED to find this comparable Equate product in a 10 ounce bottle for $0.97. I'm happy to report that after a few days of using the Equate Moisture Care Advanced Recovery Fragrance Free Body Lotion, my hands are now back to normal! What a lifesaver!!! I have adopted this product as my daily moisturizer. Big thumbs up to the Equate brand and to Walmart for offering excellent "store brand" products that are not only far more affordable, but also usually better quality!!!
USCGRetired
Love it! Not tested on animals either1
I have very dry, itching skin this time of year due to air conditioning, and humidity outside. I've used Aveeno skin cream, which I like, but is super expensive. This isn't, plus unlike Aveeno, it isn't tested on animals, which is a plus for this animal lover. This cream makes the skin silky soft and smooths out wrinkles from the dry skin. It is a bit greasy when you first put it on, but once it dries, you don't even know you're wearing it. I would highly recommend this to anyone in search of a skin cream for soft, silky smooth skin.
lovebeer2
Love it! Not tested on animals either1
nice thick lotion feel great on skin
OASWFL
Excellent quality
We use this in our physical therapy department, it is smoothe and works very well. The fact that it is hypoallergenic is very important to us as we see a wide variety of patients.