Equate Beauty Makeup Remover Cleansing Towelettes, 40 Ct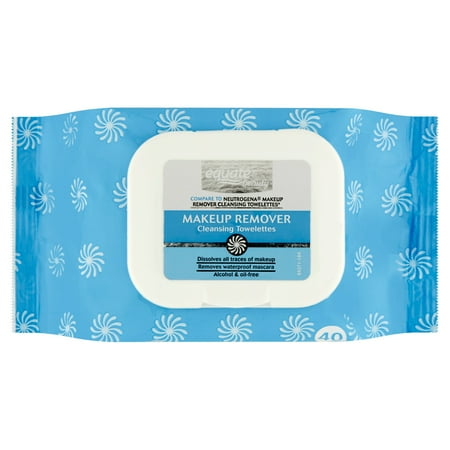 Sale :

$3.48

Sold & shipped by Walmart
Product Description

Additional Information

Reviews
Product Description
Use Equate Beauty Makeup Remover Cleansing Towelettes daily to clean and refresh skin in one simple step. They leave skin clean and residue free--no rinsing needed.
Additional Information

Equate Beauty Makeup Remover Cleansing Towelettes, 40 Count:
Dissolves all traces of makeup
Removes waterproof mascara
Alcohol-free facial wipes are also oil-free
Dermatologist, ophthalmologist and allergy tested
Safe for use around eye area and for contact lens wearers
Suitable for delicate skin
Pre-moistened towelettes
Use daily to clean and refresh skin in one simple step
Leaves skin clean and residue-free
No rinsing needed
40 count pack
Compare to Neutrogena makeup remover cleansing towelettes*
Will not dry out skin
*This product is not manufactured by or distributed by Neutrogena, the owner of the registered trademark Neutrogena Makeup Remover towelettes.
Reviews
Katrina
DO NOT BUY! BURNS BAD!!!!!!
These are honestly THE worst wipes EVER! I would give a 0 star if I could. I was so excited to purchase these because it says, "compare to Neutrogena".... these don't even come close to how nice Neutrogena's are. I tried these because it's more wiped for less. I am poor and was excited. But it's NOT WORTH IT! I am so protective about my health and these wipes BURN LIKE CRAZY IN MY EYEBALLS. I will NEVER purchase these again! I will spend the extra couple dollars for Neutrogena makeup removing wipes because they're gentle on my eyes. I have a 50% chance of going blind when I am older and I'm afraid these uped my chances. I DO NOT RECOMMEND UNLESS YOU WISH FOR YOUR EYES TO BURN! I am gentle on my eyes and I cant Express enough how bad these are.
Amber
Never again
I picked these wipes up because they were out of the neutrogena wipes I normally buy. The generic usually is somewhat comparable so I figured I'd give it a shot. Worst decision ever it did remove my make up and I didn't appear to have a ton of difficulty more difficultly tha my normal wipes. However when I woke up my eyes were red and patchy and HUGE so swollen and painful. The first time this happened I didn't attribute it to the wipes thought it was irritated from the hot tub I was in the night before. Until this morning when it happened again2 weeks later. Mind you I haven't used them since, I haven't wore make up and purchased all new to make sure it wasn't my makeup that caused the reaction. Surely enough used them last night and woke up with a giant swollen and red patchy eye
Stef
SPEND THE EXTRA CASH ON BETTER QUALITY
If I could rate this zero stars, I would. I started using these wipes a couple years ago around 2016 and it was such a huge mistake. The first couples months, it was alright and didn't do anything to my skin. Then, over time my skin started to become really irritated and red and I couldn't think of what was causing it. I thought I was allergic to something in my makeup so I stopped wearing it and my skin started clearing up, but then I would wear it and poof my face was red the next day after using the makeup wipes. I was frustrated because I thought I had some sort of skin disease because I would use the wipes when my face would get oily even though I had no makeup on. Finally, after seeing a Facebook post of someones face after using these wipes, I FLIPPED OUT. I was so in shock that I didn't make the connection between how these wipes were affecting my face. Do not buy these! just spend the extra money to get good quality products because you'll spend even more money trying to repair the damage.
LincsMomma
Burned my face
I bought these wipes a few days ago because I use waterproof mascara and like to take it off before bed. The package says it removes eye makeup even waterproof mascara and is alcohol and oil free. I thought that was great because my skin will dry out easily with products with alcohol in them. The first night I used it, I noticed it was difficult to get the makeup off. The second night I used it, while I was rubbing it into my eye, I did notice it felt a little raw, but thought it was because I was rubbing a little harder than the night before because it didn't work as well. The third morning I woke up with HUGE SWOLLEN EYES and MY SKIN WAS IRRITATED to the point of being raw around my eyes. I can barely smile, it hurts to move my cheeks, and my eyes are so rediculously puffy it is embarrassing. At first I wasn't sure of what the cause was, but after reviewing some of the reviews on this product I am certain it is these wipes. If you have sensitive skin, I would not use these. Even if you don't I would test them on part of your skin before using them.
Lem24567
Burns!
Earlier this fall my skin went through a major change where I had big patches of red and irritated skin on my eye lids, under my eyes, my nose and by my mouth. The sensation is burning and very painful, also embarrassing! I couldn't cover it with makeup as it would only make it worse. My skin was so dry and I wasn't sure what the cause of it was.. I switched all of my makeup brands to almay and changed my facial cleanser to Aveeno, as well as drank a ton of water every day and my symptoms went away. However, I never thought about the makeup wipes I had been using on my face as the cause of it. After over six months of not using these wipes, I tried one today and my eyelids are completely irritated and swollen. I threw out the package after giving it a second try and will not ever buy these again! Now I hope I wake up tomorrow with normal looking eyelids. Horrible, horrible quality!