Equate Allergy Relief Antihistamine Tablets, 25 mg, 100 Ct, 2 Pk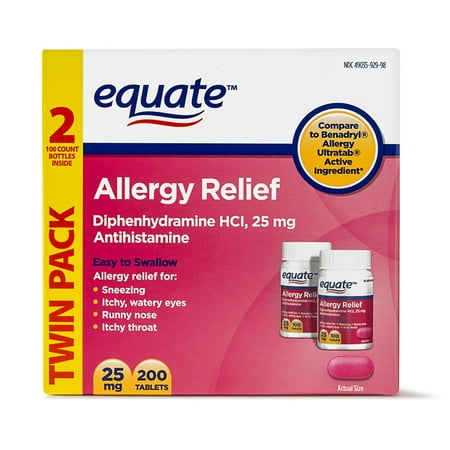 Sale :

$6.98

Sold & shipped by Walmart
Product Description

Additional Information

Reviews
Product Description
Allergy Relief Tablets 25 mg Diphenhydramine HCI, 25 mgAntihistamineUsesâ temporarily relieves these symptoms due to hay fever or other upper respiratory allergies: â runny nose â itchy, watery eyes â sneezing â itching of the nose or throatâ temporarily relieves these symptoms due to the common cold:â runny noseâ sneezingDrug FactsActive ingredient (in each tablet) - PurposeDiphenhydramine HCI 25 mg - Antihistamine
Additional Information
Product Features
Easy to swallow
2 100 count bottles inside
Reviews
Scooter19
Least expensive allergy pills
I have to take allergy pills daily, or I get stuffed up. These are the cheapest ones, and they work on all but the worst allergy days, and I've been taking them for years. You have to watch what you're getting, though, as they seem to sell this exact pill in different boxes/quantities for higher prices. I always paid $4 per box of 100, but now this double box is so much cheaper - I hope they keep selling it!
lycordova
Great Product/Compare to Benedryl
Benedryl is a very costly form of Diphenhydramine which is the same medication in this Allergy relief product. Everyone should have this product in their medicine cabinet. This is the same medication that you find in any of the over the counter medications to help you sleep such as Tylenol PM, Advil PM, etc. etc. So if you are not in pain and just need to sleep this can be an effective alternative and you are only taking what you really need. Always check with your doctor before using any form of medication. The amount of savings is incredible and they have a good shelf life.
JohnnysWoman
AWESOME!
I have used this product for years now. It works the same as the brand name and the price is UNBELIEVABLE!
deanado
works great
Love this product! Great price!!
OldOx
Very good price and most of all, WORKS!!
After Drixoral was out of US market (to Canada, price tripled or more) I found this allergy relief at another big drug store. I tried to use this because of it's low price. To my very surprise --it actually works. Under servere condition or high season such as in April I'd take 2 doses at a time --maximum 6 doses per day --still affordable. Of course it makes me drowsy. Non-drowsy drug can never stop my allergy. That chain store first raised the price slightly and now doesn't carry it. I was saved when I rediscovered it at Walmart with better priced twin packs. My wife totally agrred with me. We'll always maintain 1-year supply in hand.