ONN High Quality Picture and Sound HDMI Cable, 6', Black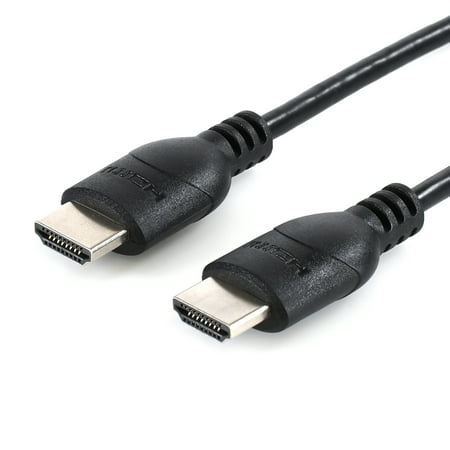 MSRP :

$12.88





Sale :

$6.24

Sold & shipped by Walmart
Product Description

Additional Information

Reviews
Product Description
The High Speed HDMI Cable with Ethernet connects HD devices for great sound and picture.
Additional Information
Connects easily with your HD devices to deliver fantastic sound and picture quality
Supports resolutions up to 1080p
Compatible for use with your HDTV, Blue-Ray Disc player, HD digital cable set-top box, HD DVD player, and more
Powerful design supports 3D Dolby, TrueHD, DTS-HD Master Audio and HEC
Cord measures 6 ft. long (1.8 m) allowing you to easily reach any corner of your room
Perfect for use in your living room, home office, home theater, basement, bedroom, or anywhere you want high quality picture and sound
Design features an inconspicuous black finish
Reviews
Kent
worth it
I've actually not even taken these out of the package yet. I had needed one for a while to improve a connection of rca jacks on my dvd player and had looked at Walmart. These same cables were like ten dollars or so in the store. I was looking on line later that evening and Walmart had them for two bucks each. So I ordered them on line and about thirty minutes later I got an email saying they were ready for pickup at my local store. I don't know why Walmart plays that game of one price on line another in store. I've found things lower on line before (not this much lower) and asked the store manager to match it and "oh I cant do that" is always the answer. I also don't know why it always takes so long to pick something up in the store.
georgiawolf
Good price and works with the PS3 ultra slim.
i bought this so i could watch blu ray movies on my ps3 because of the stupid restrictions the system has on it. for the three of us who are not knowledgeable about how to set it up the ps3 ultra slim let me help you out a little since i had trouble. the system fails to mention a key instruction on how to set it up. it was a easy step but if your new it helps out to know. follow all the steps on how to set it up as per the instructions when the screen goes black/blank change the channel to your HDMI output setting on your tv. the ps3 fails to mention that this is how you are able to save the settings. you could be like me sitting there for trying over and over again for 15 to 20 mins trying to why it wasn't working and turning the thing on and off every minute. now that it to so long to set up i think i will kick back and relax with a nice cold coke and play my NES on my old tubed tv where having to change the channel to save wasn't an option.
LuisZ
Get this...
Im not a huge TV watcher so i forego the cable service. Ive been watching over the air TV for about 5 years now. However sometimes there is nothing really on or repeats. I decided to give Hulu Plus a try and stream it from my laptop which thankfully had a HDMI port. Everything is smooth as butter. Normally im not the type to go with the cheapest preferring the middle road. However i was just testing out the Hulu service so initially didnt want to buy a pricey cable. After some research i found out its all basically the same. There is no need to buy $50 cables. Independent tests where done by a few sources that proved that. A cheap but good quality HDMI cable is the same as its $200 counterpart.
inkblots
A nice, durable HDMI cable...
I needed another HDMI cable fast, and this is the one I picked up. I didn't pay a lot of attention while purchasing because I simply needed one right then and this was what I found. Once I got home I opened the package and began removing the twist tie that was binding it. This is when I took a closer look and discovered that it was a rather nice HDMI cable. It is form molded, which means that it is more durable that many other types. The diameter of the cable itself instantly felt a little thicker than others. This is what made me take a close look and feel good that I had just randomly picked up a nice cable. Once installed I wanted to check the color of the picture on the tv screen. It was vivid as ever! And no color alteration, even going through an HDMI splitter! This is a good cable. Don't hesitate with your purchase. I recommend it!
JetBob2010
Works perfectly, great price.
Cable is cable, why spend more? Picture and sound quality same as the much more expensive cable that is hooked up another component for my HDMI tV.