Great Value Economy Heavy Duty Paper Plates, 9", 140 Count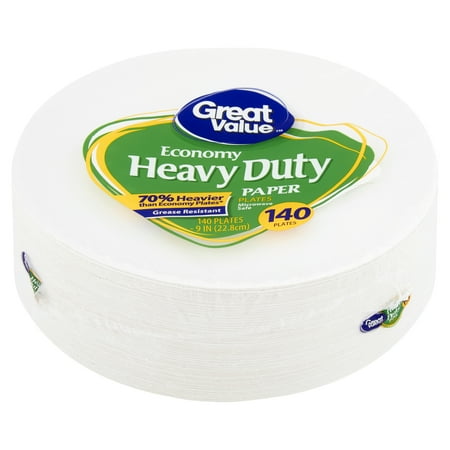 Sale :

$6.32

Sold & shipped by Walmart
Product Description

Additional Information

Reviews
Product Description
Our guarantee is our promise that you'll be fully satisfied with the quality of every Great Value product. If for any reason you aren't happy, we'll replace it or return your money. Whichever you prefer. All you need is the package and the receipt. It's that simple. Great quality. Great price. Guaranteed.
Additional Information
Great Value Economy Heavy Duty Paper Plates, 9", 140 Count:
>Microwave Safe
Grease resistant
Ideal for everyday use or special occasions
70% heavier than economy plates
Perfect for your next party
Great alternative to breakable plates
Makes cleaning up easy
Holds your favorite foods
Reviews
officeworker
Quality has chg'd now a BAD value
These paper plates used to be the best, but not any more! I always purchased heavy duty because they held up. My husband picked up a pkg yesterday, and when I saw them on the counter I asked why he bought the cheap ones?? He said he bought heavy duty. I checked the pkg they came out of and it said 'heavy duty'?? Not! I still had some leftover from a package I purchased a while back that also said 'heavy duty'. The new pkg plates are thinner, not as fluted and even the paper it is made out of is different -- it's not as shiny so I assume they aren't coated. Translation -- we are being sold the cheap ones that you have to use 2 or 3 at one time because they don't hold up. I guess Walmart changed it's supplier or the supplier went to a cheaper paper and processing method. Makes me wonder what other 'Great Value' products have changed?
Sandy
Heavy duty paper plates
I am busy hate doing dishes so the heavy duty paper plates the best. Walmart had the best price
Hammermoose
Strong and Economical
Very strong. New just one paper plate for greasy home fries and eggs. Very economical!!!
LongIslandLass
Good value coated paper plates
Yes these are what other brands call coated paper plates. They have a slight gloss so are not so absorbant and weak as plain non-coated plates. They are made in a decent weight paper. I first bought these in the store a few months ago where I could see that the plates are in fact coated. The one's I purchased in the store were more moulded at the edges with nice deep scallops just like a pie crust, and they fit easily within standard paper plate holders. I really liked that. They were not too large for the frame like many paper plates are. But they stuck together way too much. It was quite difficult to separate to single plates. The ones I just received from my online order are much less moulded- a flatter plate like all the other brands out there...nothing special. Because of this, they are weaker for holding heavy items and wider in diameter so need to squish them a bit to fit in the plate holder notches. Without the plate holders they would not be as strong as the ones I had bought at the store that I really liked. That said, they don't stick together badly anymore, so that's good. It would be ideal if the plates had both the more moulded edges AND not stick together.
Dustin
No Longer Heavy Duty!
I used to love these plates. They were the best as they had a great price and they were very sturdy. Not anymore! The heavy duty is now almost identical to the normal plates. They are crap now! I was hoping that it was just a bad shipment but all Walmart in my area now have the crappy version.