LEGO Architecture London 21034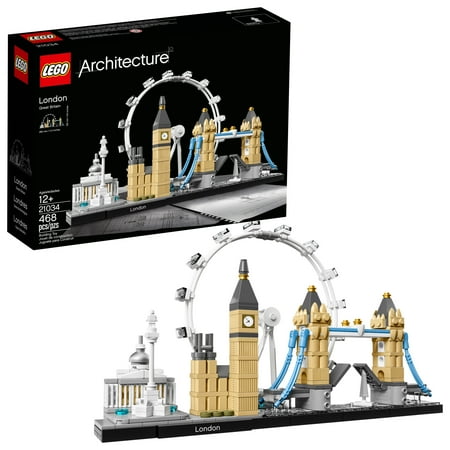 MSRP :

$39.99





Sale :

$31.99

Sold & shipped by Walmart
Product Description

Additional Information

Reviews
Product Description
Celebrate the architectural diversity of London with this detailed LEGO® brick model. The LEGO Architecture Skyline Collection offers models suitable for display in the home and office, and has been developed for all with an interest in travel, architectural culture, history and design. Each set is scaled to give an accurate representation of the comparative size of each structure, with true-to-life color depiction. This set features the National Gallery, Nelson's Column, London Eye, Big Ben (the Elizabeth Tower) and Tower Bridge, and is finished with a decorative "London" nameplate.
Additional Information
Build a detailed model of the London skyline!
Model features the National Gallery, Nelson's Column, London Eye, Big Ben and Tower Bridge
Includes collectible booklet containing information about the design, architecture and history of the building
LEGO Archiecture models are compatible with all LEGO construction sets for creative building
Measures over 5" high, 11" wide and 3" deep
468 pieces – For boys and girls ages 12 and older
Reviews
karlb379
The Best Set I have ever bought
I had been looking forward to this set since I found out it was going to released. Wasn't disappointed when it arrived and I had built it. It was a great build. The way the TARDIS opens and connects to the console is nice. Building the Daleks was interesting and they look really good. Overall a fun build and has pride of place on my bedside cabinet.
SteveW91
Everything is Awesome!
Best set I'v ever build. Great representation of the way the TARDIS is 'bigger on the inside'. The console is a greatly accurate representation of the real set!
Smoov
Another great set for the Architecture line!
Fun little set with some clever design features here. I especially like this set because of the landmarks chosen... In a city with tons to pick from, these were the ones that really stuck with me after visiting London a couple years ago. A great trip, and now a great set to remind me of it!
APZR
One of the finest LEGO kits I've seen
I don't usually do internet review things, but I really had to write one for this. It's a fantastic product. For one, the franchise in question and LEGO are a match made in heaven. Doctor Who is really all about imagination - perhaps more than some other franchises LEGO makes sets of - and it feels like a wonderful fit. The set strikes a brilliant balance between being play-friendly with its moving parts and displayable in just how pretty it is. The way the TARDIS slots onto it is a wonderful little touch. The main reason I write this review is to send a message to the team at LEGO - More Doctor Who, please! There's great scope for sets within the show with its iconic villains and their bases and space ships, and of course there are other, vastly different iterations of the TARDIS itself that could be replicated in sets very similar to this with different Doctors. After how impressed I've been with this set, I for one am a guaranteed day-one customer for any other Lego Doctor Who sets!
Anothername
Quality Design
This is my first Lego architecture line (a gift from a close relative), and as a Brit I'm jolly pleased to have received a cityscape of London. The design is a smart, delicate, well thought-through build to a Lego architecture set. The shapes and subtle colour schemes of the miniature buildings balance with each other perfectly. To achieve such detail on a remarkably small-scale is very impressive. Whilst the majority of the build was relatively straight forward, I found the building of the London Eye to be most tricky in terms of achieving symmetry with the 'pods' around the wheel. It's a clever design but the wheel does tend to wobble around a lot if being moved. But as it's a display piece I don't think this really matters. It's worth remembering though, that although this set is designed for observation rather than 'play', the build can be dismantled at your discretion so you can make other things with the available bricks - it is Lego after all! In conclusion this is a wonderful, impressively splendid model perfect for display.