LEGO Architecture London 21034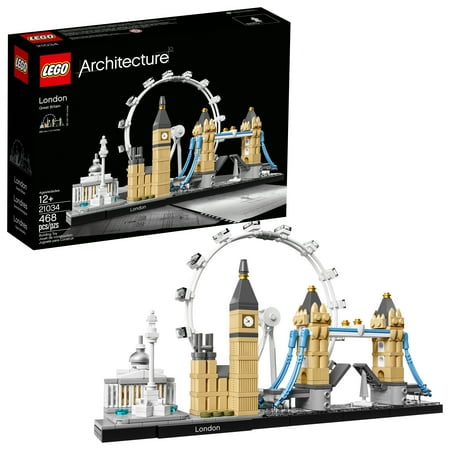 MSRP :

$39.99





Sale :

$31.99

Sold & shipped by Walmart
Product Description

Additional Information

Reviews
Product Description
Celebrate the architectural diversity of London with this detailed LEGO® brick model. The LEGO Architecture Skyline Collection offers models suitable for display in the home and office, and has been developed for all with an interest in travel, architectural culture, history and design. Each set is scaled to give an accurate representation of the comparative size of each structure, with true-to-life color depiction. This set features the National Gallery, Nelson's Column, London Eye, Big Ben (the Elizabeth Tower) and Tower Bridge, and is finished with a decorative "London" nameplate.
Additional Information
Build a detailed model of the London skyline!
Model features the National Gallery, Nelson's Column, London Eye, Big Ben and Tower Bridge
Includes collectible booklet containing information about the design, architecture and history of the building
LEGO Archiecture models are compatible with all LEGO construction sets for creative building
Measures over 5" high, 11" wide and 3" deep
468 pieces – For boys and girls ages 12 and older
Reviews
karlb379
The Best Set I have ever bought
I had been looking forward to this set since I found out it was going to released. Wasn't disappointed when it arrived and I had built it. It was a great build. The way the TARDIS opens and connects to the console is nice. Building the Daleks was interesting and they look really good. Overall a fun build and has pride of place on my bedside cabinet.
SteveW91
Everything is Awesome!
Best set I'v ever build. Great representation of the way the TARDIS is 'bigger on the inside'. The console is a greatly accurate representation of the real set!
NIGHTSKYMAMA
An Incredible Set To Own
I love my LEGO Doctor Who set. I got it a couple of years ago now and don't remember how long it look me but I would say 1-2 hours, I also took my time, I loved enjoying each step and watching it come to love. I am fortunate to have one as it is now retired and I am glad, so glad I got this set as I love Doctor Who! I appreciate the ser but I wish they didn't give you 2 Daleks because it would have been cool to get another doctor, companion, or even another villain like the Cyberman or a cute Adipose. I still really love my set despite the fact there are 2 Daleks. The way it was designed pleases me because I like how it transforms into a TARDIS and then I like how it opens up to be bigger on the inside for play! It's just so perfect! My favorite minifigure to have received is the Weeping Angel!
Brigitte
An Incredible Set To Own
I would highly recommend this lego set, particularly if you are looking for something that will look nice as a display after it is built.
APZR
One of the finest LEGO kits I've seen
I don't usually do internet review things, but I really had to write one for this. It's a fantastic product. For one, the franchise in question and LEGO are a match made in heaven. Doctor Who is really all about imagination - perhaps more than some other franchises LEGO makes sets of - and it feels like a wonderful fit. The set strikes a brilliant balance between being play-friendly with its moving parts and displayable in just how pretty it is. The way the TARDIS slots onto it is a wonderful little touch. The main reason I write this review is to send a message to the team at LEGO - More Doctor Who, please! There's great scope for sets within the show with its iconic villains and their bases and space ships, and of course there are other, vastly different iterations of the TARDIS itself that could be replicated in sets very similar to this with different Doctors. After how impressed I've been with this set, I for one am a guaranteed day-one customer for any other Lego Doctor Who sets!