LEGO Star Wars TM Poe's X-Wing Fighter™ 75102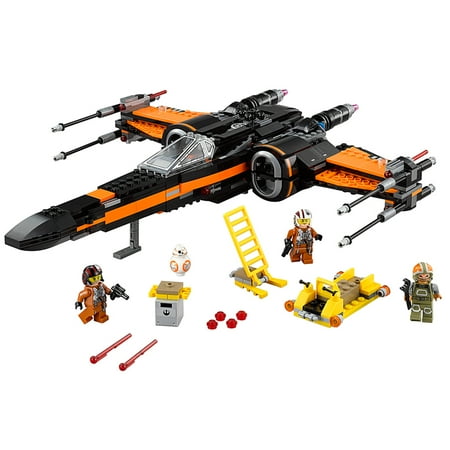 MSRP :

$79.99





Sale :

$64

Sold & shipped by Walmart
Product Description

Additional Information

Reviews
Product Description
Battle the forces of the First Order with Poe's X-Wing Fighter and the 75102 model of LEGO Star Wars Wolf 4. This customized starfighter is packed with a bunch of exciting features. It has four spring-loaded shooters, two stud shooters, a retractable landing gear and opening wings. These entertaining LEGO Star Wars ships include an opening cockpit with suitable amounts of space for a mini-figure and ample room behind for the BB-8 Astromech Droid. There is even a loader with a weapon rack, extra missiles, additional ammunition and a seat for a small figurine. These cool LEGO Star Wars toys are made from high-quality, hard plastic that is intended for durability. It comes complete with 717 pieces and will make a nice gift for 8- to 14-year-old children. So climb the access ladder, strap in and get ready to recreate your own scenes from The Force Awakens. This LEGO Star Wars Wolf 4, 75102 will provide countless hours of fun.
Additional Information
Build Poe Dameron's signature X-Wing Fighter, featuring four spring-loaded shooters and opening wings
Featured in Star Wars: Episode VII The Force Awakens
Includes Poe Dameron, Resistance ground crew, Resistance X-Wing pilot and a BB-8 Astromech Droid
LEGO Star Wars building toys are compatible with all LEGO construction sets for creative building
Measures over 4" high, 14" long and 12" wide with wings open, and over 3" high with wings closed
717 pieces – For boys and girls between the ages of 8 and 14 years old
Reviews
GoldleaderR5
Poe's T-70 X-Wing
My son and I just finished assembling my latest LEGO Star Wars, Poe Dameron's X-Wing (75102). I also had the opportunity to compare it to my 2012 X-Wing (9493). The build was well done and compares favorably to the older X-Wing. The build of the front of the fuselage was virtually identical. Poe's T-70 X-Wing is slightly longer and the wing (S Foil) mechanism is different and, to be honest, improved. The part count – even when taking into account the maintenance truck and ladder – is about 10% greater, but this is mostly in the wing assemblies which are larger. I am not a fan of the spring-loaded missiles (unless integrated as on the U-Wing) and removed these, adding some "spare parts" to smooth out the structure. I would recommend this model. It is for builders of moderate experience and took us about three hours to complete – but we were in no hurry.
SavagePotato14
Great Set
It's was amazing it took me about a day no. I rethink 6-12 hours but 12 hours is a day for most so yeah. (If you have to be awake for more than 12 hours for work or something god bless you)
redfanman
The best thing about lego, it can be changed
From seeing this model for the very first time I knew I had to have it, X-Wings are simply the coolest fighters in the Universe, we all know that, what makes this ever better is the colour scheme, black and orange with a bit of shiny silver thrown in, and then you ramp it up to 11 with a tiny BB-8. Even so, the biggest error in the model is clearly the wings, they overlap each other which is clearly incorrect as we have seen from the trailers that they have released, as such I have altered the model using just the parts that came with it and made it look much better(pics included) Other than that the model looks smart and sleek, the figures are cool especially the yellow visors with the helmets, the flick missiles are a bit pointless though and it does detract from the overall look, they could have done away with them, used a few different pieces on the internal structure as you can't see them, but it seems to be the way nowadays that they do this to increase the number of pieces used as a way to justify charging more, doing away with the non essential pieces would have knocked the price down by £5-£10 but they won't as they will sell no matter what.
Polyglot
I can fly anything!
X-Wings are the second coolest and most iconic spaceships in the Star Wars universe – after the Millennium Falcon, obviously. I personally wanted this set because both Poe Dameron and his X-Wing are really cool, and I was not disappointed. The finished ship looks great and I love the colour scheme – makes for a nice change from the usual 50 Shades of Grey! The minifigures that come with this set are fantastic! You get Poe Dameron, another Resistance X-Wing pilot, a Resistance ground crew member called Goss Toowers, and of course BB-8, Poe Dameron's loyal AstroMech droid. The minifigures all have great detailing and look fantastic. I especially love the new helmet visors. In addition to the ship itself and the minifigures, this set comes with a loader with seating, steering mechanisms and a box with extra ammunition, and a ladder to climb up to the cockpit. I am going to hang my X-Wing from the ceiling, but for display on a table or for play purposes, these accessories are great and really add to the set. I personally think the ship is accurate enough compared to the film, but I mainly just enjoy building LEGO and I'm not too fussed about the details. The rubber bands that control the wings are blue because that's the colour these Technic bands are at exactly this tension. I personally don't mind, and I wouldn't want to pay more for LEGO to manufacture bands at this tension in black just for this set. Pros: - The finished ship looks fantastic! - Great minifigures, both the selection you get and their individual detailing - The loader and ladder - Fun play features Cons: - The four engines on the back aren't secured 100% - I wish the landing gear was higher, so that the model could be displayed on a table with the S-foils locked in attack position and fully open I'd recommend this to all Star Wars Lego fans!
Metaltron
As long as there's light we've got a chance!
As soon as I saw The Force Awakens I fell in love with Poe Dameron and I knew I had to have him in LEGO form!! I got this set for my 18th birthday and is currently the largest LEGO Star Wars set I own and it is very impressive, I have always marveled at the X-wing sets and am very glad that I got this one of all the sets released. The set itself is quite large and not always possible to hold in just one hand; especially if you don't want to drop it! Because the model is quite weighty it can be difficult to play with, but that hardly makes a difference as it just kind of adds more realism. I think that compared to Poe's actual X-wing Black One this set is very movie accurate; the black and orange scheme looks perfect, the cockpit looks so cool opening and closing and the guns on each wing are very well designed. BB8 is also a wonderful addition to the set; he can be secured behind the cockpit so he won't fall out even if you try out a couple of spins ;) This set is definitely worth buying for the Poe and BB8 minifigures; Poe is so detailed his flightsuit and helmet look incredible and BB8 is great both in this set and when paired with the Rey's speeder set. The best part of the set is the folding and un-folding of the wings; a cleverly placed winch mechanism lifts the wings up or down with a single twist and they stay in position very firmly. I can't really get used to the new missile functions, but I understand that they are probably entertaining for younger builders as they do fire quite far! Overall I think this set is a triumph, it looks amazing as a display piece and is also so fun to play with. I loved the look and feel of it so much that I took it into the garden to really capture the essence of the model and figures (see pics). If you love The Force Awakens, if you love Poe Dameron, if you love BB8, if you love Star Wars...then you will love this set.