LEGO Star Wars TM Poe's X-Wing Fighter™ 75102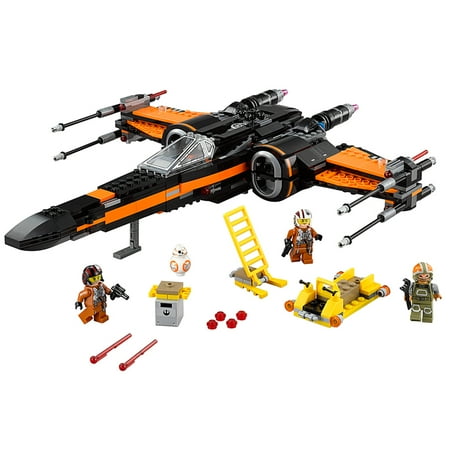 MSRP :

$119.99





Sale :

$79.99

Sold & shipped by Walmart
Product Description

Additional Information

Reviews
Product Description
Battle the forces of the First Order with Poe's X-Wing Fighter and the 75102 model of LEGO Star Wars Wolf 4. This customized starfighter is packed with a bunch of exciting features. It has four spring-loaded shooters, two stud shooters, a retractable landing gear and opening wings. These entertaining LEGO Star Wars ships include an opening cockpit with suitable amounts of space for a mini-figure and ample room behind for the BB-8 Astromech Droid. There is even a loader with a weapon rack, extra missiles, additional ammunition and a seat for a small figurine. These cool LEGO Star Wars toys are made from high-quality, hard plastic that is intended for durability. It comes complete with 717 pieces and will make a nice gift for 8- to 14-year-old children. So climb the access ladder, strap in and get ready to recreate your own scenes from The Force Awakens. This LEGO Star Wars Wolf 4, 75102 will provide countless hours of fun.
Additional Information
Build Poe Dameron's signature X-Wing Fighter, featuring four spring-loaded shooters and opening wings
Featured in Star Wars: Episode VII The Force Awakens
Includes Poe Dameron, Resistance ground crew, Resistance X-Wing pilot and a BB-8 Astromech Droid
LEGO Star Wars building toys are compatible with all LEGO construction sets for creative building
Measures over 4" high, 14" long and 12" wide with wings open, and over 3" high with wings closed
717 pieces – For boys and girls between the ages of 8 and 14 years old
Reviews
NateJoeJ
Well done, LEGO!
This is a 'T-70 W-Wing', different than the 'T-60 X-Wing' in the original Trilogy. I find this set magnificent. My favorite feature is how it creatively splits the intakes on each wing straight down the center so that when the ship is not in attack mode, it looks like one enormous engine! LEGO did a fantastic job designing this set. At first, the orange and lack color scheme took me off guard. But I'm sure the white and red color scheme of the republic gunship took fans off guard as well! I have ground to really love this ship and believe it will become a very collectible LEGO model years down the road. I also really like the minifigures included, especially Poe and the other pilot. Their prints are very nicely detailed, and their helmets are composed of a very nice double-molding! The ship overall looks super sleek and magnificently honors the old X-Wing starfighter in a new twist. A must-have LEGO model for your collection.
Granny
Package arrived two days before estimated arrival
My grandson loved this Lego Poe's X-wing fighter kit. He put it together right away. His father also thought that it was a great kit. They both are great lego fans and Star Wars fans. It was very successful.
STARWARS
the greatest Lego in history of Legos
Poe's X- Wing was probably the best Lego I've ever owned, and I own a lot of Legos. The design was awesome and very fun to build, and the black and orange color is so cool. With a twist of a gear, the wings open and close with the help of blue rubber bands. The spring loaded missiles are also very cool. Poe and BB-8 are the best mini figures, and I really like how his helmet visor is attached to the helmet and not on the face. Overall this is an amazing set that is totally worth the price!
Chronodream
Beautifully designed
I love X-wings and this Lego design is Amazing! I love the use of hinge peaces to get just the right angles for the nose of the x-wing.
OHMYGOSHOHMYGOSHOHMYGOSH
OH MY GOSH, COOLEST SET EVER!
ok, so I go to buy this set from Walmart and it is freshly sold out. I am a HUGE lego fan and I have always loved lego's sets. this is one of if not the best by far. the ONLY thing wrong is the bright blue rubber bands that take over the ships center purpose and put it to the back. now lets do a little remembering, the reble x wing can have the engine block pulled out and had an old torch trooper. now, this set compared with the hasbro version is SO much better for a few reasons, 1 the piolet accually fits in the lego one and 2 it has 2 proton cannons (stud shooters) while aslo having not 1 not 2, but 4 blaster cannons on 4 wings while the hasbor version has 1 AND ONLY ONE gun, the proton cannon. I have no modifycations for this set, it is already perfect.