Wrangler Men's Relaxed Fit Jeans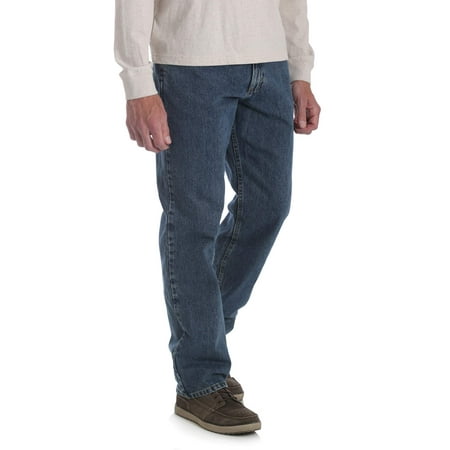 MSRP :

$16.77





Sale :

$14.29

Sold & shipped by Walmart
Product Description

Additional Information

Reviews
Product Description
The Wrangler Men's Relaxed Fit Jeans are a smart addition to a man's wardrobe. They feature a classic design that's good for work or casual occasions. They come in many different colors so you can pick the one's that best suit your sense of style. Pair these with a tee or button down top and boots. These Wrangler men's jeans are made of a blend of cotton and polyester that makes them soft, strong and breathable for comfort. Care and cleaning is as easy as tossing them in the washing machine. The zipper and button closure make them easy to take off and put on. There are five pockets for holding your keys, wallet, phone and other essentials. You can wear a belt to keep them up and tie your outfit together.
Additional Information
Wrangler Men's Relaxed Fit Jeans:
Cotton and polyester blend
Machine wash cold
Wrangler men's jeans go well with T-shirts or button downs
Relaxed fit jeans
5 pockets
Wrangler relaxed fit jeans have belt loops
Button closure with zipper fly
Available in assorted colors: Black, Bronze Stone, Indigo, Medium Wash, Midnight Rinse, Stone Bleach, Stone Bleach 2, Tarmac, Vintage Wash and Vintage Wash 2
Available in sizes 28"-46" and lengths 29"-38"
Style 97601VR
Reviews
Jedduf
Belt Loops Pull out
I love these Jeans except for one thing, at least one belt looks pull out at the bottom. I have bought many pairs over the years and EVERY PAIR has this same problem. I think a simple reinforcment will cure the problem. I hope that someone at Wrangler reads this message and corrects this. Thank you JED
JesusL
I guess you can say it's one of a kind...
I love how non-restrictive these jeans are, and the extra mini-pocket behind the leg pockets is excellent--my work id badge fits in there perfectly; no more worrying that the feeble alligator clip will fail while I'm walking around, and I have to comb the entire office to find it again... NOTE: the jean material is thinner than your average jeans...not putting this in the cons, because it's only a nuisance in the winter (have to wear some thermal leggings under it when it's freezing out); I'm certain in the summer this is going to be most appreciated... Cons: They only come in one color! I mean, come on, at LEAST offer it in black as well...but it'd be excellent if there were plenty of options (perhaps navy blue, and stonewashed?) so it doesn't look like I'm wearing the same pair of jeans all the time...
moonshiner67
great quality
my husband was very pleased in the quality in these pants, Ordering on here is so simple and i will order again,best service i ever had.
Imjustaguy2
Wrangler has problems with sizing!!
I have worn Wrangler jeans for a very long time. Every once in a while I run across this issue, but this last time it just is getting on my nerves. I have worn 38x34 for quite a long time. This time I ordered the same and they did not fit. They felt like they were 36x34. Yes, I checked the tags and even they model code number as well as verified everything else and they said they were 38x34. I checked my old Wrangler jeans and they were in fact 38x34 and had the same model code. So I returned these and ordered the next size up 40x34. Well, you would think this would be the end of my problem. No, I had ordered four pairs like I normally do and what do you think happened?? One of the pairs fits like it is a 42x34. I think Wrangler is messed up on their sizing control!! They are a great pair of jeans and do last, but if I have to keep getting different sizes, I will switch brands.
Chris
Terrible pair of pants!
Worst pair of pants i've ever spent money on. Bought these two sizes larger than I wear and they still were too small! The fabric is extremely rought and doesnt move easily. Terrible product, wouldnt reccomend even to my worst enemy.