iPhone 5/5SE/5S Lifeproof fre case, black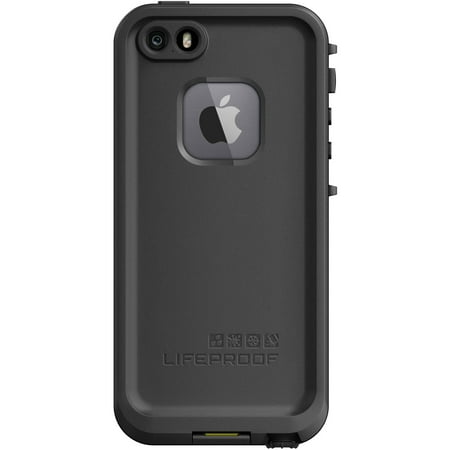 MSRP :

$79.99





Sale :

$61.89

Sold & shipped by Overstock
Product Description

Additional Information

Reviews
Product Description
Protect your iPhone 5/5s/SE with this LifeProof Fre case. It's waterproof and drop-proof to keep your phone safe from everyday accidents that may occur. This well-insulated case will keep out dirt, snow and ice, letting you use your phone in nearly any weather condition. This LifeProof Fre case is also thin, ensuring your phone remains as lightweight as possible.
Additional Information
Designed for use with Apple iPhone 5, 5s and SE; Scratch-resistant design; Snow- and dirt-resistant design; Impact drop protection
Reviews
Lexi
Okay
It's pretty great. I love the color, but what scares me is the paper that amen with my case. Now I personally purchased this case at the store and when I was going to put it on there was a paper that read, "California proposition 65 warning....WARNING: this product contains a chemical known to the state of California to cause cancer, birth defects, or other reproductive harm" that's kinda scary for me. Then I'm big letters it says LIMITED WARRANTY.
squid
Good in the past, one bad case?
I very much rely on my lifeproof cases, and so I have always taken the time to do a thorough water test. In the past I have had cases do very well rafting, canyoneering, and rock climbing. They have taken a lot of use for about a year, and then the material understandably starts to degrade and I invest in a new one. This last case I bought I also water tested, it did fine, put my phone in it and took care to clean the phone and seal it, and yet on its first use it leaked and my phone got wet. It appeared to have leaked through the home button covering which has been the first part to fail on my other cases as well. Not as quickly as this one though. I am giving this case three stars because they have worked so well for me in the past, but for some reason this last one just didn't make the cut. I will continue to use this case for general protection but I will not trust it to be waterproof.
Akhilesh
Still room for improvements
I've had the case for couple of weeks now and it's been good for my physical work and active lifestyle. However some of the features like unlocking the phone by fingerprint doesn't work so well. Sometimes it works, but I would say most of the time I have to put the password in order to use the phone. So I'm hoping to have some improvements on that. Then another thing: I've used it once under water and yes, indeed, it keeps the phone safe, but doesn't allow me to take photos under water. The touch screen doesn't work so well under water, which kinda ruins the purpose of having it underwater. In order to take video under water, one has to press recording button on top of the water and then dive down. For me, no chance of taking photos under water. Otherwise the product is safe and I can trust it to keep my phone protected. I'm still hoping that the company's engineers put their best effort to improve the product in order to make it work like a phone without the case. Thank you!
Lenali42
Great case
Everyone in my family has one of these cases. They've been dropped multiple times and one even fell in a creek and was retrieved without harm to the phone. I would like to say however, that the new color choices are terrible. We wanted a blue phone case, NOT a blue and orange phone case! I had a plain blue case for my phone, but upgraded to a different phone and you no longer have those! I don't want blue and orange. Where I'm from, that indicates a college sports team preference and I don't give a rip about explaining it (especially since I live in the rival sports team's home town and I don't even have a sports team preference since I don't like sports). Now I just have a boring black case because I don't like any of your dual color options. Please go back to making one color options available! Also, I ordered my daughter a case that looked light blue/teal online (her favorite color) but is actually green. Not great. More color options and designs would be appreciated as well.
Lifeproof family
Only one to buy when you have kids and teenagers
I have bought lifeproof cases for 4 years now for both myself and one of my teenagers who could not stop damaging his screen My phone has been in swimming pools down toilets on floor and even was driven over by a car I usually have to replace it just once a year and my phone and my sons phone still alive and strong Thanks lifeproof