Scattergories Game, Party Game for Ages 13 and up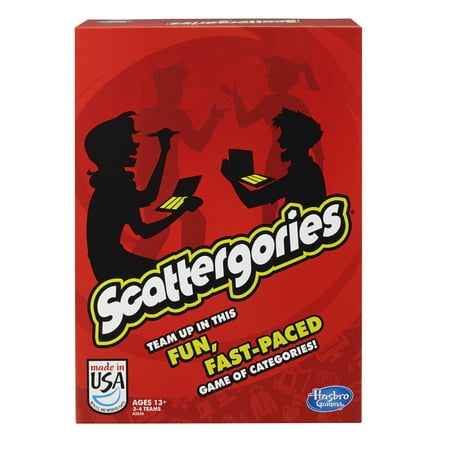 MSRP :

$14.92





Sale :

$12.97

Sold & shipped by Walmart
Product Description

Additional Information

Reviews
Product Description
Think fast! Team up in this fun, fast-paced game and rack your brain for items that fit the category. Can you think of articles of clothing, things you fold, or things at the beach that start with S? You score points when you come up with things that no one else does. But you've only got seconds to come up with them! The more creative your answers, the more points you score! Scattergories and all related characters are trademarks of Hasbro.
Additional Information
Scattergories game challenges you to come up with items fast
26-sided die tells you what letter the items have to start with
You score points when you come up with items that nobody else does
Play in teams for tons of fun
Includes timer, die, Scattergories cards, score sheets and instructions
Ages 13 and up
For 2 to 4 teams
Reviews
Rowanvamp0
Addictive your NEW go to game of the year..
As a House Party host I received a free Party Pack with this game included. The way the new Scattergories is being packaged is a little of a let down. I have the older game where 8 people can play this new packaged Scattergories is only for 4 players. I love the new categories that they have selected that brings to life the game so I view it as an important feature. We played with a 10 year old and while he did get most of the categories some he did not. The timer on this new package Scattergories is a sand timer. I don't like this feature one it can get broken alot easier and harder to keep track of time when everyone is looking down and filling in their answers no one has a real good eye on the timer so you don't know when time is out. You have to make sure everyone has a writing instrument as none is provided. The real fun is trying to come up with creative answers that no one else has. Lots of laughter and even better is if you split up into teams! Let the fun BEGIN!
Righinnk
A Must Have Party and Family Game
I've been a scattergories fan since it came out. Still love it and they've added list and questions. The basic premise is that you come up with answers to questions on a sheet that correspond with letter that appears on the 26 sided die. Let your imagine run wild and come up with fun and unique answers to the questions. Points are awarded for each individual answer that is a duplicate of anyone else playing. Really pretty simple. You can also adjust the rules to your taste. A must have party game!!
ConnieDMR
Have a Blast
Since we don't get together as a family that often we love to do things that are fun and connect us. That's where Scattergories comes in. When we play, we laugh so much! It's a game of skill but it's a lot of fun too. Although the little ones can't play we find ways to get them involved like moving the tiles around and "keeping score". We have a blast playing this.
md7677
Great for laughs
Love the crazy answers that I get to see come out of this game and that pretty much the entire family can play it. I've been playing it for close to 30 years and still love it.
Mel4uofa
Can't be beat!
Great game for families or parties! My family has played Scattergories for years and we still have inside jokes we laugh at about some of the answers given over a decade ago.