SCATTERGORIES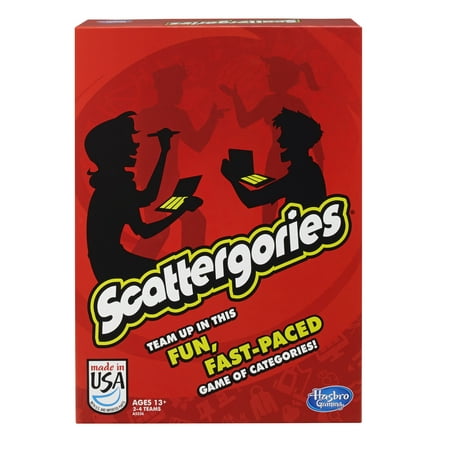 Sale :

$14.92

Sold & shipped by Walmart
Product Description

Additional Information

Reviews
Product Description
Think fast! Team up in this fun, fast-paced game and rack your brain for items that fit the category. Can you think of articles of clothing, things you fold, or things at the beach that start with S? You score points when you come up with things that no one else does. But you've only got seconds to come up with them! The more creative your answers, the more points you score! Scattergories and all related characters are trademarks of Hasbro.
Additional Information
Reviews
Rowanvamp0
Addictive your NEW go to game of the year..
As a House Party host I received a free Party Pack with this game included. The way the new Scattergories is being packaged is a little of a let down. I have the older game where 8 people can play this new packaged Scattergories is only for 4 players. I love the new categories that they have selected that brings to life the game so I view it as an important feature. We played with a 10 year old and while he did get most of the categories some he did not. The timer on this new package Scattergories is a sand timer. I don't like this feature one it can get broken alot easier and harder to keep track of time when everyone is looking down and filling in their answers no one has a real good eye on the timer so you don't know when time is out. You have to make sure everyone has a writing instrument as none is provided. The real fun is trying to come up with creative answers that no one else has. Lots of laughter and even better is if you split up into teams! Let the fun BEGIN!
Harriyo
Great game for a family gathering
I host the Christmas Eve family and friend gathering every year. This year we played Scattergories and we had a ball. It was a easy game to learn; my 10 year son was the youngest member of the family playing the game. Be prepare to laugh.
led4
Fun Game
I gave this as a gift to a friend's daughter.They enjoy the game.It is used and played 3 times per week.It is their new favorite game.
Nanook35
Play Scattergories and watch your brain fall apart
Think you can name at least one item in every subject? Just wait until time is ticking away! Suddenly you won't be able to remember your own name, much less something you find in the ocean. Scattergories is a fast paced think on your feet kind of game and results in a large amount of laughter. The goal is to come up with as many answers as you can for the given subjects and to be creative and unique. Older versions of the game included a battery operated timer which clicked when time was over. Now it comes with a simple sand timer which means someone has to watch the time. Bring back the old timer please!! The new cooperative rules make for a much more interesting experience as you try to coordinate with your partner to play. Overall it's the same fun game it always was and bes of all I got it free all thanks to Hasbro!!
Nanook35
same game, more compact
We love this game. The new version is more compact so you don't have to store the old giant box. It has a sand timer instead of the really loud old one. Great revision. Thanks Hasbro