Refurbished TCL Roku 55" Class 4K (2160P) Smart LED TV (55US57)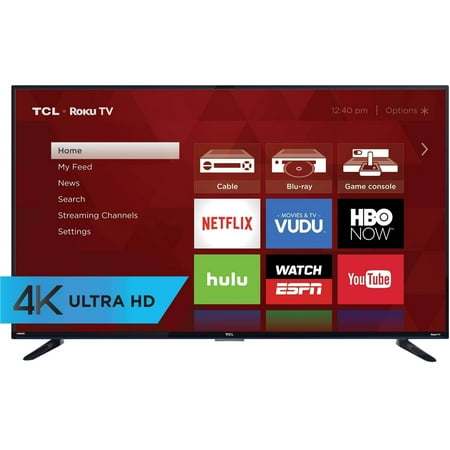 MSRP :

$369.99





Sale :

$335

Sold & shipped by Walmart
Product Description

Additional Information

Reviews
Product Description
Enjoying 4K Ultra HD just got easier. The new 4K TCL Roku TV allows seamless access to over 3,000 streaming channels — the most of any 4K TV — including the 4K Spotlight channel, the easiest way to find 4K content across popular streaming channels such as Netflix, Vudu and YouTube. Experience 4K content with the incredible clarity of Ultra HD resolution. With a super simple remote and dual-band WiFi, it's fast and easy to access your favorite content. Connect all of your favorite devices (cable box, video game console, Blu-ray player, etc.) with four HDMI inputs and access them directly from the Home screen or cast content from your smartphone or tablet with the free mobile app.
Additional Information
Reviews
Shopper
This TV is AWESOME!
This TV is seriously almost too good to be true. I went to a lot of different stores both online and in person and couldn't find what I was looking for. I wanted a 55" 4k tv that had 120hz refresh rate and was a smart tv. that part was easy to find. What I had trouble finding was one that not only had built in Wi-Fi but also a direct Ethernet (LAN) line plug in and a built in TV tuner and worked althogher on one remote. I hate having boxes and wiring exposed so this was a must... I wanted one remote and a clean mounted tv fitted above my fireplace. I came to find out that vizio who I was originally looking at dropped all their built in TV tuners from their line up. Meaning none of their new tvs have built in tuners. .. bummer Well there that goes, next almost all the Samsung's I looked at were wifi only. well since I plan on streaming 4k I really don't want to count on a wifi connection for that as I knew it would be flaky at best. So then I just decided to do a search just to fine something that had ALL the above regardless what the price was. When this came up for 319 bucks at Walmart in my search, I though no way...and initially skipped it. Then when I couldn't find anything else that matched I came back and decided to give it a try. It came in the week I ordered to my door in absolutely perfect condition. Not a dent or blemish anywhere. Set up was easy and with the Verizon fiber connection the downloads and updates took literally like one minute. All the apps worked flawlessly, the picture is great and motion video looks very crisp. After setting this up I just couldn't help think to myself... I almost spent 1400 dollars on another model and this was only 319 bucks! Its perfect, so so happy with this purchase. Since I mounted Ethernet and coax/cable lines as well as power lines in the wall behind my tv, I have no cable, no boxes, and a beautiful TV with a high speed connection which works flawlessly.
Casey
great tv at a great price
Not only is this tv a great size for a great price but it has a 4k Roku built in which is $120 on its own. But 55" for under $400 and 4k picture makes this TV worth every penny.
MissKitty78
AMAZING TV AT AN AMAZING PRICE!!!
First off, getting a 55" tv at a little over $300 is an awesome deal!!! But having it be a 4k AND a smart tv is AMAZING! And it has ROKU!!! That saves a ton of money right there! I just hooked it up earlier today so I can't say how it will last but it came securely packed and in pristine condition! No scratches or anything. The picture is VERY sharp. The last Black Friday tv I got said it was 4k but it didn't look any better than my 1080p tv it was replacing, but this one is clearly superior! The set up was super easy and quick. It probably took me a whole 10 minutes to set everything up, pick my apps, and log in to all my different accounts. For the size, the tv is really light weight and it didn't even have to have the arms attached to my wall mount plate. This tv is very fast when changing apps or menus, and it doesn't do that "fade in" thing that I've seen some tvs do where it is a little darker but then goes to the correct brightness. I am so happy with this purchase and wish I had another room that I could find an excuse to buy another one! 10 out of 10!
Sephiroth66
Great TV and even better price!
I just wall-mounted mine last night right before bed so I can't say I've got a really good chance to dissect the display fully, but from what I can tell it's very sharp and clear with just a few minor video adjustments. The packaging was tight and well secured, and the TV was in immaculate condition. I didn't see a single scratch or smudge on it. It had all of the protective plastic wrap around the bevels as well. Shipping was through FedEx and arrived on the scheduled day without any issues, delays, or damage. All in all 10/10. The TV itself is really light which made mounting it by myself a breeze. I setup the Roku account in about 5 minutes and had all of my selections finished and downloaded in about 10. The interface is blazing fast (i'm sure this is YMMV depending on your connection speed) I had no issues downloading themes, channels, etc. The Roku feature alone makes this TV absolutely worth every penny. This was my first smart TV and I can't believe I've been using a normal TV like a neanderthal for the last 6 years. It's truly a completely life-changing experience. I will never go back to a standard TV after this!
DocDay
TCL Roku 55"4k UHD
Arrived one day early in perfect condition. The refurbished was about $50 less than new in-store price, but I was able to get an extended 3 yr. warrantee which brought the price to within a few dollars of the in-store price, and it was delivered to my door. I feel this was an excellent value for the money and would recommend it highly.