Refurbished TCL Roku 55" Class 4K (2160P) Smart LED TV (55US57)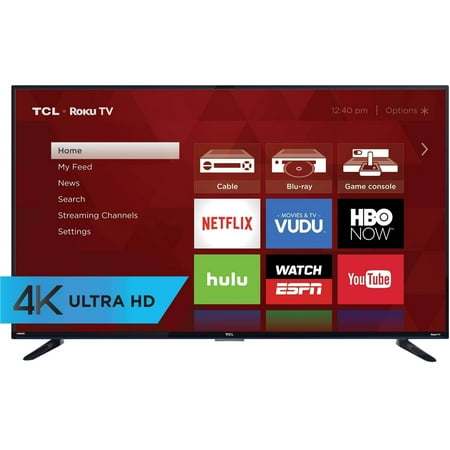 MSRP :

$369.99





Sale :

$389.99

Sold & shipped by Wholesale Connection
Product Description

Additional Information

Reviews
Product Description
Enjoying 4K Ultra HD just got easier. The new 4K TCL Roku TV allows seamless access to over 3,000 streaming channels — the most of any 4K TV — including the 4K Spotlight channel, the easiest way to find 4K content across popular streaming channels such as Netflix, Vudu and YouTube. Experience 4K content with the incredible clarity of Ultra HD resolution. With a super simple remote and dual-band WiFi, it's fast and easy to access your favorite content. Connect all of your favorite devices (cable box, video game console, Blu-ray player, etc.) with four HDMI inputs and access them directly from the Home screen or cast content from your smartphone or tablet with the free mobile app.
Additional Information
Reviews
Avoid
An excellent TV for the price!
Sadly it's not available anymore, but just in case it is, I'd like to share my experience. TIP: If you order a large item like this TV and it doesn't have shipping straps on it and it's been taped shut, DON'T ACCEPT IT. It's likely been repackaged and was intended to go back to the manufacturer for repair. Some warehouse worker probably got the "repair" and "repaired" inventory mixed up. My purchase arrived at the store 4 days late, but that is not the product's fault (it may make me reconsider this retailer in the future). It came very well packed in a double corrugated box sealed with white packing straps. Inside, the product is supported by firm air pillows. The remote, manual, power cord and stands were taped to the lower corner pillows (I almost thought they were missing). The TV worked as expected. As a previous Roku user, it imported all of my apps attached to my Roku account, but I still had to sign in to most of them. The improved 4K resolution is definitely noticeable from my aging 32 inch 1080p LCD, but it probably not as good as a set that costs hundreds more. For the price, I'm extremely happy with it! (My nickname might be Avoid - but this one is ok!)
Shopper
This TV is AWESOME!
This TV is seriously almost too good to be true. I went to a lot of different stores both online and in person and couldn't find what I was looking for. I wanted a 55" 4k tv that had 120hz refresh rate and was a smart tv. that part was easy to find. What I had trouble finding was one that not only had built in Wi-Fi but also a direct Ethernet (LAN) line plug in and a built in TV tuner and worked althogher on one remote. I hate having boxes and wiring exposed so this was a must... I wanted one remote and a clean mounted tv fitted above my fireplace. I came to find out that vizio who I was originally looking at dropped all their built in TV tuners from their line up. Meaning none of their new tvs have built in tuners. .. bummer Well there that goes, next almost all the Samsung's I looked at were wifi only. well since I plan on streaming 4k I really don't want to count on a wifi connection for that as I knew it would be flaky at best. So then I just decided to do a search just to fine something that had ALL the above regardless what the price was. When this came up for 319 bucks at Walmart in my search, I though no way...and initially skipped it. Then when I couldn't find anything else that matched I came back and decided to give it a try. It came in the week I ordered to my door in absolutely perfect condition. Not a dent or blemish anywhere. Set up was easy and with the Verizon fiber connection the downloads and updates took literally like one minute. All the apps worked flawlessly, the picture is great and motion video looks very crisp. After setting this up I just couldn't help think to myself... I almost spent 1400 dollars on another model and this was only 319 bucks! Its perfect, so so happy with this purchase. Since I mounted Ethernet and coax/cable lines as well as power lines in the wall behind my tv, I have no cable, no boxes, and a beautiful TV with a high speed connection which works flawlessly.
Plumber
Absolute best value 4k TV out there!!!
I was very hesitant in ordering this, as most reviews say its bad or arrived damaged. The TV shipped directly from TCL center in California. Arrived in plain box.. packaged will with lots of air foam. The unit looks in perfect shape, no signs of use at all and still had plastic film on all parts and edges. I'm not sure what refurbished even means because literally not a scratch on it. .. except it did not come with owners manual, but you can easily download one. I was thrilled when I did the setup, exactly the same as a roku box which I had on my other TV. Extremely simple and fast interface. TV picture options don't need much tweaking as the color is good right out of the box. The quality of this unit is great, not much else to say, it compares easily to the $500-800$ samsung/LG units... and for this price its like giving it away. Some movies look a little over saturated, sometimes fake looking, but you can change it with the color modes. The only reason not to recommend this TV is for someone who DOES NOT use a lot of streaming apps or someone who doesn't have a fast internet package.. I personally use Netflix, plex, amazon, and a few others.. I do not have cable TV so depend on many apps and PC link. If you don't have a lot of streaming accounts or don't want to set them up, I would not get this TV because that's what its geared for... and a lot of apps now charge EXTRA for UHD streams. I would trust ordering from walmart.com again, it was my first purchase here usually I buy from amazon. Impressed!
Mike
Astounding detail
I've had this TV for just over a week. The first-time setup was quite simple. It is easy to add HDMI devices to the menu (I've got a Fire TV box and Blu-Ray player. The image quality is stunning. The picture is evenly bright without washing out. I haven't fed it any true 4K content, but the upscaled HD video is like looking out a window. I took these two photos from the documentary Life streaming on NetFlix. I was sitting about six feet from the TV. Since I've had it less than a fortnight, I can't speak to its longevity, but everything I know so far suggests this display is an incredibly good value.
DocDay
TCL Roku 55"4k UHD
Arrived one day early in perfect condition. The refurbished was about $50 less than new in-store price, but I was able to get an extended 3 yr. warrantee which brought the price to within a few dollars of the in-store price, and it was delivered to my door. I feel this was an excellent value for the money and would recommend it highly.