Verizon Wireless LG Optimus Zone 3 8GB Prepaid Smartphone, Black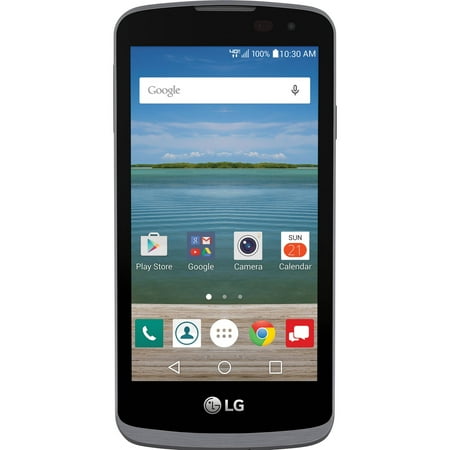 MSRP :

$29.88





Sale :

$16.67

Sold & shipped by Walmart
Product Description

Additional Information

Reviews
Product Description
LG Optimus Zone 3 - black - 4G LTE - 8 GB - CDMA - smartphone
Additional Information
Key Features and Benefits:
Smooth and powerful
A fast processor provides the speed and performance to easily run your favorite apps.
A bright, vivid display
The Optimus Zone 3 offers a great viewing experience. The display brings movies, photos and games to life.
Take the perfect selfie
The front-facing 2 MP camera puts you in a great light, while Gesture Shot helps you take a selfie using a simple hand movement. The 5 MP rear camera captures vivid videos and photos.
Don't compromise on style
With a sleek, compact design, the Optimus Zone 3 looks as good as it feels in your hand.
What's Included:
LG Optimus Zone 3
1940 mAh Battery
SIM card, USB cable, power adapter
Reviews
Paco
UPC : 652810816700 - Verizon Wireless LG Optimus Zone 3 8GB Prepaid Smartphone, Black - PickPanda.com
Good LG Optimus Zone3 8::) Black Phone
msdoc
Best value in a prepaid phone!
I recently went through a period of time without a cell phone. I finally bit the bullet and bought a cheap phone for $25. I don't need much in a phone, but I should have done my homework...just a little bit. I ended up stumbling across this phone for (gasp!) $39 and after reading the reviews, I saw some features I was interested in (the fingerprint feature.) I did note that a few reviewers mentioned that this phone sells out fast. I get to the store and there is only one left. After about 30 minutes after getting the phone and writing down all the pertinent information, I speak with someone at Verizon's Customer Service who switches my number without hassle and in mere minutes. Now that the phone is up and running, I absolutely love it. From the chime upon startup to the fingerprint feature! The fingerprint feature is easily walked through and setup. You can also add another security feature, such as: drawing a pattern. The screen is bright and clear. Everything is easily setup on the phone. The internet isn't remarkable, but it is more than adequate. It comes with 16G of internal memory. I, personally, have never had a prepaid phone with that much memory without the benefit of an SD Card. You can also use an SD Card to expand the memory. The phone calls are clear and I have yet to have any issues. My honest feelings about this phone are clear: this is the best prepaid phone I've purchased in 20 years of purchases. I've paid much more and gotten less. For $40, this is a pretty darn good phone for young or old, if money is a concern.
Terry
Indestructible
This phone is indestructible. I have owned it year and through 6 grandkids playing, dropping spilling on it its still going tough. It has been dropped so hard that the battery has popped out of it and the screen didn't even crack. Runs my apps without hiccup and obviously several for the kids. If your shopping for a phone and not a bling accessory why would you get anything else?
Custo
Indestructible
I drop this phone three plus times daily knocking the back off and battery out. I've drop it in water totally submerged and it's still working like new cracked screen and all. I go through a lot of phones so I buy cheap and this one can't be beat and at this new 30 dollar price I'm buying another to replace this one. Don't need it but I did lose the charger so it charges slow without the original charger.
garbucs
optimus zone 3
this is one awesome phone, ive had mine over a year now, I purchased it at local Chipley, fl store, took it directly to Verizon corporate store In Marianna for easier activation. ive had no problems at all with this phone. I am in process o buying a new one to replace this one as after a year, battery typically starts wearing down. I saw a comment review from reviewer Squirrel, about no calculator, u have to look in ur settings and apps, u will find it there. internet is also very good, I'm a navy veteran who was a geek in svc, ive had blackberry phones, and checked out Samsung phones, I would go with this phone again in an instant, hope lg comes out with a new optimus zone 4, I would buy it too.