Virgin Mobile LG Tribute HD 16GB Prepaid Smartphone, White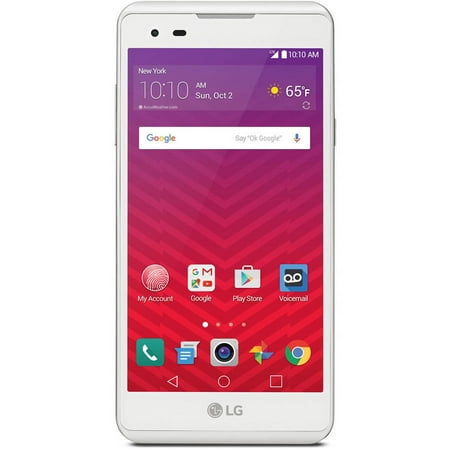 Sale :

$67.99

Sold & shipped by VIPOUTLET
Product Description

Additional Information

Reviews
Product Description
Experience the sleek and fast LG Tribute HD with the latest Android 6.0 Marshmallow Operating System.
Additional Information
The Tribute HD is equipped with an ultra fast 1.3GHz Quad Core Processor and more RAM for a better user experience. The upgraded 8MP Rear-Facing camera allows you to catch special memories and view them on the 5 HD Touchscreen Display. Connect where ever you go with the Mobile Hotspot capability. Enjoy all the latest Android features on the LG Tribute HD.
Reviews
missbunchie
louise
love it & the price
Lee28
Worst battery ever - Everything else is fine
I've had a few LG and Samsung smartphones, and this one by far has the worst battery life of any of them. I have to charge it once a day, and my typical usage is Google Maps and Spotify on my way to and from work (30 mins each way), and checking the news for a few minutes at a time maybe 5 times during the work day. I keep the screen dimmed at like 20%, stop all running apps, and don't keep bluetooth enabled. I do keep Wi-fi connected to the internet at my work and I do keep location running. By the time I'm home it's usually at 50%. I swear it loses 1% for each minute you use it just browsing facebook or the news. I can't imagine how annoying it would be if I used it to play games. The camera is not very great and doesn't focus well at all. My husband has to use his Samsung phone to take our vacation pics, this one is junk if you're looking for quality photos. Other than that, it's great! If you can deal with charging the thing once a day and poor camera quality, everything else is good. I paid $50 for it but definitely wouldn't pay more than that.
Carrie
LG Tribute
After being without a smartphone for over a year, I looked around a few different places to see what was out there. I was a little surprised to see Walmart carried this particular phone (LG Tribute). I have always felt good about buying LG products in general because of their reliability, style and affordability. There's a lot I like about this phone such as the many features and options. It is not loaded with a ton of bells and whistle, which is why I like is so much. It has all the apps I want and need, and if I want I find that I need an app I don't have, well that's what Google Play store is for! Anyway, I am happy with this phone. I would definitely recommend the Tribute to anyone looking for a smartphone that's simple to use, has many nice features and looks good.
BWiley
Fantastic Phone
Great, clear pictures. Super fast and connects to my car's Bluetooth instantly. The only thing I don't like is that the phone is SUPER slippery so make sure you get a phone case, DO NOT try to hold this phone in your hand if you are around concrete. I would recommend this phone to anyone.
Canwinman
Great Phone
I am impressed with this phone. It is fast and the screen has great resolution. It is fairly light so I bought a protective slip on case for it that gives it some substance.