Boost Mobile LG Tribute HD 16GB Prepaid Smartphone, White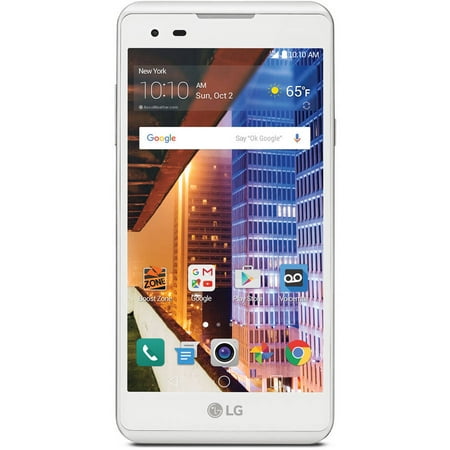 MSRP :

$79.99





Sale :

$40

Sold & shipped by Walmart
Product Description

Additional Information

Reviews
Product Description
Experience the sleek and fast LG Tribute HD with the latest Android 6.0 (Marshmallow) operating system. The Tribute HD is equipped with an ultra-fast 1.3GHz quad-core processor and more RAM for a better user experience. The upgraded 8MP rear-facing camera allows you to catch special memories and view them on the five-inch HD Touchscreen Display. Connect wherever you go with the Mobile Hotspot capability and Domestic Roaming. Enjoy all the latest Android features on the LG Tribute HD.
Additional Information
Boost Mobile LG Tribute HD Prepaid Smartphone:
3G/4G LTE network
Android 6.0 (Marshmallow) OS
5" HD IPS touchscreen
8MP rear-facing camera
5MP front-facing camera
16GB ROM
1.5GB RAM
2100mAh battery
Talk time: up to 15 hours
microSDHC card slot supports up to 32GB
Mobile Hotspot capable
Mexico and Domestic roaming capable
Qualcomm Snapdragon 210 1.3GHz quad-core processor
Reviews
CCTX361Jammer
What a steal of a deal!!!!
This morning I finally got my refund on my phone they had shattered it was another prepaid LG cheaper model, it was a rebel 5.1 and I paid 3999 for it at Walmart. The screen shattered the first day that we used it we didn't have it registered. So we get our refunds this morning and we're looking for phones within that $39 range cuz that was our budget lo and behold we come upon this 6.0 Android LG prepaid from Boost Mobile that is the size of a Stylo and his $40 off so instead of being $79 it was only 39 it has double the gig at 16 vs The Rebel and I'm using it now and I think it's awesome. There was two left this morning there's only one left now and the only one that is left is at the Walmart on Greenwood in Corpus Christi if I were you I'd go get it but you have to pay for it online to get the $39 I almost made a mistake and not doing it because it kept saying it was $59 at the store even though you were buying it online kind of misleading but I took the Gamble and it was 39 bucks and I got it and this thing is really nice it's a marshmallow LG you really did something this time thank you.
Niecey89
Cannot get enough of this phone :D
So I went to upgrade at boost go this phone for $40 to replace a stolen phone I had (Tribute 5) Was the love of my life, til I had to upgrade to this. 2x the memory, and wider screen by about .5-1". Phone reminds me alot of the ability of my Tribute 5, but better and faster. I broke it the first one, rebought a 2nd time now im on my 3rd Tribute HD bc I did not have a case on it. Bought a case as soon as I bought this one. This time a it will be covered. Love Walmart for having it at a decent price. Boost has it for $79.99 or upgrade for $49.99. Love the protection plan for $9bux done deal. I love boost but $7.99 per month for a phone on top of the $50 Ulmtd plan I had, not bad, but doesn't cover a thing. Walmart insurance covers everything Boosts doesn't. So even if I crack it, it can be replaced. LOVE LOVE LOVE THIS PHONE. RECOMMEND mostly LG to all, but this phone, what's not to love.
Bulwinkle56
Not wht I expected from LG
I have had this phone for a year and will replace it as soon as I am able. I have far fewer apps on it that I have had on other phones and there is very little storage space because of so many pre-loaded apps that I do not need or want, and cannot uninstall. I have added a 20 GB card, but cannot load most of the apps or content I want to it. Items that I do move over to the SD card are transferred back, by the phone, within days. I cannot load playlists to the phone. I cannot transfer documents, photos, music from phone to SD card. I am very disappointed with this phone.
Daleannesmiles01
Love this phone
I bought this in 2016 and it is still working as if it's brand new. It's very durable, lots of built in apps that is beneficial for those who love to take and edit photos and videos, games, office docs, music,and still have plenty of space and speed of the phone along with internet. Love this phone. [This review was collected as part of a promotion.]
RascalFlatts02
Love it
I gotten mine from boost mobile and i love it i switched from an iPhone to this phone