JM Smucker None Such Mincemeat, 27 oz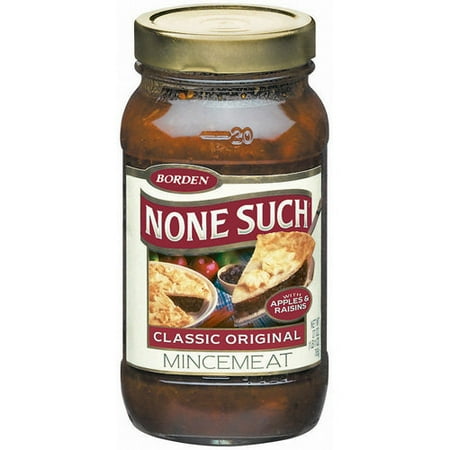 MSRP :

$208.26





Sale :

$13.99

Sold & shipped by Jack' s Country Store, Inc.
Product Description

Additional Information

Reviews
Product Description
Traditional mince pie recipe & fruit & nuts bars RECIPE
Additional Information
Mincemeat, Classic Original
With raisins & apples. Borden. Per 1/3 Cup: 190 calories; 0 g sat fat (0% DV); 250 mg sodium (10% DV); 32 g sugars. If you have any questions or concerns, call 1-800-656-3245. For free recipes visit www.eaglenonesuch.com.
Reviews
jkmnop
Nonesuch is my favorite brand of mincemeat.
I've used Nonesuch Mincemeat for over 30 years for my pies at Thanksgiving and Christmas. As it is a seasonal item and the grocery stores usually sell out of Nonsuch brand first, I've tried the other brands and still prefer Nonesuch. I usually top the pie with whipped cream. Very delicious for dessert and very yummy with coffee in the morning.
justmeforreal
Mincemeat filling
If you like mincemeat pie. This is excellent. It's getting hard to find mincemeat pie during the holidays. Just buy a pie crust already made. Pour in the filling. Set oven at 350 for about 55 minutes and your pie is ready. Then I found this product at Walmart. Best right out of the oven. Or slightly cooled would be best. Great taste if you like the flavor of mincemeat. Glad I found it at Walmart...
TheUpman
Great Product But Packing Lacking
My mother is English and I have grown up having mincemeat tarts every year for Christmas. Mom always used the None Such brand and I am ecstatic to follow her in this tradition. The None Such brand is excellent. Quite tasty! I could not believe it though, when my order came with 3 of the 10 heavy jars broken, two other jars air seals broken with one of their lids off the jar and the other so loose that it could have easily fallen off. The only reason for this incident is the poor packing material used. The heavy jars were simply wrapped in brown paper, with no bubble-wrap, and placed in a plastic bag. There was only a little more brown paper to take up the space in the box. I ordered these in spite of reading previous reviews about the lack of proper packing to ensure safe delivery, because Walmart had the best price and I thought that after the other complaints had been made about broken jars being delivered, that they surely would have made the proper correction by switching to bubble wrap. They did not! The broken jars were replaced quickly. Once again the heavy jars were wrapped solely in brown paper. Walmart should make sure that glass jars are always wrapped securely in bubble wrap to ensure safe deliveries in order to not inconvenience their customers.
maiden1
Great Product But Packing Lacking
Have been using this since I learned to cook with my mother..Great product and really good price
Oradell
Mincemeat in a Jar
Thanksgiving is not Thanksgiving w/o a mincemeat pie. Wish Walmart sold it in package form but if this is all you have, I'm buying it. One jar for Nov. and one for Dec.. If I make cookies I may need another jar. Love this stuff. Could eat it right out of the jar.