Artyfacts Deluxe Art Set for Kids with 120 Pieces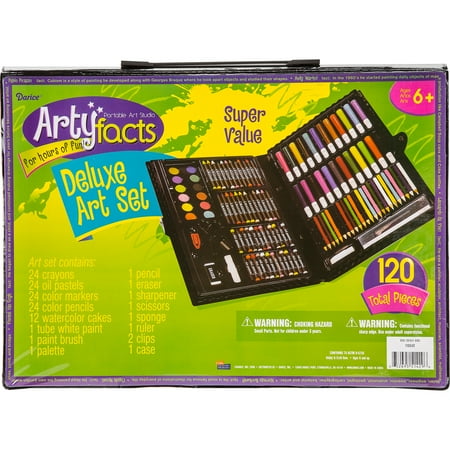 MSRP :

$15.99





Sale :

$13.87

Sold & shipped by UnbeatableSale
Product Description

Additional Information

Reviews
Product Description
Keep your kids busy as they show off their creative side by using a wide array of artistic resources with the Darice ArtyFacts Portable Art Studio. This 120-piece set includes everything that your child will need in order to enjoy multiple hours of art-related fun and enjoyment. The deluxe art kit for kids includes 24 crayons, 24 oil pastels, 24 color markers, 24 colored pencils, 12 watercolor cakes, a 0.14 oz tub of glue, one paintbrush, one pair of scissors, a sponge, a ruler, an eraser, a sharpener and two clips. It is a very useful and interesting gift for children of all ages. The 120-piece art kit for kids includes a convenient carry case that has a snap closure and a handle for easy portability.
Additional Information
24 crayons
24 Oil pastels
24 Color markers
24 Color pencils
12 watercolors
Bottle of glue (4oz)
Paint brush
Artist's palette
Drawing pencil
And More!
Reviews
tmjohn72
Great for Cheap Supplies
I've recently gotten into art journaling and when I found this set online, I knew I had to get it. I knew the quality wasn't going to be artist grade, or even student grade for that matter, but I wantd it. The materials are designed for the six year old student that wants to sit at the table and make some art. I use it in much of the same way except I use the supplies for working my my art journal. The quality is good enough for what I want as I like to layer different mediums on top of each other. The two items that I think are worthless in this kit are the plastic clips it comes with. The things are so flimsy that they're unlikely to be able to even hold two sheets of paper together. The ruler is great to have, as are the colored pencils, though crayola's colored pencils are of a better quality. The oil pastels are a joke. These things work more like the crayons as they can't be mixed together (blended) like regular oil pastels. They work well enough for backgrounds and to create borders around collage images, otherwise I'd say they should just get rid of them and give you a wider variety of crayon colors. The markers are CHEAP, but they're surprisingly good color quality. They are obviously not made to last very long so I'm enjoying using them while I can, though I have to admit I reach for the colored pencils more than anything else in this set. The pencil sharpener is a blessing, as is the eraser (though it won't last long) and the drawing pencil (where has this thing been all my life?). I haven't used any of the watercolors since I already have watercolor pencils and other watercolors to finish up first, though I suspect they will work well enough for my needs. I really wish this set came with acrylics but considering who it's marketed to, I understand why they didn't include any. The little tube of glue came half full with something that looks similar to Elmer's glue. I have yet to use it since I use Mod Podge instead, but it is nice to have as a backup in case of a glue emergency. The plastic (I'm talking thin here, folks) carrying case is okay. The handle to carry it seems to be the best part of the construction. When I open the thing up the eraser, pastels, and crayons are notorious for falling out. I can only imagine how easy it would be for a kid to lose these things if they weren't being careful. The clasp consists of a button and the laminated plastic tore on the first day I bought it, though it is still useable. I have to admit that I don't care much about the case though. The functionality of it being able to carry the goods from one place to another confirms that it does it's job well enough. All things considered, I'm glad I got this thing. The price was reasonable and it works well for art journaling. The quality isn't what most people would want but I find that it works good for my experience level and it gives me the opportunity to experiment, which is the best thing about art.
Oliverpennyannieellemay4
Nice set
It is a very nice set for the price.
norain
Nice set
got this for a 9 year old that loves to draw .. loved it
wvladyus
Worth the money
My granddaughter seemed to love this art kit...it was a good price too...
calli123
Worth the money
I thought this product was a great value. It came with a lot of supplies at a low price.