Pro-Lift F-767 Grey Low Profile Floor Jack 2 Ton Capacity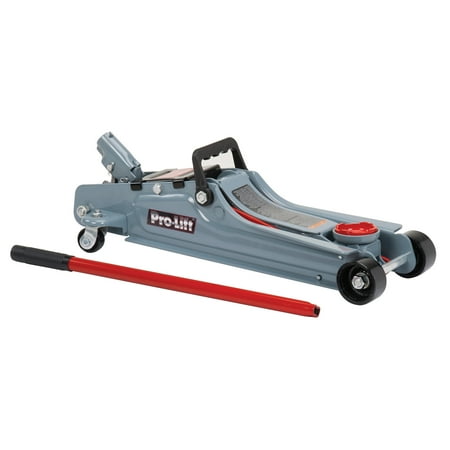 MSRP :

$51.49





Sale :

$47.38

Sold & shipped by Hayneedle
Product Description

Additional Information

Reviews
Product Description
Fit Under Low Ground Clearance Vehicle Pro-Lift F-767 Grey Low Profile Floor Jack is a 2 Ton floor jack that give you better access to low ground clearance vehicle. And,give you the lifting range from 3-1/2 inches to 14 inches. The Jack can be fit under a clearance of 3-1/2 inches and maneuvered easily into position. Pro Lift F-767 floor jack also features the heavy duty steel construction that provides the long lasting durability. Pro Lift unique patented bypass device protects against over pumping. Its built-in safety valve provides overload protection. Pro-Lift F-767 Grey Low Profile Floor Jack, 2 Ton Capacity: Pro-Lift F-767 Grey Low Profile Floor Jack is a 2 Ton floor jack that give you better access to low ground clearance vehicle And, gives you the lifting range from 3-1/2" to 14" The Jack can be fit under a clearance of 3-1/2" and maneuvered easily into position Pro Lift F-767 floor jack also features the heavy duty steel construction that provides the long lasting durability Pro Lift unique patented bypass device protects against over pumping Its built-in safety valve provides overload protection
Additional Information
Extra low profile
Lifting range of 3-1/2 inches to 14 inches
Patented bypass device protects against over pumping for safe operations
Built-in safety valve provides overload protection
Heavy duty steel construction provides long term durability
Reviews
MRGR74
Small n' Tall
I'm a poor, do-it-at-home-yourselfer and so needed a floor jack that wouldn't put too big of a dent in my already thin wallet, but wouldn't fall on me either the first time I put it under a load. Combine the reviews I read here & elsewhere as well, the F-767 looked like it would fit the bill, and you know what? It did. I used it to change the brakes on my wife's small SUV yesterday & it worked great. While I of course had jack stands under the car as well, "just in case" they weren't needed as the jack never lost pressure. Keep in mind that the F-767 is SMALL. Not much bigger than your old scissor jack, but it's a whole heck of a lot better. So much in fact, that I'm gonna leave it in my wife's SUV should she ever have a flat. I can't vouch how well it would hold up under constant use, but after using it once, it's basically paid for itself in what it would have cost me to take her SUV in to replace the front pads & rotors. So as far as I care, I'm already out ahead. You just can't beat it for $50.
BLHoe
Well made floor Jack
Used it twice to lift a small fork lift to change flat tires. Since this is only a 2 ton jack it is wise to put something under the item lifted after raising a vehicle to a workable height. This jack is at it's limit raising a small fork lift, yet it preforms correctly and is easy to use. The very low profile of this jack makes it easy to go under the very low body of a fork lift after a tire is flat. A well made tool that preforms well under great stress.
kd4exy
jack
low profile get down low for low cars
dave
Leaked
On first use it lifted my Honda Element, but leaked doing so.
KILLACOMMIE4MOMIE
Great Jack for the price
If you have a normal sized vehicle for the price it's Jack is great