Pest Offense Electronic Pest Repeller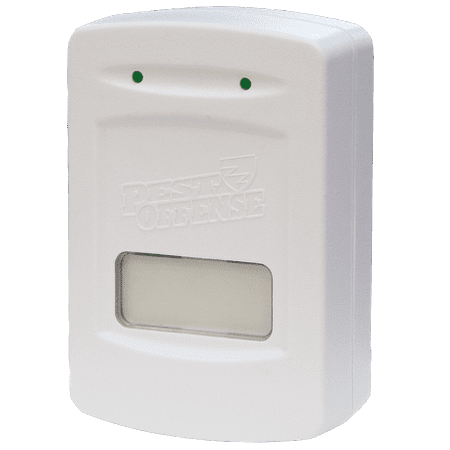 MSRP :

$24.99





Sale :

$20.53

Sold & shipped by Walmart
Product Description

Additional Information

Reviews
Product Description
Keep your home free of rodents and pests with the Pest Offense Electronic Pest Repeller. Built with a microprocessor, this electronic pest control creates a force field in your home by sending electronic pulses through the wire. It randomly creates digital sequences that help prevent pests from settling in your home. This patented technology keeps pests and rodents from nesting and feeding within the walls of your home. It allows you to protect your home from unwanted pests without using spray, traps or pellets that contain hazardous chemicals that can harm you, your plants and your animals. Simply plug the device into a socket. This chemical-free electronic repellent also includes a surge protector and indicator light. Guard your dorm room, apartment or house with the Pest Offense Electronic Pest Repeller.
Additional Information
Pest Offense Electronic Pest Repeller
Reviews
elderbillionaire
I Love This Excellent Product
I coupled this unit with the Viatek REVPCKGPR50/0706 Ultrasonic Pest Repeller with Nightlight in the same room as the constant smell of droppings because I think they entered from the earth beneath the kitchen sink. I can officially inform all readers that the smell has disappeared and the constant noise from banging against surfaces has also decreased 99.9%. To be extra secure in my new found protection, I am purchasing 4 more units for each of the remaining 4 rooms. You will be very pleased with the results of these units because although they both work inside the house and in the walls, they utilize differing frequencies affording the absolute best protection. I had lived in fear of being unable to stop their entry for years but now have complete confidence that I will live 100% rodent free where ever I go. In January 2013, I can do a complete house cleaning and major redecorating. I thank God for these products. The Viatek REVPCKGPR50/0706 Ultrasonic Pest Repeller with Nightlight is pictured on the left above the stove and the Pest Offense Electronic Pest Repeller is pictured on the right above the counter.
Aaron116
Definitely Worth It!
I have had this since July of 2013. It definitely works very well. It does take a few weeks before realizing its effectiveness. I started seeing German cockroaches in places I have never seen them, as if they were trying to get away. As the product says, a rare rodent may show up from time to time, but they are greatly reduced. If only my apartment had this unit in the lobby area where there have been many cockroaches, it may help to reduce them. I live on the 7th floor, so roaches have been the only problem. I cannot speak for any consumers who live on the first floor. I also cannot speak for any rodents other than German Cockroaches as I have no experience to share. The lights on the product are bright, so you may want to place the product in a spot where the lights will not bother you. Mine is under the dining room table. I only have one unit, and my apartment is less than 750 square feet. Great product and I highly recommend it.
RealTalkMan
Dont buy this product
I had mice still come in with the product right under them. Not a good product. Im returning the product today.
ROMANTICMAN
GETS RID OF RODENTS/INSECTS WITH PEST OFFENSE!!!!!
I BOUGHT PEST OFFENSE FOR MY APARTMENT IN 2002 TO GET RID OF SPIDERS, ROACHES, FLIES, ANTS. IT SENDS OUT A SIGNAL FROM THE HOUSE WIRING INSIDE THE WALLS. THE SIGNAL UPSETS THE RODENT/INSECT NERVOUS SYSTEM CAUSING THEM TO FLEE. THE PRODUCT IS SAFE FOR HUMANS, DOGS, CATS. VIEW THEIR WEBSITE. THE PRODUCT IS STILL WORKING AND I MOVED AWAY FOR 2 YEARS AND RETURNED TO THE APARTMENT. THE LANDLORD KEPT THE ELECTRICITY ON AND NO BUGS OR RODENTS. I BOUGHT 5 OF THE PRODUCT FOR GIFTS. YOU CAN GET IT ONLINE FOR $25 PLUS SHIPPING. SOME WAL MART STORES SELL IT FOR ABOUT $20. I KNOW IF ALL STORES SOLD IT AND DISPLAYED IT AT EACH ENTRANCE; IT WOULD SELL. WAL MART DOES SELL A SONAR PEST OFFENSE BUT IT WORKS ONLY OUTSIDE THE WALL. PESTS HIDE INSIDE THE WALL TOO. I HIGHLY RECOMMEND THE PRODUCT. IT TOOK 1 MONTH TO GET RID OF THE PESTS. ALSO IT PUTS A 3-5 FOOT FIELD AROUND THE HOUSE..,. NO FLIES EVER ENTER MY HOME EVEN WHEN THE OUTSIDE DOOR IS OPEN.... BUY ONE AND FORGET ABOUT BUGS/RODENTS. ROMANTIC MAN
NCTravelNana
GETS RID OF RODENTS/INSECTS WITH PEST OFFENSE!!!!!
I had always heard these devices does not work so never purchased one until recently. We have had problems for months with ants getting into our home from around our windows and have done almost everything possible to stop them but they seen to have been getting worse for us. Drove me crazy!! Our pastor told my husband to go to Walmart and buy one of these for less than $20 and said it worked for him. I ordered this one and we plugged it in the same day we picked it up. The next day I say a few ants crawling and followed their path and found a small stack of ants piled on each other as if they did not know where to go. I sprayed them to kill them and so far haven't seen an ant, spider or any type of insect in our home We have seen a few bugs on our deck but they are crawling away from our house instead of toward it. We are praying this thing is doing the trick and pray it continues. Also, noticed no bird dumpings on our deck railing. Who knows? Delighted so far!!