Pest Offense Electronic Pest Repeller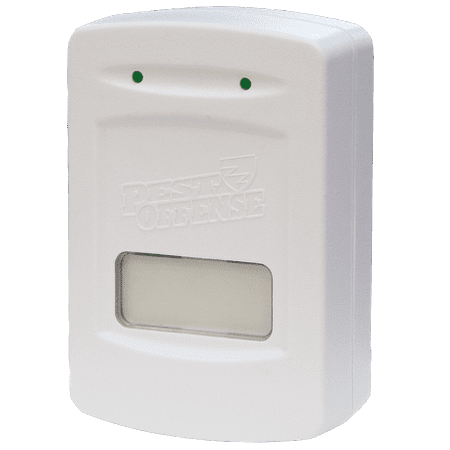 MSRP :

$24.99





Sale :

$22.16

Sold & shipped by Walmart
Product Description

Additional Information

Reviews
Product Description
Keep your home free of rodents and pests with the Pest Offense Electronic Pest Repeller. Built with a microprocessor, this electronic pest control creates a force field in your home by sending electronic pulses through the wire. It randomly creates digital sequences that help prevent pests from settling in your home. This patented technology keeps pests and rodents from nesting and feeding within the walls of your home. It allows you to protect your home from unwanted pests without using spray, traps or pellets that contain hazardous chemicals that can harm you, your plants and your animals. Simply plug the device into a socket. This chemical-free electronic repellent also includes a surge protector and indicator light. Guard your dorm room, apartment or house with the Pest Offense Electronic Pest Repeller.
Additional Information
Pest Offense Electronic Pest Repeller
Reviews
elderbillionaire
I Love This Excellent Product
I coupled this unit with the Viatek REVPCKGPR50/0706 Ultrasonic Pest Repeller with Nightlight in the same room as the constant smell of droppings because I think they entered from the earth beneath the kitchen sink. I can officially inform all readers that the smell has disappeared and the constant noise from banging against surfaces has also decreased 99.9%. To be extra secure in my new found protection, I am purchasing 4 more units for each of the remaining 4 rooms. You will be very pleased with the results of these units because although they both work inside the house and in the walls, they utilize differing frequencies affording the absolute best protection. I had lived in fear of being unable to stop their entry for years but now have complete confidence that I will live 100% rodent free where ever I go. In January 2013, I can do a complete house cleaning and major redecorating. I thank God for these products. The Viatek REVPCKGPR50/0706 Ultrasonic Pest Repeller with Nightlight is pictured on the left above the stove and the Pest Offense Electronic Pest Repeller is pictured on the right above the counter.
Chari
Nothing helps..
Truth is I have tried everything. From homemade remedies, boric acid, a variety of bug sprays, powders, gels, granules, even hired professional help, deep cleaned my house, and now these devices. Problem is I've had these devices plugged in my 1300 SF home for over a month. And my bug population seems to have grown. I purchased 3 of these and then 3 of a different brand that are a little smaller. I don't suggest spending your money on these devices as they seem to no longer be effective but honestly I don't really know what is effective in evicting these creepy crawlers anymore. They seem to be immune and have developed some ultra bionic resistance.
Aaron116
Definitely Worth It!
I have had this since July of 2013. It definitely works very well. It does take a few weeks before realizing its effectiveness. I started seeing German cockroaches in places I have never seen them, as if they were trying to get away. As the product says, a rare rodent may show up from time to time, but they are greatly reduced. If only my apartment had this unit in the lobby area where there have been many cockroaches, it may help to reduce them. I live on the 7th floor, so roaches have been the only problem. I cannot speak for any consumers who live on the first floor. I also cannot speak for any rodents other than German Cockroaches as I have no experience to share. The lights on the product are bright, so you may want to place the product in a spot where the lights will not bother you. Mine is under the dining room table. I only have one unit, and my apartment is less than 750 square feet. Great product and I highly recommend it.
Foolmeonce
Don't waste over $20
Seems to attract mice. They certainly aren't bothered by it. Bought as preventive maintenance. Within a month we have an actual mice problem. Stick to mouse traps and conventional pest control methods.
Brinney
Not recommended
I bought this to get rid of the mice in my house. It worked for a week and the mice came back. I dint recommend this product.