Pest Offense Electronic Pest Repeller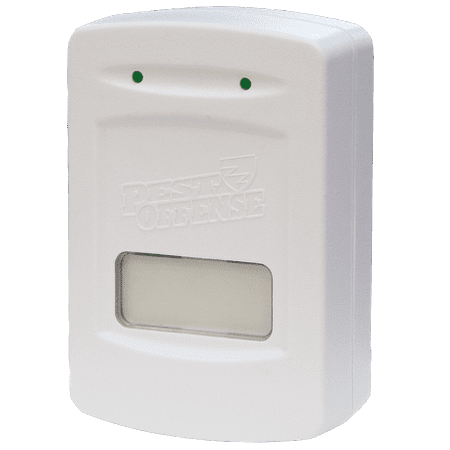 MSRP :

$20.53





Sale :

$20.53

Sold & shipped by Walmart
Product Description

Additional Information

Reviews
Product Description
Keep your home free of rodents and pests with the Pest Offense Electronic Pest Repeller. Built with a microprocessor, this electronic pest control creates a force field in your home by sending electronic pulses through the wire. It randomly creates digital sequences that help prevent pests from settling in your home. This patented technology keeps pests and rodents from nesting and feeding within the walls of your home. It allows you to protect your home from unwanted pests without using spray, traps or pellets that contain hazardous chemicals that can harm you, your plants and your animals. Simply plug the device into a socket. This chemical-free electronic repellent also includes a surge protector and indicator light. Guard your dorm room, apartment or house with the Pest Offense Electronic Pest Repeller.
Additional Information
Pest Offense Electronic Pest Repeller
Reviews
xhotdoglady
Outstanding Pest Controller!
Have used this product over ten years now, and I never had my house sprayed for any insect or rodent since I bought them. I had two covering a 2400 sq ft home, and put one at opposite ends of the house, and they finally conked out last month after ten years!! Imagine that, so of course, I just had to find this product again to continue the protection. I have recommended this product to everyone that asks, and as far as I know, they are all pleased with the coverage.
SmartPracticalConsumer
Outstanding Pest Controller!
I live in a duplex...one level, 1000 sq ft. apartment. A new neighbor moved in next door, and a week later I started seeing roaches. While in Walmart looking over overpriced bug sprays, I discovered PEST OFFENSE. Initially I purchased one unit. Went back a couple days later and purchased a second unit. That was 3 years ago...haven't seen a roach since.
Sarashopsalot
No more mice!
I bought this product to help with a mouse problem in my home. Although, my home is only three years old we have struggled with mice every fall. Since I put the Pest Offense in my house I haven't seen one mouse or any droppings. It has been such an awesome results. I'm so happy that I didn't have to use traps or poisons around my toddler or puppy. I would recommend this to anyone facing rodent problems.
TheLoveBugz
Bugz B Gone!!
Thank you so much for the wonderful product! My husband and I can't believe how well it works, especially living in Florida. We will recommend this to all of our friends and family members.
Chago
HFS low and behold!!!!
We have had a roach problem for years now amd happen to share a wal with another property. Our neighbors would not do much it seems, about the roaches while we were being infested no matter how clean and how much poison we threw. a few days ago I went to Wal-mart in desperation and bought this little device, (paid about $21 bucks for it Cali). Luckly there is a wal socket behind my refrigerator on the side of the shared wall, and pulgged it in. The very first hours roaches just seemed disoriented, but after the first few nights I went to grab milk st 5am for my toddler, half asleep I closed the door of the refrigerator with my hair all messed up, i looked around. I walked to my toddler's room, have him his bottle, in doubt I went back to the kitchen. Usually at this time I should have seen or stepped in a few crisp, crunchy little critters. Low amd behold! Not a single roach!!!!!!! Highly recommend this little device. Absolutely worth the money! Don't waste your cash in all of those poisons. If any questions email or message me!