Britax B-Agile/B-Safe 35 Travel System Stroller - Sandstone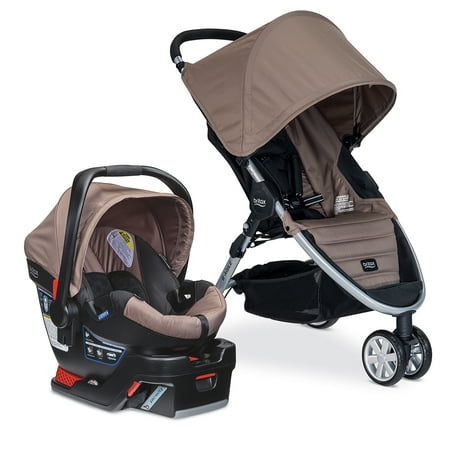 MSRP :

$229





Sale :

$159.99

Sold & shipped by Walmart
Product Description

Additional Information

Reviews
Product Description
The B-Agile /B-SAFE 35 Travel System is specifically designed to provide effortless convenience and maximum safety while you travel in style. The lightweight, maneuverable and super easy-to-fold B-Agile is the ultimate stroller to navigate modern life. Our one-hand quick fold design makes stowing or going easier than ever and the 3-wheel configuration with swiveling front wheels turns on a dime allowing you to negotiate the tightest of situations. A 5-point quick-adjust harness along with our infinite recline feature mean you can keep your child comfortable and on the move from infancy well into the toddling years and at just 16.5 lbs the B-AGILE is easy to carry from one adventure to the next. To top it off, our convenient CLICK & GO system makes the B-AGILE a perfect complement to the B-SAFE 35. A simple click lets you know that your child's seat is securely attached to the stroller and ready to go. The B-SAFE 35 with SafeCell Impact Protection surrounds your baby in safety features that work together to protect beyond the established federal safety standards. The Impact Absorbing Base absorbs crash energy and our Impact Stabilizing Steel Frame gives strength where you want it most. Complete Side Impact Protection shields your child from crash forces and debris and our SafeCenter LATCH Installation features convenient center-pull straps that make correct installation painless. Everything on the B-AGILE Stroller and B-SAFE 35 has been designed to make it easy to bring your little one along for the ride in safety and comfort.
Additional Information
SafeCell Impact Protection is an integrated system of safety components that work together to protect your child beyond the established standards. Including an Impact Absorbing Base, Impact Stabilizing Steel Frame, and Complete Side Impact Protection, SafeCell means your child is surrounded in best-in-class safety.
SafeCenter LATCH Installation provides simple, convenient car seat installation through the use of easy-pull straps that cinch down quickly and then self-retract to store safely out of the way.
SafeCell Complete Side Impact Protection surrounds your child in a deep protective shell designed to absorb crash forces and shield your child.
SafeCell Impact Absorbing Base reduces the potential for injury by compressing to absorb crash energy.
SafeCell Impact Stabilizing Steel Frame gives you peace of mind knowing there is strength where you want it most, at the connection point to the vehicle.
One-Hand, Quick-Fold stroller closes the stroller in seconds.
Lightweight Aluminum Frame (16.5 lbs total weight) makes the B-AGILE easy to maneuver and carry.
3-wheel Configuration with Swivel Front Wheels provide an ultra-tight turning radius for superior maneuverability.
Extra-Large Canopy with Ventilation Window keeps your child protected from the sun, wind and light rain.
Reviews
Coral1
Summary of details everyone wants to know!
This stroller was manufactured in August 2015 and the Model # is U551906 so it is indeed the recalled version but that should not be an issue as all you have to do is submit a request for a remedy kit to be sent to your home and it will arrive within 3 weeks. After replacing the recalled parts you should have no issues with using this as a travel system. Click the link to locate the recall: https://us.britax.com/service-support/recall-sites/click-go-recall-site/. The car seat does expire in August 2021. Although, that shouldn't be much of an issue as babies grow out of these car seats long before that. Strollers do not have expiration dates so that'll last you as long as you'd like to use it. For the price it's at now don't pass it up you won't find another deal like this one as believe me I've been an avid fan of this stroller/travel system for years and can tell you I've never seem them this Low before.
Rob
It's awesome!
Great product for the insanely low price. The other reviews are mad that they got a 2015 model. Yes it's 2015 but it's still a Britax and it's a steal!
JD
Misleading information; Complete waste of time
This is the 2015 model and not the 2017 model (as mentioned in the Q&A and as told by the Walmart cust. service rep.). Also, the stroller is the recalled model.
Katie
2015 model
The stroller and car seat seem fine but the first time they delivered it to our house the car seat had scratches all over it and the box was falling apart...literally! The website also does not tell you the model year! I contacted Walmart and the customer service rep assured me it was a 2017 model...just opened the box and it's a 2015!
Kp
2015 model
This is not the latest model like the Q&A claims. This is the 2015 model. Be careful when buying.