AT&T EL52303 3-Handset Answering System With Caller ID & Call Waiting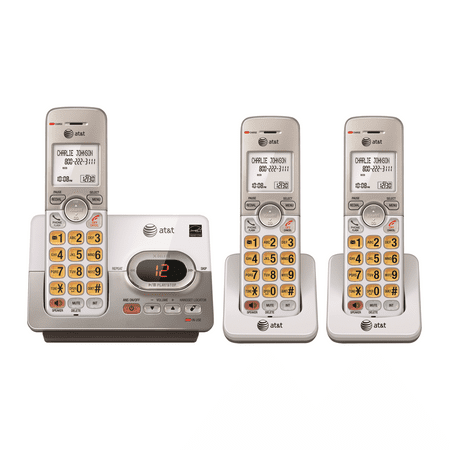 MSRP :

$79.99





Sale :

$64.99

Sold & shipped by Walmart
Product Description

Additional Information

Reviews
Product Description
Know who's calling you at all times with the AT&T EL52303 3-Handset Cordless Answering System with Caller ID/Call Waiting. This AT&T cordless answering service comes with three handsets, handset speakerphones and a digital answering system. The DECT 6.0 Digital technology delivers outstanding sound quality and security, while ensuring wireless networks and electronic devices don't interfere with conversations. The caller ID/call waiting features ensure you don't miss those most important calls, while the intercom, call-transfer and conference capabilities streamline in-home communication and eliminate disruptive shouting through the home. Lighted keypads and large, lighted displays on the handsets make viewing and dialing easy. With up to 14 minutes of recording time, the AT&T EL52303 3-Handset Cordless Answering System with Caller ID/Call Waiting answers calls when you can't. Retrieve your messages from the base, handset or even remotely.
Additional Information

AT&T EL52303 3-Handset Answering System With Caller ID & Call Waiting:
Dect 6.0 technology
3 handsets
Features answering system, caller ID and call waiting
Handset speakerphone
Extra-large display
Digital answering system
Expandable with El50003
Handset answering system has LCD display with high-contrast black text on a white background
Very large backlit keys for easy dialing
Can be expanded to total of 5 handsets
14 minutes of digital recording
Quiet mode
Call screening
Remote access
Voicemail waiting indicator
Reviews
Kai07030
AT&T EL52303 RULES !!! YESIREE
I BOUGHT BEFORE A "VTECH'3-Handset Cordless Answering System with Caller ID/Call Waiting, AND HAD PROBLEM HEARING. SOUNDED LIKE IT WAS RAINING. I CALLED THE CABLE COMPANY TO COME FIX IT AND WHEN THEY CAME THEY FOUND OUT THE PROBLEM WAS THE PHONE. I BOUGHT THIS PHONE (WHICH THE CABLE COMPANY GUY RECOMMENDED) AND IT WORKED GREAT. SINCE THEN I HAVE NO PROBLEM. I'M HAPPY LIKE A FROG WHO ESCAPED FROM A LIZARD.
Unhappycustomer
Poorest customer service imaginable
One of the three handsets did not work. You'd think that a quick call to AT&T would solve the problem and they'd have a replacement handset out to you as quickly as possible, right? Wrong. They want you to supply the packaging, make a trip to the UPS store and provide your own postage to send the defective handset back. The way a reputable company backs its product is to send a new handset and provide the packaging and postage to send back the defective unit. AT&T wants you to do all the legwork and take on the expense of returning their defective product. I understand that sometimes a defective product makes its way through the system. When that happens, a company should fix it without inconveniencing the customer. I will NEVER buy another AT&T product. Adding to this is the fact that I had to listen to their infobot for 25 minutes before reaching a human being. Clean up your act, AT&T and do the right thing for customers that buy your products.
bowlmeover
Very good for the price
This is one of the few multiple handset, wireless home phone systems, where a change made on one handset is transmitted to the other handsets when it comes to adding/correcting/deleting contacts and reviewing/deleting calls received. Only 2, very minor, problems. 1) There is no way to use a true "hands free" option (no wired or wireless headset). While the speaker phone is good, you still need to hold the phone if you walk around. 2) There is no way to easily enter contact information. While this is common to all phones that do not offer a keyboard, it would be great to have a way to transmit a contact list from a database (PC, laptop, mobile phone, etc) to these home phones.
atexican
only owned 2 weeks
I would have given them 5 stars, but, I've only owned these phones for 2 weeks, but so far they work perfectly. The large lighted buttons are a big help. The intercom feature is useful since hubby is deaf! Also, you can access the answering machine from any handset, or use the phone numbers entered in the directory.
RidetheWind
Great Choice
This is the best phone set I have ever purchased. Searched the internet, read the reviews, and they were 99% positive. I would definitely purchase this phone set again in the future. Works great !!