AT&T EL52303 3-Handset Answering System With Caller ID & Call Waiting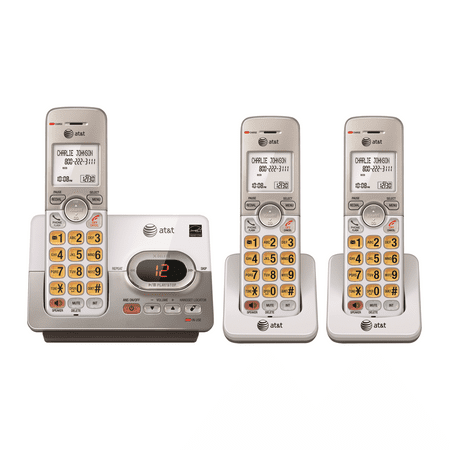 Sale :

$64.99

Sold & shipped by Walmart
Product Description

Additional Information

Reviews
Product Description
Know who's calling you at all times with the AT&T EL52303 3-Handset Cordless Answering System with Caller ID/Call Waiting. This AT&T cordless answering service comes with three handsets, handset speakerphones and a digital answering system. The DECT 6.0 Digital technology delivers outstanding sound quality and security, while ensuring wireless networks and electronic devices don't interfere with conversations. The caller ID/call waiting features ensure you don't miss those most important calls, while the intercom, call-transfer and conference capabilities streamline in-home communication and eliminate disruptive shouting through the home. Lighted keypads and large, lighted displays on the handsets make viewing and dialing easy. With up to 14 minutes of recording time, the AT&T EL52303 3-Handset Cordless Answering System with Caller ID/Call Waiting answers calls when you can't. Retrieve your messages from the base, handset or even remotely.
Additional Information

AT&T EL52303 3-Handset Answering System With Caller ID & Call Waiting:
Dect 6.0 technology
3 handsets
Features answering system, caller ID and call waiting
Handset speakerphone
Extra-large display
Digital answering system
Expandable with El50003
Handset answering system has LCD display with high-contrast black text on a white background
Very large backlit keys for easy dialing
Can be expanded to total of 5 handsets
14 minutes of digital recording
Quiet mode
Call screening
Remote access
Voicemail waiting indicator
Reviews
thisme
easy set up
nice features can screen incoming calls and has answering system with out voice mail
lpwally
Very pleased with product.
Easy set up, pleased with product, meet's expectation's.
Skiprad
Works as advertised
Pros. The phone and answering system work as advertised. The setup is easy, sound quality is good. A decent product for the price. Cons. The contact directory is limited to 50 entries and the hand sets require special battery packs. After using the product for two days the dial pad on the hand set on the base system stays lighted constantly instead of going out when not being used. I called tech support and they recommended I return the product as the lighted dial pad would lower the battery life while in use. I returned the product Walmart was very helpful and the exchange for a new system was quick and easy. I set up the new system reentered all 50 contacts set up the answering system setting time date and greeting message again and after using g the base handset three times the same thing occurred. The dial pad stays lighted when not use. I am going to live with it and see if the battery life is effected compared to the other two handsets that come with the system.
aFriend123
I really liked this phone but...
The most important feature is quality of sound. Too much airy noise when people spoke to me through speaker. I always use my phones on speaker so I didn't bother to try through the earpiece. The other problem was I was annoyed to be told constantly that I was fading out. I noticed that if I moved the phone about 2 feet below my mouth the other person would know every time. Possibly I got a bad one but I tested all three handsets and they were all the same. I also tried to move the phone base to different locations with no change. I really wanted to keep this phone as I liked everything else about it. I previously have an older AT&T phone which sounds perfect. I was willing to try a new phone in lieu of replacing the batteries for the second time (The originals lasted quite a long time. The second set was some cheap brand batteries off amazon) and I thought it would be nice to have the answering machine all in one rather than two separate items. I have my eye on another model with HD EQ I may try.
Unhappycustomer
Poorest customer service imaginable
One of the three handsets did not work. You'd think that a quick call to AT&T would solve the problem and they'd have a replacement handset out to you as quickly as possible, right? Wrong. They want you to supply the packaging, make a trip to the UPS store and provide your own postage to send the defective handset back. The way a reputable company backs its product is to send a new handset and provide the packaging and postage to send back the defective unit. AT&T wants you to do all the legwork and take on the expense of returning their defective product. I understand that sometimes a defective product makes its way through the system. When that happens, a company should fix it without inconveniencing the customer. I will NEVER buy another AT&T product. Adding to this is the fact that I had to listen to their infobot for 25 minutes before reaching a human being. Clean up your act, AT&T and do the right thing for customers that buy your products.