AT&T EL52203 DECT 6.0 2-Handset Answering System With Caller ID & Call Waiting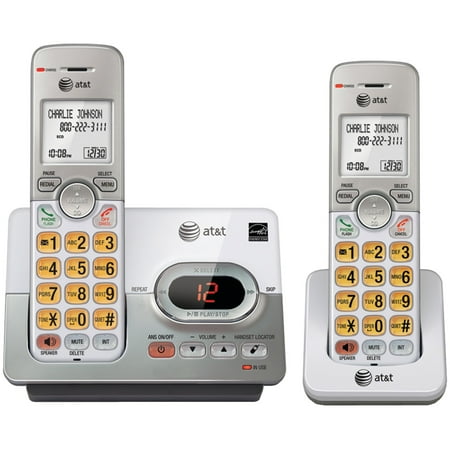 Sale :

$49.95

Sold & shipped by Walmart
Product Description

Additional Information

Reviews
Product Description
Modern and fully featured, the AT&T EL52203 Cordless Phone with Answering Machine comes with two handsets, handset speakerphones and a digital answering system. DECT 6.0 Digital technology delivers outstanding sound quality and security, while ensuring wireless networks and electronic devices don't interfere with conversations. Caller ID/call waiting features ensure you don't miss those most important calls, while intercom, call-transfer and conference capabilities streamline in-home communication and eliminate disruptive shouting through the home. Lighted keypads and large, lighted displays on the handsets make viewing and dialing easy. With up to 14 minutes of recording time, the digital answering system answers calls when you can't. Retrieve your messages from the base, handset or remotely using this AT&T EL52203 Cordless Phone with Answering Machine.
Additional Information
Dect 6.0 Technology
2 Handsets
Features Answering System, Caller Id & Call Waiting
Handset Speakerphone
Extra-Large Display
Digital Answering System
Expandable With El50003
Reviews
Skippy
Everything you could ask for.
This AT&T cordless phone is good but, a little too complicated. A lot of menus and scrolling for simple tasks.
Carlos
Good voice quality
Excellent device,the only thing that can by improved by the company is the contact agenda capability now is 50 Contacts, I use my land line like a cellphone so I need more
LindaPM
AT&T Phone
We use this phone at the office. It was a replacement for an earlier model of the same phone so I was already familiar with it. Pros-larger keys which are backlit. The keys are covered on this model rather than stamped on (previous model). Most buttons had worn off on the older model. Easy to set up, get messages at the phone & remotely. Cons-the contrast on the display is not the best. The most annoying feature is the last number to call in will not show up on the caller ID list until another call comes in. This was not the case with the older model. When the call comes in, caller ID does display. When the call is ended the ID will not show up. At work it quite frustrating. Sometimes I need to call that particular person right back & will have to look up their number or call the phone from another line. There may be something I've missed in the manual. Either way it should not work like this. It's a great phone if you don't need to refer back to your caller ID list.
AbbeeNormal
Best Cordless Phone Under $50
I was looking for a cordless phone with one extra handset and I did A LOT of research to try to find the best product for an affordable price. I asked a lot of questions and spent quite a bit of time on multiple websites and store links. I finally settled on this, the AT&T EL52203 DECT 6.0. I've had it for 2 months now and I like it better than the cordless phone set I had to replace (it was old). With this new set, you can check your answering machine messages (and delete them etc.) from your other handset; you don't have to go to the machine itself to check messages. You can also check messages from a remote location by accessing your 'remote #' - a two digit number you program into your phone, then access when you are away from home. Just call home and when the machine picks up, dial in your 'remote #' and you can hear your messages. You can read what is says on the phone very clearly. The sound on the phone is great also: it is clear with no interference, no 'other people talking', no clicking, no buzzes, nothing.....nothing but the person on the other end. Sooooo glad I bought this set and highly recommend it to others.
reviewer67
surprisingly cheaply made
I purchased this phone after reading a lot of reviews on several brands available and models..i was happy to receive it, even though delivery was longer than expected..when I opened the box and checked the a t and t phone, I was very disappointed, as it is made of cheap very lightweight plastic, which I think would shatter if dropped..the answering machine base is of the same quality..i was attempting to replace an old sony anwering machine phone, that I actually like,which is a sturdier plastic and much better quality,but it is no longer made..i found new batteries online to "fix" that phone,and it is working properly again, so I will keep it and return the a t and t system..if i get new phone in the future, I will go with Panasonic as they are equivalent in price and more sturdy..do not purchase this phone if you expect quality..it is going back to the store or via the usps!