AT&T CL2909 Standard Phone - White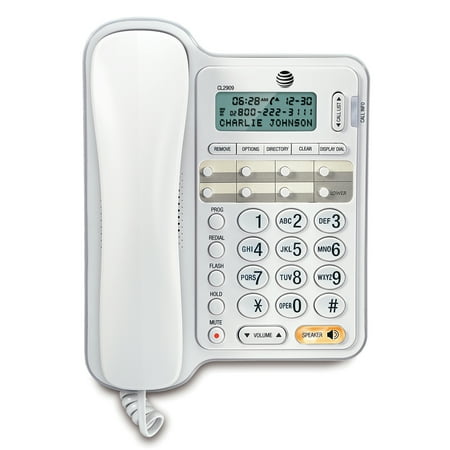 MSRP :

$34.95





Sale :

$19.88

Sold & shipped by Walmart
Product Description

Additional Information

Reviews
Product Description
With this handy AT&T Corded Telephone with Caller ID you can easily take and make calls anywhere at home. Packed with useful features, it comes with a speakerphone for hands-free operation and call waiting functions. This AT&T telephone has a 14-number memory for frequently dialed numbers. It has hold, redial, flash and mute options that can be helpful for business and home use. This corded telephone with speakerphone features setup menus in English, Spanish and French. It also includes caller ID history for up to 65 names and telephone numbers that allows for the tracking of incoming calls. The AT&T Corded Telephone with Caller ID also has a large easy-to-read display. This item does not need AC power to operate.
Additional Information
Speakerphone with Caller ID, call waiting and dial-in base speakerphone
Offers a 65-number directory, 14-number memory, bilingual menu and three one-touch, memory buttons
Includes last number redial, hold, mute, flash, clock, CALL INFO light and directory
Speakerphone uses four AA alkaline batteries (sold separately)
Compatible with both hearing aids and headsets
Reviews
suvgrandma
Just what I Needed
Bought this for my mom who is 90 years old and it has big numbers and all she has to do is push the speaker button to talk to someone when they call, so it does the job, it's great!
hitekhik
Overall good price and good quality.
This seems to be a good quality phone for the price. The only issue I have with the phone is when I use the speakerphone. If the volume is set too high, the audio is somewhat distorted. I think maybe this is due to the quality of the speaker, it probably is not large enough to handle the volume properly. Other than this, there are other great features, which in my opinion supersede the issue with the speaker, (I merely lower the volume to a more comfortable level). The price was only $20.00, and I wanted a landline phone that had the keypad on the phone itself, and not on the handset. (I wanted to record the voices of our little grandchildren off of voice messaging from the phone company to my digital recorder), hence the desire for a speakerphone. The telephone required 4 AA batteries, in order to allow for the memory related features to work, and the batteries are not included, (not a deal breaker in my opinion).
AlphaHelix
Great for the price, wished it came in black
I just needed a reliable corded phone for my home office so I no longer have to worry about dead or weak batteries for the previous cordless phone. A new rechargeable battery pack would have cost about the same if not more than this phone. Does everything I need. Speaker phone sounds and delivers voice great. Works fine with VOIP systems. Needs 4XAA batteries for the call ID, call waiting, digital screen and speaker phone, as there is no AC adapter, but no problem for me since I have most of that (except speaker phone) on my Vonage box anyway, which requires no batteries. The phone still works fine without the batteries so you won't get disconnected during a call and will still be able to use basic calling and call receiving functions without batteries. May have been better with an AC adapter to rid reliance on batteries for those without a second system to take care of the extra features and would have preferred it in black instead of white, but it only comes in white. Best price at the time for all the features compared to Panasonic, Uniden and Emerson.
TT138
Great for the price, wished it came in black
A very good value for the money. The only thing I did not like is that the display does not light up. Depending on room light, not always easy to read.
plus1bargainshopper
EXCELLENT PHONE
Good phone from a recognized brand. Great value. Good features, especially the speaker phone. Also the speed dialing feature works really well and was easy to program. I have had other phones where speed dialing setup was so intricate I never used it. Good tone. Pleasant ring tone. All in all a good phone and great value.