Big Joe Megahh Bean Refill, 100 Liter Single Pack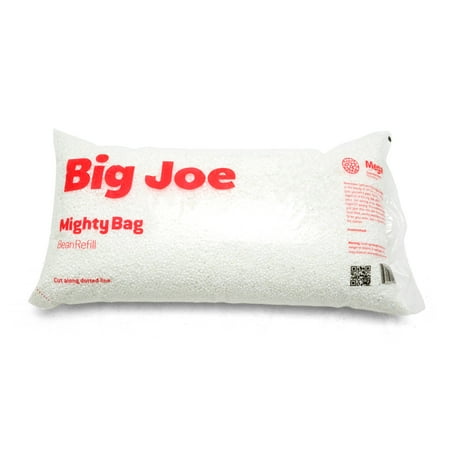 MSRP :

$25





Sale :

$16

Sold & shipped by Walmart
Product Description

Additional Information

Reviews
Product Description
Update a favorite accessory with the Popped Polystyrene Bean Bag Refill. This fun and functional seating solution is the most comfortable when it's nice and full. For your chair that has flattened with use, add more bean bag filler to restore it to its original fluff. The fill is fast and simple to insert for satisfying results. It's an easy way to maintain a favorite piece of furniture. Each 100-percent virgin polystyrene bean is the approximate size of a large pea. Together, these beans shift to conform to the shape of your body for soothing support. They're also good for various craft and sewing applications. This package contains 3.5-cubic-feet of bean bag chair refill.
Additional Information
Popped Polystyrene Bean Bag Refill, 1 Liter, Single Pack:
Use to refill your existing bean bag chair
Bean bag filler refill bag includes 3.5 cubic feet
100-percent virgin polystyrene bean is the approximate size of a large pea
Reviews
Consumer314
Works great
Was very skeptical initially, esp after reading some reviews here but had no other choice so ordered one bag (Popped Polystyrene Bean Bag Refill, 4-Cubic Feet ). I was pleased with what I got - the carton was 36*11*17 inches and was FULL of polystyrene balls. The balls were not loose but were contained in a thick plastic bag which when deflated and flat was 46 * 21 inches. The balls were new and were bigger than the original ones in my bean bag. I still went ahead and added the new ones, the bean bag (after the mix) felt as good as the new one! Most importantly I figured out a super easy and super convenient way to refill the bag. Here is the secret (I did it in my living room - against popular advice!!). See picture (it was taken after successful transfer); 1] Get a cardboard tube, mailing tube, Pringles tube etc and some packing/duct tape 2] Cut a hole in the plastic bag just big enough for your tube, insert the tube an inch into the bag and tape the bag to the tube 3] Open the bean bag very very VERY carefully just big enough for your tube, insert the other end of the tube and tape it to the bag. Be very careful since the other end of the tube is connected to the plastic bag which is FULL of 'eager to get out' balls 4] Now you have plastic bag connected to Bean bag via a tube, just lift the plastic bag and watch the balls slide down effortlessly. They will get clogged time to time, just move/shake/slosh the bean bag to move the balls out of the way. Good luck. PS: For size of pics check out the pics in another review by someone else.
supersmiley42
Works great
I am very happy with this product. I ordered three bags to fill three large beanbags (my kids bean bags) but two would have been plenty. Remember that there is a lot of static! I cut a small hole in the top of the refill bag, insterted a tube/potato chip can and taped it tight. I then unzippered the bean bag enough to fit the other end of the can and slowly filled the bean bag. No mess, no problem!
harrisj555
refilled our Big Joe beanbags
Was disappointed that the stuffing of our two Big Joe beanbag chairs had gone flat rather quickly, so ordered this to refill them. They are exactly the same small styrofoam pellets that came in the chairs. This one 3.5 cubic foot bag refilled two chairs pretty well, but not quite to original condition. Hopefully we won't have to do it all again in 6 months. It hurts to pay $12 for a bag of styrofoam! The product is exactly what it's supposed to be though, and that's the lowest price I found anywhere.
2toddlermom
extra beans
awesome product. looking to refill pricey bean bag without spending a lot. this product "refilled" two kid sized bags and was a great value. site to store ship was such a pleasure to use!!
King
So far so good
I used this to refill a big joe bean bag chair. I used a paper towel tube taped into the corner of the bag. I inserted the other end of the tube into the chair. Easy peasy. The beans went into the chair and not on my floor. Having just filled the chair I have no info as to the longevity of the product but initially I'm happy.