Premier Protein Shake, Vanilla, 30g Protein, 11 Fl Oz, 4 Ct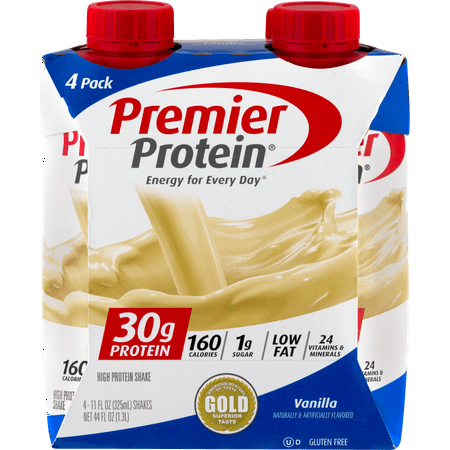 MSRP :

$8.55





Sale :

$7.99

Sold & shipped by Walmart
Product Description

Additional Information

Reviews
Product Description
Vanilla High Protein ShakeEnjoy a Shake:• As a delicious meal replacement• For a satisfying snack• As a base in smoothies• In hot or cold cerealLife requires protein, but we know it's hard to get Lean protein. That's why we make delicious protein products without all the sugar, fat and calories, to give you the energy you need every day. So whether you missed breakfast, have the 3 o'clock hunger pang or need to refuel after a workout, we give you the protein you need, when you need it.
Additional Information
Product FeaturesAmerican masters of taste gold superior taste30g protein160 calories1g sugarLow fat24 vitamins & mineralsGluten freeNaturally & artificially flavoredKosher - DFor more information on Premier Protein® products and recipes, visit us at premierprotein.com or Facebookpremierprotein.comPremier Protein and Energy for Every Day are registered trademarks of Premier Nutrition Corporation. Copyright 2015 Premier Nutrition Corporation. All rights reserved.
Reviews
jemrah
A High Protein Shake that Tastes Great !
I was pleased and thankful to receive Premier Protein, Vanilla, from Chick Advisor to try and review ! #gotitfree The 325ml nutritional supplement contains 30g of protein, 160 calories, 1g of sugar, is low fat, and has 24 vitamins & minerals. It is not intended to replace a meal. In small print, it is indicated that it contains milk, is for adults only, to not consume more than one per day, and to consult a health care practitioner if you take blood thinners, before consuming. After refrigeration, shake well and enjoy as a snack. It is naturally and artificially flavoured. The tetra pak with screwtop lid is great to take with you, where ever you go: lunch, picnic, a workout, a walk, shopping, to work... It tastes really good! Sort of sweet. A nice vanilla flavour. And no gritty taste that some protein drinks have. My picky teen tried it too, and liked it a lot! The Premier Protein web site contains many delicious recipe ideas! I would definitely consider buying this in the future. [This review was collected as part of a promotion.]
crowjane37
Vanilla slightly less appealing
First off, this product did exactly what it was meant to - once I worked out I downed a bottle of this shake and it did assist in building muscle and reducing fatigue. I work out daily for 30-90min and I definitely noticed a nice pick-me-up feeling after drinking this. TIMING IS EVERYTHING for protein if you are using this to build muscle. It is only effective if you consume the protein within a few minutes after working out, so make sure to adhere :) I just found that there are too many additives in this shake I don't need. I appreciate the protein content and the B vitamins as I am a vegetarian, but due to my diet, those were really the only ingredients I needed. Too many vitamins can lead to all sorts of problems that you may believe are caused from the opposite - too few vitamins, but it is not true. There was also too much sugar, which was evident in the taste. The flavour was alright. All in all, I would recommend this IF you need what's in it. Otherwise, stick to something more natural. [This review was collected as part of a promotion.]
Nik05
Yum!
I received Premier Protein Vanilla Shakes for free as part of the Chickadvisor Product Review Club for free in exchange for my honest review. I was plesentley surprised when I tried these shakes! I haven't been a huge fan of most protein shakes that I have tried in the past. The taste and texture always seem off. That was not the case with these ones. I really loved the vanilla shake! It tasted great on its own, but I really enjoyed it blended as a smoothie. I blended it up with some match powder and frozen mangos for a delicious on the go breakfast. The flavours went well together and I didn't get that chalky feel / taste like I expected I would from a protein drink. Also with 30 grams of protein this drink really left me satisfied (and only 1 gram of sugar, bonus!). I drank them for breakfast before work and found that it did keep me going until lunch. I will definitely buy these again as they are a great way to amp up my morning smoothies. #tryPremierProtein #gotitfree [This review was collected as part of a promotion.]
Star_Mom27
My favorite premier protein shake!
I have already done a review on premier protein shakes but I decided to do another focusing on just my favorite one ..... Vanilla. All of the premier protein shakes are amazing and help regain energy and boost my mood all while having and amazing flavor free of powder or bitterness. They are perfect for after a workout and for busy people on the go. If I do have a bit of time after dinner though i love using the versatile vanilla shake to make a fall favorite dessert in my house before yoga 'Pumpkin Spice Protein Milkshakes'. It's super easy and fast all you need is a cup of vanilla ice cream or yogurt , half a cup of ice , some pumpkin spice (cinnamon,nutmeg,allspice,cloves) and finish with one cup of vanilla premier protein shake. This is a delicious treat that is just to die for. I am so thankful I got to try these shakes for free thanks to premier protein and chick advisor. They are my new favorite and I've already repurchased them. I would highly recommend them! [This review was collected as part of a promotion.]
rebelleonmyway
Too sweet for me
When I received the package, I was really excited to try it. I'm not the kind of girl that drink protein shake, but I was curious to try it to understand what everybody's talking about. I have to say... I tried the vanilla shake first. Oh!... It was hard to drink because it was too sweet. But after a couple of sips it turns out not too bad but not the kind of thing I would drink every day. I tried it with cereals and it wasn't that bad... Usually I add maple syrup because my cereals don't have a lot of sugar add on it. But with this sweet protein vanilla shake it was pretty good. I wouldn't drink this all the time, but for this review it was a good way to eat it. Also, i know that for me it's really hard to get protein in the morning. It was a good way to get some... but I still think that natural way is better for the body. If you're into that kind of stuff, I'm pretty sure you're gonna like it. So, yes I'll recommend it if someone's looking for a protein shake. [This review was collected as part of a promotion.]