Royal Purple 15W-40 Synthetic Motor Oil, 1 gal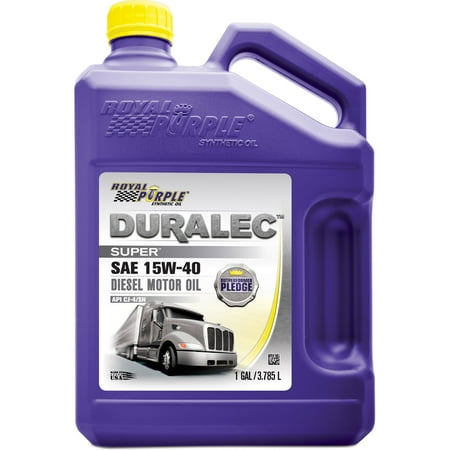 MSRP :

$38.47





Sale :

$37.56

Sold & shipped by Walmart
Product Description

Additional Information

Reviews
Product Description
The Royal Purple 15W-40 Synthetic Motor Oil combines premium base lubricants with proprietary additive technologies to create a product that optimizes engine performance. It delivers superior protection and improves performance in gasoline and diesel engines. This 1 gal of Royal Purple motor oil meets ILSAC GF-5 and Dexos1 performance requirements. No special procedures are necessary when upgrading to Royal Purple. Royal Purple recommends waiting until the manufacturer's first scheduled oil change in new gasoline and diesel engines before upgrading to Royal Purple. This diesel engine oil is compatible with synthetic and conventional motor lubricants. Available viscosities include: 0W-20, 0W-40, 5W-20, 5W-30, 5W-40, 10W-30, 10W-40, 15W-40 and 20W-50 weights. Royal Purple also offers mono-grade motor oils in SAE 30, SAE 40 and SAE 50 weights.
Additional Information
Royal Purple 15W-40 Synthetic Motor Oil, 1 gal:
1 gal of Royal Purple motor oil provides better wear protection: Enhanced additive technology prevents metal-to-metal contact beyond both Dexos1 and ILSAC GF-5 specs
Increased fuel efficiency: A low coefficient of friction results in optimized fuel efficiency (the fuel economy of our 5W-30 meets the fuel economy requirements of a 5W-20 oil)
Diesel engine oil gives better protection of the expensive catalytic emissions system: Patented ZDDP additives optimize emissions catalyst system life
Improved compatibility with fuels containing ethanol: Patented additive technology prevents the white sludge and lubrication starvation that can occur with 20 percent or higher ethanol fuel
Royal Purple 15W-40 Synthetic Motor Oil has superior corrosion protection: No rust observed in standard industry testing
Reviews
Carfixer24
Best Oil
This is by far the best oil. And the walmart price is unbeatable. Thumbs up
Tobieki
This is a great product
Great product at a Very Good PRICE.
Sunshine
Happy
I have used this product for several years now and am very pleased with it's performance. I had been using another high quality synthetic motor oil for a long time and while it worked well Royal Purple exceeds it. With Royal Purple the diesel engine in my 2001 Ford runs quieter and usage is practically zero. What got me to first try Royal Purple was the price from Walmart but I'm sold on it now no matter the price. I'm just now switching over to their Max Tane injector cleaner.
PBLO
Royal purple convert
I purchased this oil because of it's affordable price at Wal-Mart and always have heard and read good things about it. As soon as I put it in my truck I noticed after starting it the motor was running smoother. Took it out on the highway and really noticed the increase in horsepower. I was up to 80mph before I knew it and it didn't seem like it was working that hard like it usually does. It has given my old high mileage 94 K2500 Suburban new life. But I do have one concern it seems like a lot of the Wal-Marts around me are starting to not carry the 15w40 anymore, what's up with that. It has not been on the shelves very long.
Budsman62
great price on great oil
best deal on purple