Oct17 VR 2.0 2nd Gen Virtual Reality 3D Glasses Goggle Headset Adjustable Focal Eye Pupil Distance Resin Lens For Smartphones IOS Android Iphone 6 plus Samsung Galaxy S6 Edge+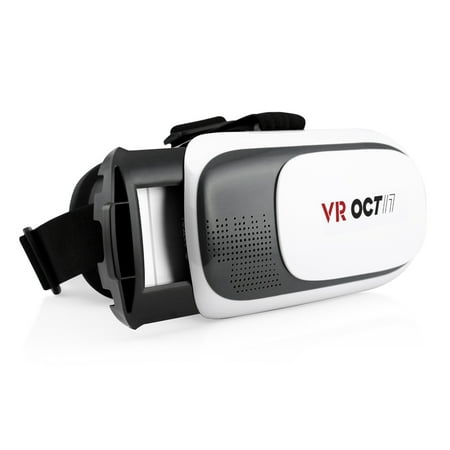 MSRP :

$15.99





Sale :

$9.99

Sold & shipped by DrHotDeal
Product Description

Additional Information

Reviews
Product Description
Oct17 VR 2.0 2nd Gen Virtual Reality 3D Glasses Goggle Headset Adjustable Focal Eye Pupil Distance Resin Lens For Smartphones IOS Android Iphone 6 plus Samsung Galaxy S6 Edge+
Additional Information
Features:
Advanced tech : Designed with adjustable focal distance and bluetoot h connection tech ,the LESHP VR box is really advanced and convenient to use .With the bluetoot h method ,videos in your cellphone can be controlled directly through the buttons over the box shell .
Wide compatibility : Suitable for smartphones with 4.5" - 5.5" inches screen (width less than 82 mm ,length less than 165 mm) .On the other hand, suitable for IOS , for Android phones.
Fashionable style : Designed with colors of pure black and white as well as a fashion style ,it looks pretty cool .
Humanization design : Has foam covering around the area that accommodates the user's face for protection when in use. Also its straps are adjustable which allow to adjust pressure from the bridge of nose.More importantly ,one suffered high myopia can use the LESHP 3D VR box ,too .
Multiple enjoyment : With this new and high tech gadget, it is immersive games videos, 3D movies, photos and so much more unique stuff that you can experience ,what a fantastic enjoyment !Also ,it is a nice gift for holiday !

Specifications:
Brand : LESHP
Model : VR-YY01
Materials: ABS + Resin lens + Nylon + PVC + Silicone
Lens: Aspherical optical resin lens
Visual Angle: 110 degree
Suitable: 4.5-5.5 inches Cellphones (Length<163mm, Width<80mm)
IPD: 58-72mm
Lens: Newest anti-bluelight & anti-radiation lens
Pull-rod adjusting range: 20-65mm
Sir Voice Control: for IOS Only
bluetoot h Button: Yes, 200 mAh built-in recharg eable battery
Size: 190 x 115 x 86mm/7.5 x 4.5 x 3.4 inch
Package size: 227 x 157 x 97mm/8.9 x 6.2 x 3.8 inch
Net weight: 387g

Package included:
1 x VR Box Play 3D Virtual Reality Glasses
1 x USB cable
1 x Cleaning cloth
1 x user manual

VR Box Play 3D Virtual Reality Glasses
Suitable for smartphones with 4.5" - 5.5" inches screen
Reviews
Smylez
Get what you pay for
This headset works and gets the job done if need be, but I would HIGHLY recommend spending the extra money to gethe a higher quality product. The headset is made of just flimsy plastic, so it's not sturdy at all. And once the phone is in the headset, there is no way to even adjust volume or push any buttons of any kind. You still get the VR experience, so it's not a waste of money, but I'd advise spending a lil more for higher quality.
Michelle
If I could give lower I would
I received this item unboxed and wrapped in saran wrap. I tried to contact them for a return and I would have to pay shipping which isn't worth the cost of the item. They claim the item is new. How am I supposed to know that when it is not in a box! This was supposed to be a gift. This company is very poor and has poor customer service. Walmart does not back this company even though they sell the product for them! If I were you i'd save your money and get it somewhere else.
Brian
good product
product has some quality to it. it's not flimsy or anything. 4 stars because it should have been made to accommodate phones with buttons on the sides. had to keep my android phone in its case so that the volume or power buttons on the sides would not be pressed. i would like to have a remote control but I knew it didn't come with one so I always have to slide the phone out and touch the screen to work it. other than that ive watched a few movies so far and it's pretty awesome
BrianM
What a disappointment
Being Military, my family lives on the otherside of US, so I ordered my gifts online . I Ordered these glasses for my nieces as Christmas presents. I get a call from them on Christmas morning asking me how it works and we're there instructions or a remote. I was confused and said look on the box. Then they tell me that the glasses showed up in plastic wrap, no box, no instructions, etc. Si now I guess we are stuck with this "JUNK" because I'm. It going to get the pareanta to pay to return the items. Walmart should be held accountable for allowing this company to sell through their site.
Jojo
Terrible
It just came in the shipping bag. There was box or instructions. Was planning to give this as a Christmas gift, but I guess now I have to pay shipping to ahipnit back to the seller, because I was unaware Walmart.com now sells things from other sellers. Not happy.