Portable Universal Adjustable Car Air Vent Mount Holder 3.5'' - 6.3'' For Mobile Cell Phone iPhone 6 5 4 3, Galaxy S6 S5 S4 S3 S2, Note 3 2 1, HTC, Motorola, Nokia, Sony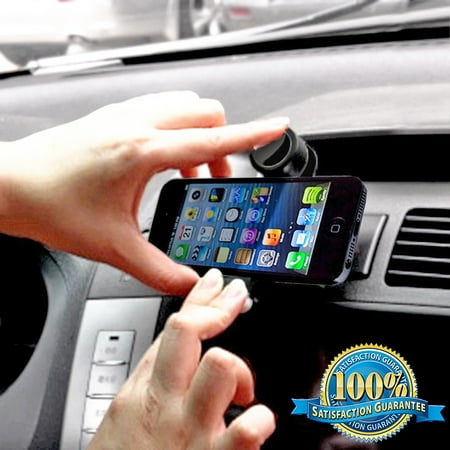 MSRP :

$29.95





Sale :

$9.95

Sold & shipped by Minisuit
Product Description

Additional Information

Reviews
Product Description
At last, the best car vent mount is here. Minisuit has the newest, most functional car mount for your handheld device, to keep you hands-free (and ticket-free!) during driving. This Universal Car Mount is the most convenient way to easily keep your electronic devices within reach. 360 degree rotating function can be easily and quickly adjusted. No tools required. Can be removed quickly, thus eliminating threat of theft. Perfect accessory for anyone using a Bluetooth mobile phone, radar detector, MP3s or GPS Navigations system, and wants to keep their hands on the wheel and eyes on the road. BONUS: This nifty accessory transforms into a desk stand in an instant! Just take an old gift card or credit card and prop up your device like a pro!
Additional Information
Portable Universal Adjustable Car Air Vent Mount Holder 3.5'' - 6.3'' For Mobile Cell Phone iPhone 6 5 4 3, Galaxy S6 S5 S4 S3 S2, Note 3 2 1, HTC, Motorola, Nokia, Sony
Universal Car Mount for most Phones, such as Amazon Fire Phone, iPhone 6 5S 5C 5 4S, Galaxy S5 S4 S3, HTC One M8 M7, Moto E G X, Nokia Lumia, Sony Xperia, and more! With a mount like this, you and your phone will surely survive the trip to Mordor!
Width of cradle expands from 2 inches to 4 inches [5-10 cm]. Minimalistic design with you in mind. Reduce impediment of visibility. Lightweight and completely portable (Only 0.08 lb). Compact construction, with modern look and feel.
Easy to attach and detach, just click mount onto vent clips and go! No tools required, no sticky suction to peel. Can be removed quickly, thus eliminating threat of theft.
360 degree rotating function allows for optimal viewing angle. Bonus feature: transforms into a desk stand in an instant! Just take an old gift card or credit card and prop up your device like a pro!
Minisuit always encourages the practice of safe and alert driving. Use this air vent clip to assist you, such as when using the GPS on your device, or using hands-free speaker during driving. Keep your hands on the wheel and eyes on the road!
Reviews
KYuen84
Look No Further.....
After looking at the Minisuit and some other mounts online and in person, I decided this was the best option. The mount locks your phone in place perfectly and the best part is that it doesn't take up any room on your windshield. It attaches to your dashboard by grabbing securely onto the slats of your climate control vents using solid rubber claws. You can then rotate it to whatever orientation you desire. It then uses a tension based clamping mechanism to hold onto your phone, with or without a phone case. Its small size makes it a good travel companion for rental cars, etc. It's about the size of the lid of a pack of cigarettes and at about .8oz, it's not much heavier than one. It also doubles as a stand for watching movies on planes. I was so happy with this product that I bought a few more for friends and family.
CDPEGASUS
Almost perfect
I received two Minisuits and they was as expected. Nice tight spring and grip to hold my iPhone 6. They fit my vents nice and snug too. I gave them 4 stars because to adjust the rotation was hard. One turned by hand but you couldn't be afraid to break it. The other one I had to use needle nose pliers to turn. On the other hand you won't need to worry about them spinning around while in use.
Jill7643
Great Minimal car mount!
This is a great car mount. It attaches to your vent and holds your phone sturdy. I like it because it is very minimal and is not bulky at all. The car mount looks great and the phones clamps on easily. I have an iPhone 6 but it can fit bigger or smaller phones as well. You can also rotate the car mount to vertical or landscape mode easily depending on your preference. I ended up buying 2 more for my my parent's car.
Cindy
Does the job
I was a little concern after I had read reviews of this product breaking off parts of an air vent, but thought I would give it a try any way. The device took very little pressure to adequately grab on the air vent and easily pulled off. Maybe those that had this issue had a different system than mine or just jammed it on too hard. This device worked perfectly for me and holds my iPhone 6 as intended. I have tried the suction cup holders in the past and this device certainly works far better. I think it is a great value.
RP
Does the job
It's easy to install, I got it because I did not feel comfortable looking for it in my purse as I drove. This is much easier for I am still able to keep my eyes forward to drive.