Stresstabs Energy Tablets, 90 Ct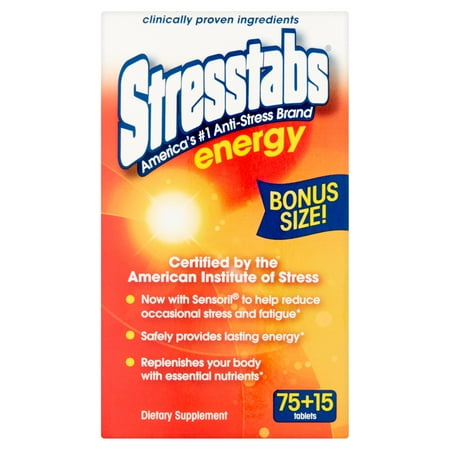 Sale :

$7.99

Sold & shipped by Walmart
Product Description

Additional Information

Reviews
Product Description
For more than 30 years Stresstabs has been America's trusted brand to help reduce everyday stress. Stress robs the body of essential nutrients and may contribute to fatigue, lack of concentration, and irritability. Now, with Stresstabs Energy Dietary Supplement Tablets, you have the power of clinically proven, patented Sensoril combined with Stresstabs' exclusive blend of ingredients to help occasional physical and emotional stress and fatigue. Stresstabs is certified by the American Institute of Stress.*NEW_LINE*
Additional Information
Product Features
Clinically proven ingredients
America's #1 anti-stress brand
Certified by the American institute of stress
The American Institute of Stress - Certified Product
Stresstabs® is certified by the American Institute of Stress. To learn more about what causes occasional stress and how you can help reduce the effects, visit: www.stress.org
www.ivcinc.com
www.mystresstabs.com
© International Vitamin Corporation. All Rights Reserved.
Sensoril® is a registered trademark of Natreon, Inc. and is protected under U.S. Patents 6,153,198 and 7,318,938.
Reviews
MrOscar
No Help
After seeing all the great reviews I decided to try this. I have severe anxiety and depression and constantly feel exhausted. Unfortunately for me, after taking this daily for about two months I have to say it has not helped. I also noticed something like strange about the tablets as well. After a couple weeks the pills tend to Crack and break open. I don't know if it affects the pill at all but I've never seen that before.
Nurse
I Needed This!
Creeping up towards 50, being a nurse manager and crazy demanding job left me feeling like I could hardly crawl out of bed most mornings and feeling sluggish and tired ALL the time made me wonder if there was something wrong or was it a huge case of STRESS! After much internal debate and conversation with my husband we decided to start with the easiest fix! Stress can deplete the reserves your body has stored and what it takes in on a daily basis. The B vitamins are what's responsible for maintaining energy levels and enduring stress. Knowing this I decided to try the Stressmin Energy to see if this would help. Nurses don't make very good patients nor do we like to take up time for trivial matter in a doctor's schedule because we know that there is always somebody needing to see the Dr worse than us! I started taking them immediately every morning when I got up and noticed a difference almost immediately!! I've been taking these for over a year and have noticed several benefits!!! I have not had any colds or illnesses since I began!! There have been days where I have forgotten to take them and have noticed and regretted it within an hour or two of my regular time that I take it. I tell people about these vitamins ALL the time!!
ConnieConnieConnie
Great Product
I wasn't sure if this would work or not, but decided to give it a try just to see. I was shocked. After taking it for two days, I could feel a difference. I have been taking it daily, and it makes the week go by a lot faster. I am not stressed out as much and I can focus on one task at a time. I think this is a great product and I am glad that I gave it a chance.
jimsrod
I'm 50 years old and not tired anymore.
All my life I've joked that I'm a borderline narcoleptic. After eating has always been especially bad because I get so tired even when I was a toddler. I've been taking one a day for a couple of weeks now and I no longer am taking naps during the day which is something I've been doing for decades. Why did it take me so long to find something like this with no side effects? I remember the stresstabs commercials from the 70's and 80's but I never thought about trying them. I got to thinking about this because I got a free supplement called Berocca but that makes me jittery / shaky so I looked around and found these. Plus they are cheap for a 60 day supply.
maglow
Stresstab energy
For me the Stresstabs work. Going through peri-menopause I have been irritable and lethargic. While taking Stresstabs I have energy to work, exercise and still have energy to wash the dishes ;) and not snap at my husband and son. I also like not needing to take hormonal supplements.