My Pillow Classic Series Bed Pillow, Standard/Queen Size, Medium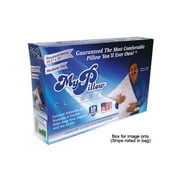 MSRP :

$99.97





Sale :

$39.95

Sold & shipped by My Pillow, Inc.
Product Description

Additional Information

Reviews
Product Description
Prepare yourself for a restful night of sleep with My Pillow Classic Series Bed Pillow Standard Queen Size Medium. It's designed to keep your nerves and vertebrae in alignment for a more comfortable slumber throughout the night. The My Pillow bed pillow is designed to provide you with deeper and longer REM sleep so you wake up feeling more refreshed. The built-in cooling effect keeps the surface cool so you can spend your night at the exact temperature that's comfortable for you. It's also fully washable and dryable, making it easy to keep clean and fresh. The My Pillow Classic Series Bed Pillow Standard Queen Size Medium creates an exact custom fit that molds to your body so it's simple to find a comfortable position. It also helps to relax the cervical nerves on each side of your neck, which allows for increased blood flow thereby reducing the likelihood of discomfort while sleeping.My Pillow Classic Series Bed Pillow, Standard/Queen Size, Medium:
Additional Information
Contains proprietary interlocking fill
Adjustable to exact individual needs regardless of sleep position
Washable bed pillow won't go flat
Made in the USA with fabric and patented fill
Manufactured in My Pillow's home state of Minnesota
Machine washable and dryable
Comes in Standard/Queen and King sizes
Comes in firm and medium
Reviews
Rebecca
17 years of insomnia put to the test
i have suffered from insomnia for 17 years. I have tried sleep aides, melatonin, oils, and yes, even pillows. The commercial for "my pillow" made me feel like perhaps this pillow may be different. My sons bought the pillow for me for Christmas. I followed the instructions to put in dryer to fluf it up before using and was shocked when I woke up the next morning having turned only twice in the night. I thought it was a fluke but same thing the next night! I want to see what happens tonight - my third night but for now I can honestly say it is surprisingly comfortable and recommend to anyone to give this a try!
BeeJayKay
Extremely Disappointed
Extremely Disappointed not so much with Walmart but with My Pillow. I waited a long time to order one of the pillows all the while watching the commercials about their guarantee. So not knowing, at the time I ordered it through Walmart online, anything about Walmart Marketplace I ordered confidently that if I didn't like this $50.00 pillow I could return it. Walmart will not take it back because it actually was an order through My Pillow. My Pillow refuses to talk about allowing me to return it for a refund (as My Pillow brags about) because it was ordered through Walmart. Bottom line is I am stuck with a pillow that doesn't live up to the advertising (at least not for my bad neck) and out $50.00. Buyer Beware of My Pillow.
skycop
great
The pillow is great. I own one and I bought this one for my mother, she loves it
Mack
Great pillow
I have put off buying a my pillow for years, just too expensive. But losing sleep every night because of no comfort, I decided to try one. I would now never buy anything else.
BartBear
Great pillow.... Best PRICE
Great pillow for side sleeping... No more bunched up mess.