Barton Patio 10' Hanging Umbrella Off Set Outdoor Parasol, 4 colors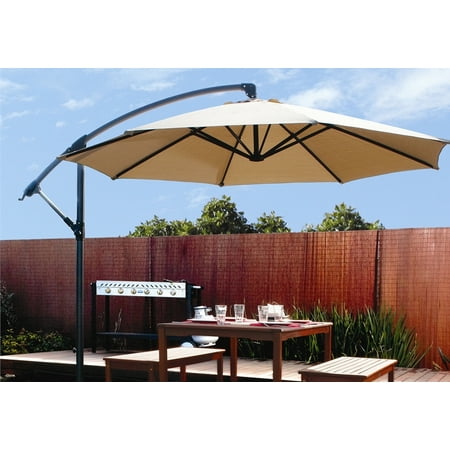 Sale :

$62.95

Sold & shipped by ihubdeal
Product Description

Additional Information

Reviews
Product Description
This patio umbrella provides the perfect solution for preventing from sun burn in garden, deck, patio, beach and other outdoor living area. It features sturdy aluminum pole with powder coated black finish for stability and durability. The canopy features 10 feet span for enough covering space. The overall height of the umbrella is 9 feet to the top of the canopy and 6 feet 10 inches from the ground to the bottom of the canopy. It is made of UV resistant polyester fabric. It is also easy to clean
Additional Information
Patio 10' Hanging Umbrella Off Set Outdoor Parasol, 4 colors:
This hanging umbrella parasol is approximately 10 feet in diameter to allow for optimal shade
Stylish 10-foot/6 rib umbrella
Desiged in an attractive way with an adjustable opening angle
Rust Free Steel Bottom Frame (Anodized Finish)
Rust Free Powder Coated Steel ribs
240G Polyester Fabric Canopy top
Rust Free Aluminum Pole: 2" Diameter, 7' height
Spin Crank Operation
Air Vent
Waterproof, Weather Resistance
Cross base included
Recommended base to be secured with paver, tile, 30-50lbs object (concrete paver blocks are not included)
Product Weight: 25 lbs
Color: Beige/Brown/Burgendy/Navy
Reviews
UnhappyinOhio
Wasted every penny!
This seemed like a good idea, great price ($59). I did not purchase the base weights, perhpas it would work if I had. They cost more than the umbrella though($68)! We tried using cement blocks, weighted bags and tying it to the railing. Inevitably it would catch the breeze and start tipping. When we tried tilting the umbrella to block the sun, we had to move the base to get the right angle. Which required moving the weights as well. Too much hassle when you are trying to relax and enjoy a cookout. The fabric on the umbrella faded right away. So,even if I would have purchased the base wieghts, the fabric is not likely to hold up more than a couple of summers - for $130+ - I don't think so!! I now have a useless item and returning is not as simple as going to Walmart with it since it was sold THROUGH Walmart, not BY Walmart. I hate to put it in the dumpster, but it is useless to me.
MommaJay62
nightmare on Lee Street
Hey this umbrella was inexpensive(first hint to not buy it), looked good and came in a long box with what I thought were easy to use picture instructions. But really I should have bought it just for the you tube potential.I get it out of the box, put down the metal t-stand, and then place the first tube inside then the second.....AHHH Nightmare, it starts to wobble I start to wobble. It's like out of control. I can't get the winder extension to go back down. The umbrella tips over, Falls on the deck I fall onto the deck. I laugh....and laugh and laugh...and then wonder why I don't have a you tube camera filming me...it was ridiculous. When I finally get the last attachment in control....not really...the whole thing tips over and the t-stand base looks like a "U-stand" if you know what I mean. I felt like saying "Hey Mo Hey Mo Hey MO"...meaning I was suddenly the fourth of the three stooges....or maybe a long lost second cousin. In the end, it's up, small hole where I caught it on a porch nail, and back to being almost a t-stand...but there is no way Im ever taking it down. It's staying up probably until I ell the house ...which I just bought 8 months ago. So good luck!
DaytonaGal
Works for me
Lightweight so make sure you properly secure the base to your deck as it will fall over. Not for windy areas at all! Umbrella material is rather thin but adequate for a protected areas. Generally speaking, appears to be of good quality and value. Easy to assemble. Easy to raise, lower and reposition the hanging umbrella. I secure the umbrella closed with a bungie when not in use, on windy days I secure the umbrella to the post or take it down
marie13100
so far so good
I got it over 2 weeks ago,.. Tan/brownish color. Cover the sitting area and more . Easy to install. Less than 10mn. Need 4 block of stepping stone/pavers to secure it.. Can be secured on wooden deck (screw hole on the base provided) can move when sun moves...so all day coverage provided. Came with no cover. I used an old cover i had from another umbrella. now since we had sun non stop , we can see the marks of the Sun on the umbrella... Light shade/dark bc umbrella was down at night and morning. Am sure i will have to put it down in winter and protect it from snow and humidity. So far so good.
Jacknjerzey
Umbrella is garbage
Umbrella base is too light to keep umbrella upright. Tips over once opened. Comes from a 3rd party seller so it is difficult to return please don't wast your money!!!!!