Nutrisystem NutriCrush Chocolate Shake Mix, 1.4 Oz, 5 Ct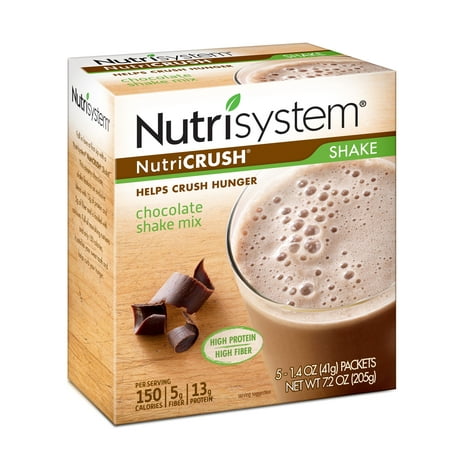 Sale :

$8.98

Sold & shipped by Walmart
Product Description

Additional Information

Reviews
Product Description
Satisfy your sweet tooth with this Nutrisystem NutriCrush Chocolate Shake Mix. This meal replacement drink is a terrific source of both protein and fiber and helps to keep you feeling fuller longer. Five 1.4-oz packets are included. This Nutrisystem chocolate shake mix contains 150 calories per serving.
Additional Information
Nutrisystem NutriCrush Chocolate Shake Mix, 1.4 Oz, 5 Ct:Helps crush hungerNutisystem NutriCrush shake features a delicious and creamy chocolate flavorExcellent source of protein and fiberIncludes 5 packetsEach packet includes 1.4 oz of chocolate shake mixNutrisystem chocolate shake mix contains 150 calories per serving3.5g of fat per packet5g of fiber and 13g of protein to help keep you fuller for longer periods of time
Reviews
marann
Awesome shakes!
These chocolate shakes are the same ones you receive when you are on the Nutrisystem weight loss program. They help curb your appetite in between meals and I found them to be very effective when I was myself on the Nutrisystem diet plan. I found these same shakes when I was shopping at Walmart's one day but they had only a limited supply. Often when I returned to purchase more, they did not have any. The Walmart store is 20 miles away so I don't drive there on a regular basis. I checked the Walmart website and fortunately found them for the same price as in the stores. Other outlets were more expensive. If you purchase 6 boxes (5 in each box), you receive free shipping. I was elated! They store well and so the 6 boxes for the same price as the store was a super find!!! In addition, I save money on gas so this was a steal as far as I am concerned. I usually get hungry in the middle of the afternoon so these are perfect to hold me over until dinner. When my husband has leftover coffee from the morning, I sometimes add it toward my one cup of cold water. If you need your chocolate fix, I highly recommend these chocolate shakes!
Monique
5Lbs Down in 4 Days
I was reading some of the reviews for two weeks, my fiance saw me looking online and he bought me TWO BOXES and we tried one shake together and it is GOOD!!!. The shake taste like a Hershey's chocolate milk and i stole it back from him. I was excited, but i did need to drink again or eat something 2 hours later. I drank my shake with Almond milk and even with water it still taste the same but, i was hungry with water and milk lasted more. I experienced and google search, I put a little to 5 - 8 oz. of water or milk and add my chocolate Nutrisystem shake, shake it up in my blender bottle, then i pour black coffee in and swirl it around. It taste like a " Bulletproof coffee " without all the extras but black coffee help with the extra boost and boost your metabolism. Price overall: i would pay $5.95 - $7.95
poochiemama
Yummy!
I am not fond of anything chocolate but these shakes are very good. My favorite thing is you mix them with water. I keep these in my desk at work for an easy and quick meal replacement. I like to prepare one in the morning and put it in the freezer. I shake it up and it is like drinking a fudgecicle :) It also blends well with bananas or peanut butter powder. The shakes are as advertised - filling and keeps hunger at bay and gives me a little boost of energy. Also great for an afternoon in between meals pick me up. The only thing I don't like but not enough to stop using them is the sodium. But if you are watching your intake for the day, it is not that bad. They are my new favorite item to keep in the house.
RedheadCowgirl
NUTRICRUSH CHO. SHAKES
Wonderful, filling, tastes yummy and made with water and ice. I did not get hungry for several hours after having a shake mid morning on my diet. Lost 5 pounds in one week....and being not one to knock myself out exercising, this was great! "o)
RedheadCowgirl
Helps with Hunger
If I drink the shake mid-afternoon, I find that it helps manage hunger LATER in the day, or even the next morning. It takes time for the fiber to take effect. Now I'm having one mid-morning and mid-afternoon as it helps to calm hunger for longer parts of a day.