Nutrisystem 5 Day Protein Powered Jumpstart Weight Loss Kit, 4.1 lbs, 15 Meals, 5 Snacks, 2 Shake Mixes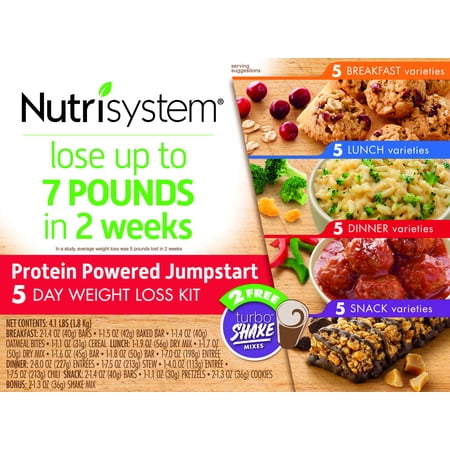 Sale :

$44.98

Sold & shipped by Walmart
Product Description

Additional Information

Reviews
Product Description
Dieting doesnt have to be difficult. This convenient protein-powered kit contains ready-to-eat breakfasts, lunches, dinners and snacks that are sure to help satisfy your hunger and fuel lean muscle mass. All snacks and meals, like the Cinnamon Raisin Baked Bar, Hearty Beef Stew and White Chocolate Chunk cookies, are a good or excellent source of protein. Each kit also includes a meal planner with grocery add-in suggestions, a shopping list that matches the sample meal plan, plus a daily tracker to help you stay on the path to success. Have questions? You'll also get unlimited access to personal nutrition counseling and weight loss resources.
Additional Information
On Nutrisystem you get to eat six times a day when adding in fresh grocery items
Convenient meal tracker and unlimited counseling support included
Includes 5 breakfast varieties, 5 lunch varieties, 5 dinner varieties and 5 snack varieties PLUS 2 Bonus Turbo Shakes


Breakfast:Cinnamon Bun Bar, Cinnamon Raisin Baked Bar, Oatmeal Cranberry Bites, Sweetened O's
Lunch: Black Beans and Rice, Cheddar Broccoli Rice, Chocolate Covered Cherry Bar, Chicken Alfredo, Trail Mix Bar
Dinner: Chicken Pasta Parmesan, Hearty Beef Stew, Meatballs in Marinara Sauce, Rotini and Meatballs, Vegetarian Chili
Snack: Chocolate Caramel Bar, Chocolatey Pretzel Bar, Milk Chocolate Flavored Pretzels, Toffee Crunch Cookies, White Chocolate Chunk Cookies Bonus: 2 Chocolate Shake Mixes


Reviews
nottoosharp
Convenient and good food
After seeing so many Nutrisystem commercials with Marie Osmond, I finally decided to buy a couple of boxes from WalMart. I should have used the jump start box first, but I didn't pay any attention to which I started on. In a week and a half, I have lost 6 lbs. I enjoy most of the food. The only food I didn't like was the mashed potatoes. I especially like the meat balls. Any of the tomato products suit me. The bars, snacks, and shakes satisfy my sweet tooth. To top it off, I have not needed any medication for acid reflux or indigestion. On weekends, I tried to kind of stick to the program, but with other products. Worked pretty well. I did substitute Slim Fast shakes, when I ran out of Nutrisystem shakes. I still just added water instead of milk. They were still good. I will continue to buy this, as long as I am losing weight and feeling better with no indigestion. This is just so much easier than trying to figure out what to eat every day.
Glillies
Missing Items
Want to give 5 stars- food is not bad tasting, the kit makes it easy and convenient, i'ts mainly portion control all laid out for you with this plan, but here's why i am giving just 3 stars- my kit is missing THREE meal items. Two breakfast bars and 1 snack bar. It's not a big box, I've gone through it and sorted the items several times to be sure, and 3 bars were excluded from my kit. I did receive 2 shake mixes (perhaps to replace the breakfast? ) but it doesn't inidcate these replace the breakfast bars, and also, the AM snacks list in the daily meal plan booklet lists shakes as snack options, not meal replacements. Plus, meals are all labeled and color coded so you really can't get lost on this- breakfast says "breakfast" on the wrapper(s) and is labeled in Orange. The shake packets don't have either on them and so I really think i'm just short 2 breakfasts, and then there is that 1 final snack for the day that was also missing from the kit I recieved. I will contact Walmart and/or the seller to see if they will comp me somehow. I wanted to order a 2nd box and do the diet for 2 weeks, but i'm skeptical about paying $45/box to get shorted on meals. Not supposed to have to go through trouble or this "easy" diet plan is a total waste. I truly have no other gripes except for my missing items. It really stinks to pay for a 5 day (3 meals a day) plan only to find out several meals are missing.
Nellie
steady loss of weight while not hungry
I have ordered this kit from Walmart since August. I eat 3 meals and 3 snacks a day, and it is good to teach you PORTION CONTROL. On very little, I am full. I have lost 30 pounds in 3 months, never hungry, blood pressure down, feel healthy. You can have your own snack: pb or cheese with crackers. a 1-slice sandwich with mustard, lettuce, turkey low fat lunch meat, tomatoes. fruit. Each box lasts 5 days, you need 6 a month, under $300 for groceries, if you don't supplement with your own food. Well worth it. Try it. What do you have to lose? (WM is the cheapest way to buy it.)
CarnivoreASaurus
Better than a kick in the face with a golf shoe
Actually, this really isn't bad, as far as taste. It's DIET food - so keep that in mind. You're not going to experience euphoric bliss when eating it. You won't find a thick steak or gourmet pasta in this box. But neither will you find the fat and calories that are stuffed into these kinds of meals - so it's a trade-off. Fact is, you can eat this food, and if you follow the program, the weight melts away like ice cream in your hand. I'm just under two weeks in, and I've lost 8 lbs. Bottom line - if you're finding yourself at a crossroads, where slimming down trumps fine dining, it can't hurt to try this out.
NelliefromTexas
Lost 9 pounds in less than 2 weeks
I ordered a kit for me and one for hubby, then went to Walmart for supplemental groceries. We ate EXACTLY what the kit suggested. I am down 2 sizes and 9 pounds. We both lost inches, too! I ordered 4 more kits - cheaper from Walmart than at the N.S. site, or with N.S. "free offers", and we get WM free home delivery! Plan to continue to order this particular kit from WM until Christmas. Then, maybe 2x a month through spring. I didn't think I could lose weight at 80 years old, but it is happening! (food is pretty good, I only have to heat veggies, and there is plenty of chocolate flavored snacks and desserts~)