Purely Inspired Garcinia Cambogia Non Stimulant Weight Loss Pills Bonus Pack, Veggie Tablets, 100 Ct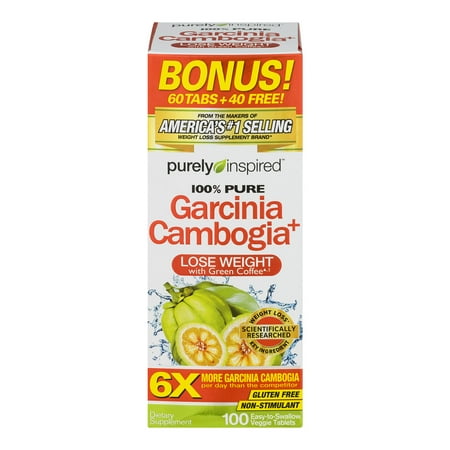 MSRP :

$8.3





Sale :

$9.14

Sold & shipped by Walmart
Product Description

Additional Information

Reviews
Product Description
Purely Inspired 100% Pure Garcinia Cambogia Dietary Supplement is made with 100% pure and premium ingredients. Garcinia cambogia is a subtropical fruit. This product delivers 1600mg per serving. Plus, it contains the scientific dose of green coffee extract supplying 45% chlorogenic acids which has been shown in scientific research to help people lose weight. In a 60-day study, subjects using this key weight loss ingredient lost an average of almost 11 pounds with a low-calorie diet, while in another eight-week study, subjects lost an average of almost four pounds with a calorie-reduced diet and moderate exercise.
Additional Information
Purely Inspired Garcinia Cambogia Weight Loss Dietary Supplement Bonus Pack - 100ct Weight Loss Pills: All natural weight loss supplement 100% Pure all natural ingredients Primary weight loss ingredient is all natural green coffee Gluten free dietary weight loss supplement pill makes it perfect for all diets Fast acting weight loss pill to help you achieve your dream body faster than ever
Reviews
Bellowing46
Like this product
Works good for me. I have only been taking product a week and have lost 3lbs already. With the right diet and just walking 4x a week. Really changed my diet and have followed directions on box from product. Will remain using product for as long as needed. Very reasonable price.
Anne
So Far So Good
I started these tablets coupled with apple cider vinegar with the mother in it, a week now. It has only been a week, and I'm feeling & looking better. My skin is glowing and my tummy is shrinking gradually. The key to any form of weight loss is consistency. One thing, in order to complete your 1month diet. You have to buy 2 bottles to complete a 1month diet. Don't get discouraged, cut back on eating, and try no to eat after 6Pm. If you must eat, a healthy snack is recommend. Like a apple or a grapefruit. I'm going to keep at it. I will reach my goal. Good luck.
kdoggin
I got this one and the probiotics one
So I've been taking as directed before meals and such, but I've been have bladder issues as well,. I'm literally running to the bathroom every 20-60 minutes! It's beyond flustrating as I only have one child and am not even 30. My kidneys were even hurting so bad one day I thought I had a UTI. I went in, nothing was wrong with me. I even made the doctors rerun the UTI tests and was checked for kidney stones. At that point I just stopped taking my meds and focused on getting better. I drank cranberry juice, took Azo for bladder urgency and did probably a million Kegels in a day(a stretch I know but it felt like it). So things were better within the week. Well this last week I started taking it as directed again and what happens? Every 20-60 minutes I'm running to go pee again. It was my 4th day yesterday (lightbulb) and so I proceed to try to look up side effects but all I find was the stupid website lying about celebs who used the product. So I dig deeper, found out there are hundreds of women having the same issues as me so be warned it can mess up your bladder and kidneys. Bladder urgency sucks the life out of you. Never again will I take these pills!
LESSofME
AMAZING
I have taken this since April 2015 being 5'2" starting weigh 246lbs & have lost 108 lbs so that puts me at))) sre you ready for this!!! 138 lbs!!! I followed directions on the bottle! I changed my diet by eating at least1 completely "clean" meal a day & "clean" snacking! The other two meals would be what I've been used to!! Baby steps,I eventually was able to eat 3 "clean" meals a day without feeling deprived! ONE CHEAT DAY A WEEK for MEXICAN FOOD!! I also started out by walking a mile daily (even if I had to split it up) until i was able to pick up speed & complete at one time! Hence the increase in energy!! Pic below!! GOOD LUCK
Mz2reall
Love Them
They really work but you have to change some eating habits and exercise. I lose 20lb in three months jus wonder will my body get use to it and it stop taking affect.