K2V-Cup Single Serve Coffee Adapter, 1.0 CT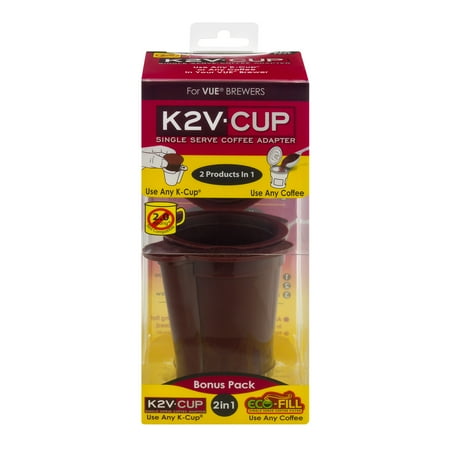 MSRP :

$29.99





Sale :

$12.86

Sold & shipped by Walmart
Product Description

Additional Information

Reviews
Product Description
Expand your choices and save money too. With the Perfect Pod K2V-cup adapter you can use any standard K-Cup in your VUE brewer. Just insert a K-Cup into the K2V-Cup adapter and press firmly until the bottom of the K-Cup is pierced and the foil surface is flush with the top of the K2V-Cup adapter. Then put the entire adapter into your VUE machine and brew. It could not be easier. Also included in this special bonus pack is an Eco-Fill refillable single serve capsule that allows the use of your favorite ground coffee. Made from high quality BPA free plastic. All metal parts are high grade stainless steel.
Additional Information

K2V-Cup Single Serve Coffee Adapter, 1.0 Count:
For VUE brewers
2.0 Keurig not compatible
2 products in 1: Use any K-Cup
Eco-Fill single serve coffee filter: Use any coffee
K2V cup adapter uses patent-pending flow technology
Reviews
G4tchtv
Works Awesome with my Keurig Vue
It has made me really sad that you can not find Vue cups anymore. When you can find them they are very expensive and there are only one or two flavors available. Now that Keurig has gone back the original K-Cup design it made it almost impossible to not upgrade to the new Keurig machines. I did not want to get rid of my Vue as I love it. I have not had any problems with it and there was no need for me to pay for a new machine. This device works great at allowing you to use K-Cups in your Vue machine. I would tell you that you will need to clean your machine after every use in case any coffee grounds got into the machine. It is really easy to do this. All you have to do is place an empty cup or mug on the tray with nothing in the holder and run an 8 ounce cup cycle.
Customer
Works Awesome with my Keurig Vue
Works as advertised! Enables the use of "k" cups in the Vue! Much less expensive! Good investment!
Twixt
How can anyone say anything negative?
This product works perfectly, as it should as it is designed perfectly. I own a Keurig Vue and was hesitant due to so many negative reviews: grounds back up, grounds in coffee, ruined my Vue, etc., etc. The only, ONLY way this product could backfire is if you don't read the instructions and don't push the Kcup all the down onto the spike that perforates the bottom. If you do as directed, it works perfectly. The only drawback, of course, is that the Kcup is not recyclable and the plastic for the Vue cup is - one reason I bought the Vue. However, the Vue does not have as many varieties available, especially Timothy's brands, so I wanted this. LOVE IT!
wchanta
The adapter to All adapters.
This item could not come soon enough! Everything in the store these days is mainly for K Cups and I have a VUE. Not fair since K cups cost less as well. Disappointed that it had to be ordered and not readily available on the shelf. The product works as expected. It's very durable and for the price it should be. Be careful at the end when you're pulling it out. There may be some leftover liquid and flavor you may want to add to your mug.
APVaughn
Great product
I am so glad someone came up with this pod for the Vue. I can't always find the Vue pods and don't always want to place an online order. This way I buy regular K-cupsor Vue cups!