Bop It! Game, by Hasbro Games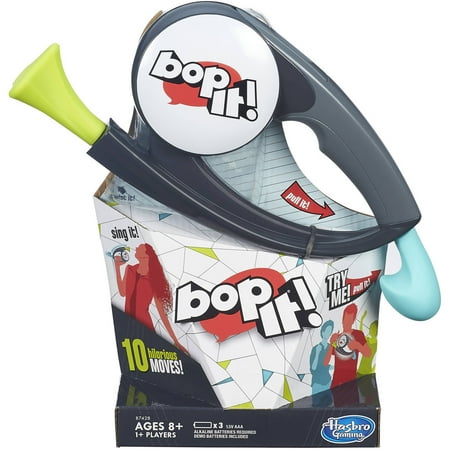 MSRP :

$29.99





Sale :

$19.99

Sold & shipped by Walmart
Product Description

Additional Information

Reviews
Product Description
Twist it! Bop it! Answer it? Selfie it? Hammer it? This updated Bop It! game is enhanced with new action-oriented Bop It! moves for today's modern gamer. Bop It! game uses move it motion technology to test players and see if they've got the skills to master Bop It! game. The ten moves are: whip it, drink it, selfie it, hammer it, answer it, cradle it, saw it, sing it, golf it and comb it. The Bop It! game is a portable game for on-the-go fun. It features three solo and social play options: Classic, Beat Box and Pass It. For one of more players.Hasbro Gaming and all related terms are trademarks of Hasbro.
Additional Information
Bop It! Game:
Includes Bop It! game unit and instructions
Updated with 10 fun moves, including whip it, cradle it and sing it
3 exciting modes
Each mode offers solo or group play
For 1 or more players
3 1.5V AAA alkaline batteries required (demo batteries included)
Reviews
saleetah
Fun for the whole family
I received this product at a discounted price in return for my unbiased review. I have never played with the original bop it but I have to say that this is probably one of the best toys out there. My kids are 6 and 8 and they are addicted to this toy. Even my husband and I are excited to join in on the fun. Many toys that we get for the kids will only last a few minutes and they may just dump it in the toy bin. But this one has been a big hit! They want to play with it all the time. It has such fun sounds when you get the motions correct and incorrect. I like how it tells you the count at the end of each game with how many commands you got correct and it also reminds you of the highest score to date. The commands are so much fun but it can get tricky. Since the commands are based on motion detection, there are some times when you get it slightly wrong and it doesn't catch it or the reverse where it may buzz you when you thought it was correct but it might've been too close to a similar command. These are very minor flaws b/c it's still so much fun and you want to continue to challenge yourself to beat your own score and your opponents.
tvman
Great fun just like the original
If you owned the original you will really enjoy this one. It has all the old functions as well as some new added functions. My 10 year old daughter loves this thing and can't stop playing. Everyday I get home she has to challenge me to a bop off just to see how much she can beat me by. I would like to say I usually let her win but she has gotten to a point where its now the other way around. I think it's also got some great benefits in keeping your memory sharp to so I enjoy trying it daily with her for that reason as well. She even got her grandparents into it as well which is amazing. For the money it is worth it and a nice little game to have around for fast laughs. I received this product at a discounted price in return for my unbiased review.
kerplosh
Vintage game yet still relevant! worth the pick up
Great addictive game. if you are into pattern games then this is for you! Bop it is a major classic game great for the older gen and for the new generation as well. its a quick pace game that requires focus. Can be a good challenge game as well, to see who can last the longest.
HKay
Play all day
Work on listening skills, following instructions, physical interaction, and have FUN all at once! This a toy that will get you off the couch and start a fit of giggles for anyone watching. The only thing it won't do is teach kids how to take turns... Everyone wants to play!
SR
Such a fun game!
Such a fun game to play with family or to challenge yourself to see how high of a score you can get. Great practice at listening and following directions and for hand eye coordination.