Simon Air Game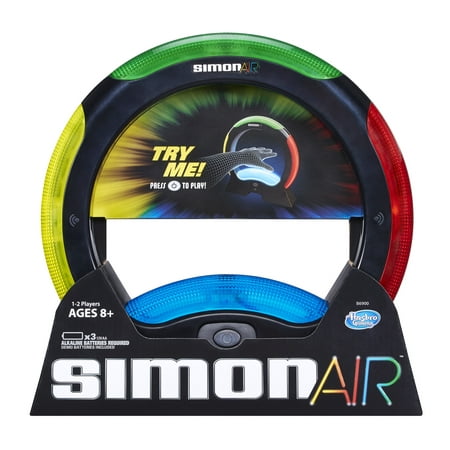 MSRP :

$29.99





Sale :

$12

Sold & shipped by Totally Toys
Product Description

Additional Information

Reviews
Product Description
The Simon Air game is a modern twist on the popular Simon game, the classic fast-action game where players need to watch, remember, and repeat patterns. Touch-free technology is introduced in this edition. The Simon Air game unit recognizes when a player follows the color sequence by sensing their motions! A fun table-top game, the Simon Air game features modes for both solo and 2-player play. So swoop, swerve, and hover to repeat the colors and follow the moves to win! Hasbro Gaming and all related terms are trademarks of Hasbro.
Additional Information
Includes game unit and instructions.
Classic Simon gameplay now with touch-free technology
Game unit senses player's motions
Features cool lights
Play solo or with a friend
Ages 8 and up
For 1 to 2 players
Requires 3 1.5V "AA" alkaline batteries (demo batteries included)
Reviews
love2write61307
The Best Toy
This is awesome
twin3r
Fun game to test your short term memory
Fun game to play by yourself or with a partner. It's a similar game concept to the original Simon game where different portions of the game light up and your hands have to follow the pattern given; the game gets harder as more of the pattern is revealed. The difference in the game is your hands hover over the colors to signal the pattern instead of pressing a button. There are a few settings on this game: one is single player, another double player, and the third is single player with a new twist that only Simon Air can add. The twist is a new swiping motion where your hand swipes across multiple colors. This game is great for testing your short term memory and fun to break up the day; challenge yourself and see how many you can get in a row. My only wish you could control the sound level or turn the sound off. You could also play in a group setting to see who can get the most in a row. I received this product at a discounted price in return for my unbiased review.
ahhhhhhhhh
fun to see this come back!
I had a great time as a kid playing this, so it has been fun reintroducing the modern version of Simon. Been great getting my kids to watch, remember, and repeat patterns. he basic premise is basically the same as the original simon from the 80s. The main difference with Simon Air is you don`t have to press the color bars to repeat the sequence; just wave your hand along the side of the color bar. Fair warning, at first you may be a little disappointed that it`s so simple but, as time goes on, you`ll realize you keep going back to it for more. It`s addicting like tetris and other simple strategy games! When my kids walked in the door from the bus, they immediately saw it on the island counter and started playing. They figured it out immediately. Before we knew it color panels were upping the difficulty level to dual colors at once. My son gets so frustrated with it because he swears he`s doing it right but it still buzzes him.The Touch-free technology is a pretty cool update. Looking forward to holidays trying to beat them at the game. I received this product at a discounted price in return for my unbiased review
mumzto2
Fun game to play with your kids
I received this product at a discounted price in return for my unbiased review. This is a very fun game to say the least. I played this game with my 8 year old daughter and we both enjoyed it very much. The sensors responds very well to hand gestures and there are multiple levels to fit kids of all ages. It definitely enhances your kid's hand eye coordination. The two player mode is little tough, so my advice is to hone your skills with single player mode before trying with partner. The sound is good and colors are bright to give player lot of visual help to succeed. Another good thing is that this game powers off automatically and u can adjust the volume to your liking. Overall a good fun game to play with your kids
WNewtonMom
Great Gift!
A fun game for our 9 year old!