Yahtzee: Original Family Game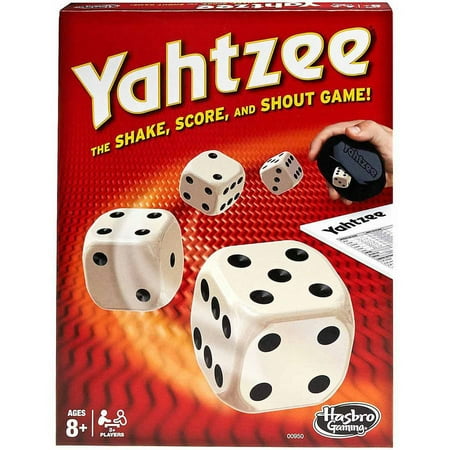 MSRP :

$8.69





Sale :

$7.88

Sold & shipped by Walmart
Product Description

Additional Information

Reviews
Product Description
It's the classic dice-rolling challenge of Yahtzee, and you'll shake, score and shout! Can you roll the right combinations to beat the competition? With each round, decide which dice to keep on your first, second and third rolls, then roll again or play it as it lays. Try for a full house or gamble everything on a Yahtzee – five of a kind! Whoever has the high score after 13 rounds is the ultimate winner. You and your friends will want to play again and again, so roll it to the limit for the Yahtzee win!
Additional Information
Game includes shaker, 5 dice, score pad and game guide.
Ages 8 and up. For 2 or more players.
Reviews
Charmcity81
Great for new generation
What more can you say except this is the classic Yahtzee game, most of us grew up playing and I love that now I have a younger generation learning how to play and enjoy. No, it doesn't come with pencils, but they are really cheap, I picked up a pack of 20 for .50cent at the dollar store. And yes, the cup is egg shaped but this doesn't bother me, if it does you just grap a cheap dollar
Nicole
Great game for friend and family game night
I will admit I loved this game as a kid because I was kind of a nerd, but I had not played it in many many years. Then when I was in the hospital and rehab after I had surgery, there was nothing to do. So my family and I started playing this game and we rediscovered how much fun we used to have playing this game. Several of the other patients wanted to play so we ended up having a Yahtzee game night. We always ended up having a good time no matter who won.
CRay
Educational Fun
Yahtzee is a great classic. It's excellent for teaching basic math and strategy to elementary school aged kids, but still fun for the whole family to play together. I bought this edition because I remembered the game fondly from my own youth; however, my husband and I were both upset to find the dice "cup" had changed from the cardboard one we remembered to this plastic case. The plastic case is nice in how it holds the dice for travel; however, the clattering noise it makes if you actually use it when rolling the dice is atrocious. I recommend getting a different cup or just rolling by hand.
Elyzabeth
A Roll of the Dice
Yahtzee is one of my favorite games. There's a million different ways the dice can fall. Its exciting to roll 5 of the same number...Yahtzee!! It can be a very strategic and a competitive game. In one game, you can roll 0 yahtzee and in the next game, you could roll 3. It's just how the dice fall and that's what helps make it so fun and unpredictable.
babygoose
it's a classic dice game, good for math
Just like I remember...this game is as fun as you make it. Takes a little getting used to, but if the adults like it the kids will too. Best for kids who can add well, younger kids will need help with the score sheet but will still have fun rolling the dice. Consider purchasing extra scorepages.