Play-Doh Launch Game Set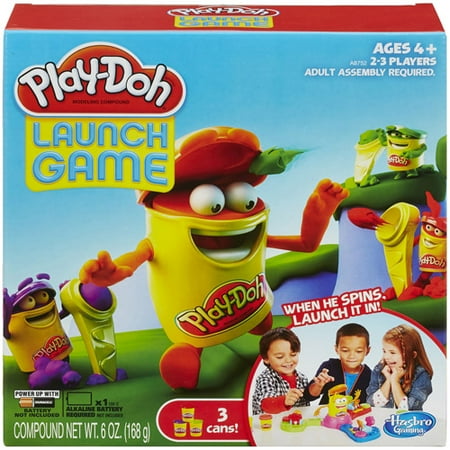 MSRP :

$13.67





Sale :

$10.52

Sold & shipped by Modellbahn Ott Hobbies, Inc.
Product Description

Additional Information

Reviews
Product Description
This Launch Play-Doh Game will provide hours of entertainment for young children. It is a fun way to build fine motor skills, dexterity, and encourage them to be creative. Kids can use their imaginations and learn sportsmanship with this wacky game. They can make ammunition with the Play-Doh modeling compound and launch it toward the Orange Guy in the center. The object is to get the most ammo into the can while he waves his arms, spins, and flaps his lid up and down. Up to three people can play the game at a time. Three containers of the modeling clay for kids are included in the game set. Children will have a ball trying to get their little pieces of compound into the bucket. Each launch pad has molds for the various types of ammo. They make each piece before sending it off toward the center can. With the Launch Play-Doh Game, your kids will laugh and giggle as they sharpen their skills.
Additional Information
Play-Doh Launch Game:
Launch Game is silly Play-Doh fun
Includes 3 launchers for launching Play-Doh modeling compound
Get the most compound into the Orange Guy's can to win
Includes 3 cans of Play-Doh modeling compound
Includes 3 cans of Play-Doh modeling compound, Orange Guy can, Orange Guy lid, 2 Orange Guy arms, game base, 3 launchers and instructions.
Requires 1 C battery (not included)
Ages 4 and up
For 2 to 3 players.
Requires 1 "C" battery (not included).
Adult assembly required.
Fun to play with, but not to eat.
Notice to parents: Contains wheat.
Nontoxic. Conforms to ASTM D-4236.
Reviews
Cosmo80
Play Doh takes to the air
My 3 year old was so excited when he saw the Play Doh Launch Game when Hasbro Gaming and Bzzagent sent me games to review and give feedback. This is my true opinion of the game. It was very easy to assemble and was ready to play a few minutes after we got it out of the box. All 3 kids, (3, 6, 8) got involved and even dad liked playing with the play doh and launcher. They had fun as you do with Play doh. The older children will play with it if it is out but the 3 year old actually asks to play with almost everyday. As a mom my only complaint is that if a launch doesn't make it in the can it will probably end up on the floor.
SweepstakesDiva
Fun for All Ages!
This game was so much fun! The age range is 4 years and up! So it's perfect for our little family. It's so hard to find games that our 5 year old can enjoy with us. There is some set up required. It only took a few minutes though to put it together. You just need to add the launch pieces (3 of them) and the play-doh man. It does required a C battery which is not included. It comes with 3 cans of Play-Doh which is used during game play. The object of the game is make little play-doh balls that you "launch" at the play-doh man in the middle. Each player takes a launch pad and a different color of play-doh. The launch pad has a mold in it. The directions read to make 10 small balls of play-doh before game play starts. Once you begin to play the play-doh man spins around and the lid moves up and down while you try to launch your pieces of play-doh into the can. Now this took a little bit of getting used to. Once you get the hang of it though it's not super difficult. Our 5 year old did have a hard time with it though because you need to push down on the launch button pretty hard to get enough momentum to get the play-doh into the can. The first person to get 3 pieces into the can wins. Actually we just played it and didn't really worry to much about who won but if your the competitive type that's how you win! It was pretty fun, we enjoyed it. My 5 year old did get a little frustrated though towards the end. She is so independent she didn't want any help and it was difficult for her to do on her own. I received one or more of the products mentioned above for free using BzzAgent.com.
DaynaLynnn
Giggles Galore!
Play-Doh Launch is such a cool game that really allows the players an interactive experience. We have played this game as a family, but I have also pulled it out when I have my son's friends over for play-dates. The game is brightly colored and involves rolling up balls of Play-Doh and launching them into a moving Play-Doh can that's located in the middle of the game unit. I had a riot playing this with my son, we giggled so much while playing. The kids really loved it too...they laughed even more! The unit was easy to put together and in all honesty doesn't really make a mess since you're simply making little Play-Doh balls, so you don't have to worry about scraping dried play-Doh off the floor after playing. I would definitely recommend this game, especially if you host play-dates because the kid's will love it, and you will love seeing the smiles and giggles! #GotItFree #HasbroGamingGifts I received this game for free from Hasbro and BzzAgent for testing purposes...all opinions are my own
LilyGirl71
Fun for group or independent play!
We received this game from Hasbro for a free trial (thanks #bzzagent). I admit I was skeptical for two reasons: I pretty much envisioned this as messy and short-lived on fun. I was amazed to find that my 8-year old loved playing this - and we did too. The Play-Doh wasn't anywhere near as messy as I expected. Sure there were some crumbles on the table but the combination of the short-distance launching arm along with the fact that Play-Doh pretty much stops where it lands alleviated any messy clean-up. And it really is fast-paced fun. We've played this numerous times (and have changed the rules to make the games longer (e.g., more balls needed to win). Sure, it's not something you're going to play for hours but it's a quick pick-up game/activity. My only complaint is that the on-off switch is inconveniently located and was initially a bit sticky to turn on-off. Turning the game off means interfering with/stopping the turning middle piece that makes it click/grind a bit.
grahamsquared
Launch-able = loveable!
My boys 2 and 7 think Play Doh time should be a daily activity so it was no surprise that this game was a hit. We received it free via BzzAgent and Hasbro games. I didn't realize it needed batteries so when first played it was without the batteries which was just as much fun for them. Even more fun after the batteries brought the can guy to life. I liked that when they got bored with the game there were other molds and activities they could do and the play continued. It comes with three separate stations so you don't have to move it around and there where no black eyes given because someone didn't want to share. It comes with three tubs of three different colors play doh. This is a generous amount and it's not necessary to purchase more. My 2 year old enjoyed this game more than my 7 year old but we experience very loud giggling from both boys during launch time...not to be mistaken for lunch time. Great game for all ages, multipurpose and easy clean up.