Regalo Extra Wide Step Through Baby Gate, 29"-50" with Extensions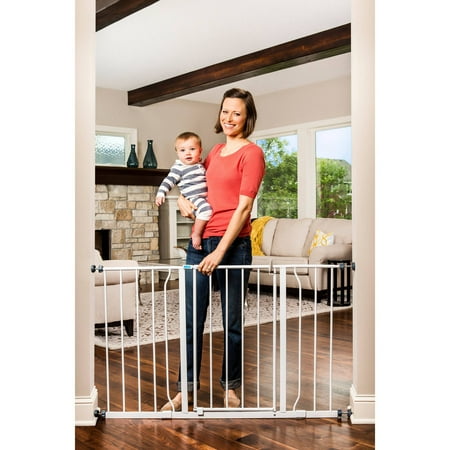 Sale :

$30.99

Sold & shipped by Walmart
Product Description

Additional Information

Reviews
Product Description
Make your life less complicated with the Regalo Easy-Open Wide Gate. It has a baby and pet-proof closure that is adult-friendly. This sturdy, wide baby gate has a single door opening handle designed to offer one-hand operation. It allows you to pass through with ease. This is ideal when carrying in packages or transporting a baby to another room. The convenient design means you'll never have to step over a gate to enter or exit. It is made of strong steel and has a quick and easy assembly. This Regalo Easy-Open Wide Gate is suitable for placement at the top of the stairs or at the main door. This item meets all safety standards and fits openings 29.5" to 52" wide. It comes with two extension kits and all necessary hardware. This gate is also well suited for homes where dogs are left home during the day unattended.
Additional Information
Regalo Easy-Open Wide Gate:
Regalo baby gate comes complete with two extension kits
Easy to remove
Fits openings 29" to 50" wide, and is 31" tall
Great for kids and pets
Can be used at the top of stairs
Regalo wide gate meets all current safety standards
All metal materials
Regalo easy-open gate offers a convenient, walk-through design
One-handed door opening handle
Keeps children and pets safely contained to a designated area
Baby proof and adult friendly
Quick and easy assembly
Reviews
jkmen5
Was not what I expected
I did not like this product. I had very high hopes for it and I see my search still remains, because I intend to take this gate back to the store. The gate came advertised as "Fits 29"-52" doorways", my doorway that I was wanting blocked was 49" wide... apparently NOT one of the 2 advertised. This gate comes fitting to 3 exact entry sizes: 29", 34" and 52". Not what I ws expecting. The gate comes with a 6" extender and a 12" extender. If I used both then the gate was too big, if I used one or the other then it was too small. My husband ended up having to put some 2x4's on our walls on both sides just to make it fit. And even still, its not worth it. Because after all that, my 4 y/o twins figured out how to open the gate within the 1st 24 hours!!! Walls tore up for no reason-Very disappointing.
tkleblanc
Nice Gate
I bought two of these gates. They were easy to instal and didn't take long at all. I used one on a 34 1/2 inch doorway without any extensions. The spindle rods had to be extended pretty far so the gate seems a little unstable. I think if I use the wall cups it will fix that problem. The other gate is being used for a 36in doorway. I did use the 6in extension and had to almost tighten the spindle rods all the way and squeeze it into the door way. It was a tight fit, but its not going any where. The gates are not very easy to open. I was hoping my 4yr old would be able to open the gate but she isn't strong enfough to pull back the lever and lift the gate at the same time. I like that the door swings both ways, but i wish it would close on its own. I also like the height of the gate. The doorway opening is not very large but it is not an issue for us. Over all it is a nice product at an affordable price.
ShannonMarie
You get what you pay for.
When I kept tripping over my old gate (a walk over), I got really fed up and returned it to Walmart. Unfortunately they didn't carry any walk through gates and recommended I looked online. When I found this gate, I was pleasantly surprised to see that it was the same price as my other one and went ahead and bought it. Chose rush delivery (need a gate for a busy toddler!) and waited. Bought Thursday, shipped Friday, received Saturday. I was extremely pleased with shipping. As for the gate itself, I had no idea what to expect. The reviews are very up and down but decided to keep an open mind. When I received the box and opened it, it was exactly what I expected. Assembly was a breeze EXCEPT for ONE of the anchors. You are supposed to be able to slide it straight in, no resistance whatsoever. Well, that was the case for 3 but on the 4th, nope. Didn't want to go in and was stuck. Ended up having to take a hammer to it. Installing it on the wall isn't hard but you have to tighten it JUST perfectly otherwise you CANNOT open/close the gate. It fit well for my 42" hallway though. After I got the exact measurements, the gate is a bit wobbly but sturdy enough, I guess. But it's what you get for $35! Here's my video review where I show what I'm talking about more: www.youtube.com/watch?v=KCXy4K0tc_M
mathewsmom
much better than the wooden kind
We bought this after we bumped into our wooden baby gate so many times that it had splits in it. Our hallway is very wide so the standard gates don't fit, and we were really in need of something we could use frequently without tripping on it. (we were stepping over our old wooden gate because it didn't have a hinged door) We love this gate; it's durable and has withstood a 19 month old hitting on it. The only thing we needed to modify was that there is a gap on the end that our cat was able to squeeze through so my husband had to put a strip of wood against the wall to narrow that gap. To be fair, our cat is long and skinny, but he can no longer get through since the modification. lol All in all, this is a great product that we would highly recommend.
Beachy4200
Works Great!
This is a great gate. We had no trouble installing it as a pressure mounted gate. It is very sturdy and keeps our 12 month old son out of daddy's office. He is very strong and he has not been able to budge the gate at all. It installed easily and we are able to have our double doors shut when complete quiet is needed. We even put both extensions on one side of the door so that we could have one door shut and still access the gate with the other door. The gate swings open in either direction and the latch is secure enough so that our older daughter can not figure it out. Very good design. I can not tell you how happy we are with the gate. It is a very sturdy gate and an excellent price.