Straight Talk Samsung Galaxy S6 32GB Prepaid Smartphone, Blue (Bundle Promo Available)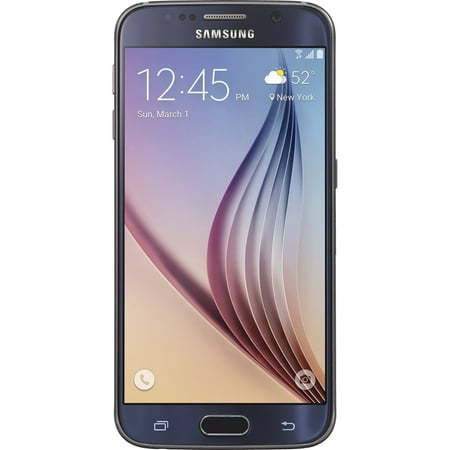 Sale :

$399

Sold & shipped by Walmart
Product Description

Additional Information

Reviews
Product Description
Samsung Galaxy S6 - black sapphire - 4G LTE - 32 GB - CDMA / GSM - smartphone
Additional Information
Free Bluetooth with purchase of this device. While Supplies Last!

4G LTE
5.1" Quad HD Super AMOLED Display
2.1 GHz Dual Core Dual Processor
16 MP Camera/5
MP Front Facing Camera/Video Recorder
Android, Lollipop
Wi-Fi Capable
Bluetooth 4.1 Wireless Technology
Access to over 1,000,000 apps & more on Google Play
Battery Talk Time up to 23 hours1
Standby Time up to 12 days1
Internal Memory up to 32 GB (device only)2
MP3 Player
Proximity Sensor
A-GPS/GPS Capabilities
Hearing Aid Compatible (HAC) Rating: M4/T3
Reviews
Jackie
Disappointed, formerly loyal customer.
I am so disgusted with this phone! I have been a loyal straight talk customer for years, but I am looking elsewhere. I bought a Samsung S6 in February, of 2017, and it was stuck in a boot mode loop, could not be fixed. They sent me a "new" phone and less than a year later it just stops working. There has been no damage, I am careful with my phones, keep them protected with good cases. It has been randomly shutting down recently, rather than going into sleep mode. It has been kept fully charged, and was at at least 60% last night. This morning it shut down completely and would not power on, or even show it was taking a charge, wired, or on my wireless charger. This is disgusting to me. I can't afford to just go buy another phone, and I am waiting on an important job call! I've always had good luck with Samsung, but I'm considering other possibilities, for a phone,, and for service, as it was a phone I bought directly from WalMart, and made for Straight Talk. I now have 2 completely worthless Samsung s6 phones.
al8402
can not update phone to latest version
The phone is nice and reliable but the phone can not update to the latest software because tracphone/straight talk are very behind on the updates. They are atleast 2 years behind on software updates. I recently got anew update but it was just 5.0.2. The newest update is 7 something. I called and I get transfered around and in the end they can't do anything about it. Also straight talk customers service is pretty bad if they can not answer your questions they will hang up on you. This has happened to me several times and they don't even acknowledge that they hung up. I believe they do it to reset some time they are allowed to attend each customer. The service of the phone it's self is very good because its a cdma phone so it uses Verizon towers. If you don't have a problem having a 2 year old software then this is a good phone, just be advised you will not receive the lastest emojis and other features.
Tina
Touch screen frozen.
I bought this phone last 2-16-17 at walmart.It was working fine until today.The touch screen freezes up, i never drop it.I look online on how to fix it like rebooting them.I did it many times and nothing happens.and this phone its not easy to open on the back it needs a technician to do it so I had somebody a phone technician in town looking at it.He tried to do factory reset but it never fixed the problem in fact it erases all my files.thatmakes me sad.He said he will do software and then hardware fix if it wont help the problem he will replace the touch screen of the phone and it cost 150 dollars and it will not fix the problem still the phone is a junk! Im so disappointed with this kind of phone from straight talk.its my second samsung s6.the first one I order it online its a piece of junk I have to return after 3 days.this one i bought it at walmart,hopes it works longer for goodness sake not even 6 months it quits working! Seriously, people at straight talk what kind of phone you are selling? Ive been with straight talk for 6 years , your service is good but the phone you are selling is a piece of junk! Never ever recommend it to a friend..
jasmar60
Phone SUCKS and so does STRAIGHT TALK
Bought this phone and it would freeze up, did this a lot. Had it almost a year and it froze up I turned it off and tried to turn it back on as I usually do and nothing happened, I called Straight Talk they told me how to do a factory reset but it didn't work so I had to send it back to Straight Talk they said when they got mine they would send out another one well they got mine on Oct 4th didn't get my replacement phone until Oct 16th and it was refurbished with the charging port damaged so had to send it back again. Over a month without a phone and also Straight Talk wouldn't refund the money I spent for a card that month
Shoremale
Unexpected
When I received my Galaxy S6 I was a little confused with the phone. I did not understand the applications it took to transfer my data from my Galaxy S3. I had to read more of the manual and thing I learned. At that point I found how simple it was. Let me tell you it was a good idea for me to jump up past the other models. I'm not saying anything bad about the other models. I wanted a S5. The opportunity to to purchase a S5 did not happen so I upgraded to the S6. Boy am I happy. This phone exceeded my expectations and gets easier and easier to operate. So with all that being said, I would recommend the Galaxy S6 as a great android phone...