Straight Talk Samsung Galaxy J3 Sky 16GB Prepaid Smartphone, Black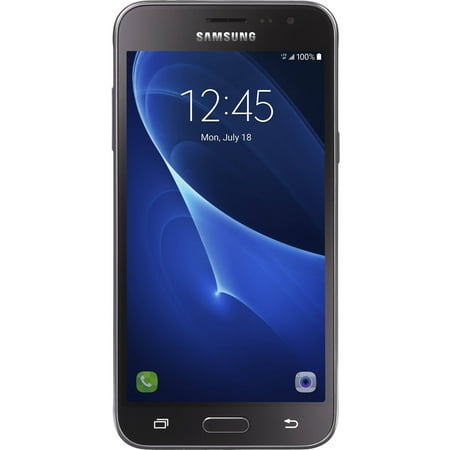 MSRP :

$139.99





Sale :

$99.99

Sold & shipped by Walmart
Product Description

Additional Information

Reviews
Product Description
Stay connected with the Straight Talk Samsung Galaxy J3 Sky 4GLTE Prepaid Smartphone. Capture memories with the 5MP camera/2MP front-facing camera/video recorder and bring them to life on the five-inch Super AMOLED screen display. This prepaid smartphone's wide dimension ensures it fits well in your palms for better handling. Running Marshmallow, the Android smartphone features a 1.2GHz quad-core processor, leading to better performance and quicker in-device communication. The Bluetooth v4.1 ensures your device is compatible with a broad range of devices while providing faster data transfer. With a powerful battery, the Straight Talk S320VL Samsung Galaxy Sky 4G LTE Prepaid Smartphone ensures long talk hours and standby time. The WiFi and GPS Capabilities of the device allow you to explore the world around you and when you're looking for new fun, you can easily find find something out of the 1,000,000+ apps available on Google Play.
Additional Information
Straight Talk Samsung Galaxy J3 Sky 4GLTE Prepaid Smartphone:
4G LTE
Android 6.0 (Marshmallow) OS
5.0" Super AMOLED screen
Battery Talk Time: up to 25 hours
Standby Time: up to 13 days
WiFi capable
Internal memory up to 16GB (device only)
Dimensions: 5.6" x 2.7" x 0.3"
Get apps, games, music and more on Google Play
Supports microSD memory Card up to 128GB (not included)
5MP camera/2MP front-facing camera
MP3 player
A-GPS/GPS capabilities
1.2GHz quad-core processor
Bluetooth 4.1 wireless technology
Hearing Aid Compatible (HAC) Rating: M3/T4
Reviews
Footzeez
Great call quality / reception
I bought this phone to replace a Huawei, which everyone said sounded muffled or crackling no matter how many bars I had. This phone has been great! There is only one small area in my home where the reception isn't too good. This phone is a little heavier than my old one, but it's not that big of a deal. The screen is a good size, especially for the price. I've had the phone about 3 weeks, and I am still learning some of the specifics of navigating it. Takes good, but not great pictures. Was able to find an inexpensive case and screen protector on amazon. All in all, I am very happy with this phone. I wanted a good phone with a large screen, but didn't want to spend too much, and that is what I got. I love that it has different font and font size options. It's no Galaxy 8, but it's a nice substitute for someone on a much tighter budget.
Melissa
HIGHLY disappointed
This phone seemed nice so I researched it since around November and bought it last night. I wanted a phone with Marshmallow 6.0. I got this because this is one of the few options with that operating system that also has capacitive navigation buttons ( navigation button on the phone its self rather than appearing on the screen). I found out after buying the phone that it does not have a blinking led notification light, the front camera sucks (the photo size is only 4:3), and there just seems to be a lot of features that are gone, like a music (media) player. They have it where you can use google play music but there is no system media player. The bad review is mostly biased in things I want but I was disappointed in how much it was lacking. It does have a beautiful interface and the screen quality is amazing but I'm not happy with the over all product. I kept trying to like it but I kept going back to my old phone (LG L41C, also know as LG Ultimate 2). I will be returning this today.
Five0
Excellent call quality!
Ive been with Straight Talk a long time and have used prepaid since 1999 so I have experienced an evolution! The Galaxy line is my favorite and the Sky is the best value for $100. And without question LTE combined with voice-assist is the best call quality I have ever had with Straight Talk. Every feature on Sky works well. I love using Bluetooth for calls and music. Sky has 1.5 gb of RAM and 16 gb of storage, accepts up to 128 gb cards. The amoled 5" screen is bright and beautiful and noticeably better than the screen on the LG L41C. The 2600 mAh battery life is good too and recharges quickly. Extra batteries and cases are abundant. The camera is so-so but for $100 I do not feel I can complain. The most annoying con is there is no LED indicator for notifications so I either put the phone away or check it every two minutes lol!!! Actually I do not mind it as I am use to it now! This phone works great everywhere I go! I am very happy with Sky.
MommyofThreeHoodlums
Don't waste your money!
I typically love Samsung phones. This phone has been a disappointment, however. First, let me say that my daughter and husband all have the same phone, purchased around the same time. I began to notice that the keyboard won't always pop up when it is needed for typing. I thought maybe it needed a system update or such. That has not been the issue though. I will have to close out of the app i am in completely and sometimes even need to restart the phone to get the keyboard to work. On top of that, it will freeze up or take forever to open an app. (I don't have that much on my phone to cause it to have an overloaded system. ) Mine has been doing this for about a month now (phones were purchased in November). Today, my husband stated his phone is "[email protected]" He told me the issues he was having and they are the exact same ones I am having. Our daughter has not had any issues yet, but we are placing our money on it, just waiting for it to happen. I was very excited to leave my iPhone behind and start anew with the Android system and the Samsung, but it was a complete waste of money.
Dale
A "no service" area will KILL this phone
In December 2017, I went to an area with no service. The phone gave me a message that the SIM card was invalid. I couldn't make or receive calls or texts. Straight Talk sent me a new SIM card which worked until February 2018, when I went through an area with no service. the phone's message: Invalid SIM card. Straight Talk said it must be a bad phone, so I sent them the faulty phone and they replaced it with a new phone. The new phone worked fine until March 2018 when I went through an area with no service, at which time the phone gave me a familiar message: Invalid SIM card. I cannot use this phone and Straight Talk cannot resolve the problem.