TracFone Samsung Galaxy J3 Sky 4GB Prepaid Smartphone, Black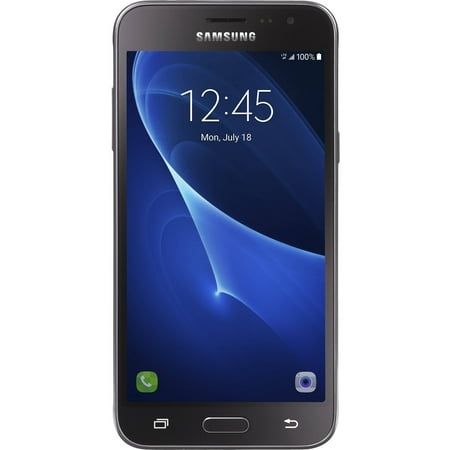 MSRP :

$139.99





Sale :

$119.99

Sold & shipped by Walmart
Product Description

Additional Information

Reviews
Product Description
Stay connected with the Tracfone S320VL Samsung Galaxy Sky 4G LTE Prepaid Smartphone. Capture memories with the 5MP camera/2MP front-facing camera/video recorder and bring them to life on the five-inch Super AMOLED screen display. This prepaid smartphone's wide dimension ensures it fits well in your palms for better handling. Running Marshmallow, the Android smartphone features a 1.2GHz quad-core processor, leading to better performance and quicker in-device communication. The Bluetooth v4.1 ensures your device is compatible with a broad range of devices while providing faster data transfer. With a powerful battery, the Tracfone S320VL Samsung Galaxy Sky 4G LTE Prepaid Smartphone ensures long talk hours and standby time. The WiFi and GPS Capabilities of the device allow you to explore the world around you and when you're looking for new fun, you can easily find find something out of the 1,000,000 plus apps available on Google Play.
Additional Information
Tracfone Samsung Galaxy J3 Sky 4G LTE Prepaid Smartphone:
Free Bluetooth with purchase of this device. While Supplies Last!

5.0" Super AMOLED screen
5MP Camera/2MP Front Facing Camera
4G LTE
Android 6.0 (Marshmallow)
WiFi capable
Internal memory up to 16GB (device only)
Get apps, games, music and more on Google Play
Supports microSD memory card up to 128GB (not included)
MP3 player
A-GPS/GPS Capabilities
1.2GHz quad-core processor
Bluetooth 4.1 wireless technology
Hearing Aid Compatible (HAC) Rating: M3/T4
Dimensions: 5.6"H x 2.7"W x 0.3"D
Talk Time: Up to 25 h
Standby Time: Up to 13 days
Reviews
Duckie
UPC : 616960169789 - TracFone Samsung Galaxy J3 Sky 4GB Prepaid Smartphone, Black - PickPanda.com
Beautiful picture, works great except it won't stay awake without an app! My husband got the exact same one and does not have the same problem! Otherwise happy.
LC77
Delightful
I literally couldn't be happier with this thing. It's my first real smartphone, so I may be biased, but I really do enjoy using it. Cons: 1. The apps that come with it are best being replaced for the most part. For example, I bought it for the camera and the factory app made such good hardware fall so flat! I installed Open Camera and the pictures are great now. 2. The display is a little too saturated in color sometimes, but it is a great screen. Pros: 1. The entire physical design. J3 Luna Pro cases do fit this one, so you can buy a nice case for it. 2. Both cameras (if you use the right apps for he hardware). They're only 5 and 2 mp, but they produce really nice photos in all sorts of lighting. 3. Reception, connection to wifi/data, mic input and speaker output = all good quality. 4. I've only been using it for 2 days but I've really enjoyed it.
TomZoop
Loved it, until...
As with most phones, there's too much bloatware. However, shortly after activation, I was alerted to a pending update. Didn't want to install it, but I did. And shouldn't have. Now I have multiple social media apps that I don't use and can't uninstall taking up space. Not happy about that at all.
Deez
Great buy.
Originally bought a basic trac fone for my daughter to keep in her backpack to be able to contact if needed during the day. Decided to upgrade to something better with games and pictures and this does it all at a very good price. This is just about as good as my 700 dollar galaxy and the phone bill is a fraction of the price with tracfone. Considering changing over myself. You can find all the cases and screen protectors you want and at this price it is a very good value.
CAMPJEEP
A tracfone customer since 1998
Samsung Galaxy Sky first thoughts, A Pay-as-you-go service to consumers who don't want contracts or don't need unlimited service. This is a very nice tracfone coming from the LG Ultimate 2 L41C which I used for two years. The Sky seems for myself to be the first phone I have really like a lot better than the LG 41C but for those who like the multi colored notification light on the home button will be disappointed here.but saying that (you can still use the home button to bring up the home screen).The on off button to end calls. Storage:( 16GB built-in memory ) + ( MicroSD/SDHC memory card slot supports up to 128GB) No micro SD Card is included. Around 9 to 11GB after google and Samsung takes theirs for their junk that you cant change to your SD card... Delivers 720 x 1280 high-definition resolution 1.2GHz quad-core processor Rechargeable Lithium-ion 2,600mAh battery The phone uses the **( VERIZON )** NETWORK ONLY. 4G Network Speed. Bluetooth 4.1 The Sky has a very nice 5 inch screen AMOLED, which stands for Active Matrix OLED, is a hybrid display technology that pairs the active matrix backplane from a traditional TFT display with an OLED display. AMOLED's improved brightness is impressive considering LCD's natural advantage. There are actually banks of LEDs AMOLED used in the Samsung Galaxy uperendphones. Screen delivers 720 x 1280 high-definition resolution You have to adjust up the brightness as you head outdoors, then manually dial it down once indoors again. Colors have a POP to them, if you think they are oversaturated the sky includes the same set of screen customisation modes seen in top-end Galaxy models. Or bring your brightness down a little and save the battery also. To get your the custom screen modes = Tap settings= Tap Display= Tap Screen Mode. I use (Basic)for a natural color tone. No auto brightness adjustment in bright, direct sunlight if you need more brightness you have to use the pull down screen and there is a little box that says (Outdoors) and Tap that. Tip--> Have your kids buy you time cards, google play cards and data cards for fathers day, mothers day, birthdays and Christmas. TEENS---> you could use this same reasoning with Mom,Dad,Grandpa,Grandma,Aunts and Uncles I would think. Mom,Dad,this would be a great phone for your teen Thanks for taking the time to read my review... Campjeep