Straight Talk Samsung Galaxy S7 32GB Prepaid Smartphone, Black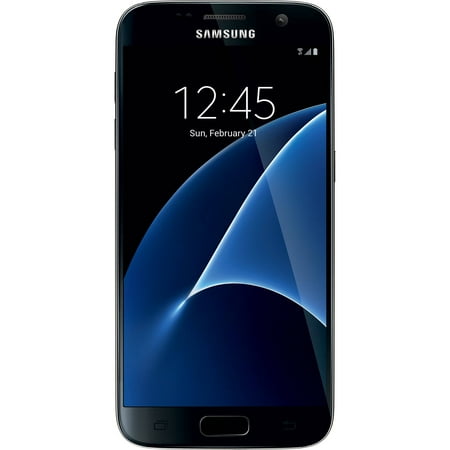 MSRP :

$499





Sale :

$329.99

Sold & shipped by Walmart
Product Description

Additional Information

Reviews
Product Description
Get a New Phone with No Contract You can buy a new phone with monthly prepaid phone service at Walmart thanks to Straight Talk. Skip the lines at the phone carriers store and pick yours up at Walmart with no confusing contract. With Straight Talk, you can just add your unlimited plan to your shopping list and start enjoying your cell phone service today! The New Samsung Galaxy S7 LTE Now Available at Walmart More than a trillion images and videos will be snapped, edited, and shared this year. That's why Samsung has completely rethought the camera experience for the Galaxy S7 to reflect how we communicate today. The new Dual Aperture camera adapts like the human eye to capture amazing images from bright daylight to super low light. The Galaxy S7 can capture super slow-motion video at 240 frames per second. You can record video, take still photos, edit, add music, and share anywhere as a unified smart camera experience. Unlock your phone faster than ever using a fingerprint scanner or front camera! Unlimited Data, Talk, and Text Plans from Straight Talk You don't need an expensive contract to get great cell phone service. Prepaid phones from Straight Talk give you access to the same nationwide networks as larger carriers! With plans starting as low as $35 per month, you can choose the right amount of high speed data for you. No matter how much data you need there's a Straight Talk plan for you. Click here to take a look at our Ultimate Unlimited plan, or shop for our entire line on Walmart.com. Simplify your smart phone experience and get everything for less with Straight Talk. For more information on any of our prepaid phone plans, text* HELP to 611611. The Samsung S7 LTE is available at participating Walmart stores, and online at Walmart.com. Get your Samsung prepaid phone today. Don't forget to add a protection plan to cover your new Samsung S7 from drops, spills, and cracked screens. You can sign up right here at Walmart.com! Legal *By texting keywords to 611611 you are consenting to receive response messages
Additional Information
5.0" Quad HD+ Super AMOLED (2560x1440)12, 577 ppiDual aperture camera lens allows for brilliant photos, day or night240 fps super slow-motion video10nm 64-bit Octa-Core Processor *2.3GHz + 1.6GHzVDIS (Video Digital Image Stabilization) and Bixby Live Translation
Reviews
DONOTSWITCHTOSTRAIGHTTALK
Straight Talk Customer Service
My phone has not worked since 8/12/2017. I've been on the phone with customer service numerous times. I received a new SIM card and it did not fix the problem. I was told I would be sent a new phone 16 days ago. I called yesterday and gave the confirmation number I received and they could not find the "ticket." I demanded a refund of my payments for August, September and October automatic payments and they refused. They said no new phone will be sent until I return the old one. No Way with the horrible customer service I've experienced with them. DO NOT SWITCH TO STRAIGHT TALK. It was great until I had a problem. Their customer service is absolutely the worst. I cannot keep records for them. Ticket numbers mean nothing to them. I trusted them to fix the problem and they cannot and will not make it right. Everything is great until you have a problem. If your phone breaks through it out the window. At least you will save yourself the aggravation and frustration of dealing with their customer service.
GnNC
Don't buy this phone
I'll start with the positive things. It really has a nice screen. And it charges fast. But the negative things are way to much. It's not worth $100. The battery is terrible. Never lasts a day. It has connectivity issues. If you want to check in on Facebook when you are out. You have to get off LTE and use wifi wherever you are. Never had a phone have to do that. Even my ancient Galaxy S3. I've tried to check out on the Walmart app twice this week. It wouldn't go to the cart. Unless I turned off the wifi. I've never had to do that before and I've also had an S5. Same thing happened on Amazon. I wish I would have stuck with my Galaxy S5 at least it was reliable. I ordered the Moto e5. I hope It's an improvement. Regardless I'm done with this phone. If I have to I'll just use my S5. I wouldn't recommend this to anyone.
AlwayzOnTheGoMom
So Far So Good- Except for the batter life
I bought this phone a week ago. So far I love it. The last 3 phones I've purchased has been Samsung Galaxys. I had the Galaxy4 and the charging port of course broke so I needed a new phone and decided to spend the money to get the new Galaxy7. I have to say so far its about the same as the 4, obviously there are some new features, but I have realized that all the Galaxys seem to have about the same layout. The camera seems to be better than the 4 & the 3. The only problem I have so far is the battery. It says the life of it is suppose to last up to 28 hours, well mine hasn't come close yet. The first couple days I thought it was just b/c I was getting everything switched over to this phone and was downloading everything again, but after a week the battery is still the same. It will last most of the day, but then I have to get it on the charger. I try and only leave it on the charger until the battery is charged so that it isn't on there all night. I guess if your going to be on the phone a lot to make sure you carry a charger with you.
ReneeG
Best Straight Talk Phone I've Owned!
I've had my phone (Galaxy S7, Verizon Towers) for about a year now & this is the most expensive phone I've ever bought for Straight Talk & honestly....I do not regret it. My advice to anyone buying this phone purchase the tempered glass screen cover & the commuter otterbox. I'm on my 3rd tempered glass screen & not a scratch on the phone screen. I've dropped it many times, even shoved it into a cart return forgetting it was in the child seat. It hasnt gave me any problems.... for Straight Talk Users...thats a breath of fresh air after dealing with junk phones over the years. I see some people complaining because there wasn't certain apps already in the phone....go to the Google store & download them ya waawaa babies. Who cares if the newer models already have them installed, No excuse to give the best phone a horrible rating because your lazy.
Tina
Awesome phone
I have had this phone since August and I absolutely love it. Let me say this to everybody who has never purchased a straight talk phone the s7 I have runs off Verizon towers. Straight talk doesn't have their own towers so their phones run off of Verizon or AT&T towers. So when you go to Walmart what you want to look for is the map on the box the phones in or the card you take to the employee if it's a red map it's Verizon blue map is At&t. This phone is so great it takes awesome pics and plenty of apps to download I get a full day of battery life from when I wake up till I go to bed and when I go to bed I still have between 25 and 30% sometimes 35% I couldn't be happier with this phone and service. Straight talk is definitely the cheapest and they give you way more for your buck. $45 card is unlimited calling unlimited texting and 5gb high speed data. $55 card is unlimited calling unlimited texting and 10gb of highspeed data. Keep in mind that yes straight talk is unlimited everything but it gives you 5gb or 10gb of highspeed data depending on the plan you choose. Once you run out of your high speed data it will slow down to 2g speeds so keep that in mind if you use the internet on your phone a lot you will want to go with the $55 card