Straight Talk LG Treasure 8GB Prepaid Smartphone, Black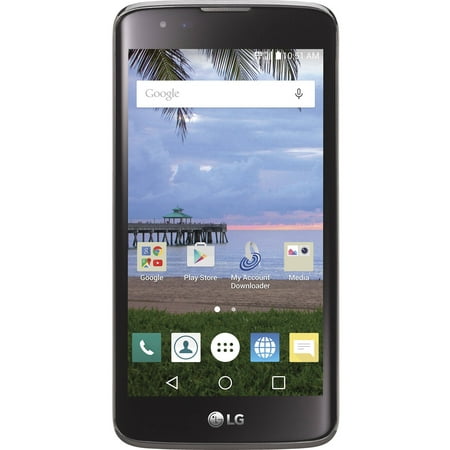 MSRP :

$49





Sale :

$39.99

Sold & shipped by Walmart
Product Description

Additional Information

Reviews
Product Description
Stay connected with the Straight Talk LG Treasure L52C 4G LTE Android Prepaid Smartphone. Capture memories with the 5MP camera/5MP front-facing camera/video recorder and bring them to life on the 5-inch touchscreen display. This prepaid smartphone's wide dimension ensures it fits well in your palms for better handling. Running Lollipop, the Android smartphone features a 1.1GHz quad-core processor, leading to better performance and quicker in-device communication. The Bluetooth v4.1 ensures your device is compatible with a broad range of devices while providing faster data transfer. With a powerful battery, the Straight Talk LG Treasure Premier L52C Smartphone ensures long talk hours and standby time. The proximity sensor reduces accidental touches, making the phone easier to use. When you're looking for new fun, you'll find something out of the 1,000,000+ apps available on Google Play.
Additional Information
Straight Talk LG Treasure 4G LTE CDMA Prepaid Smartphone:
4G LTE
Android 5.1 (Lollipop)
5" touchscreen display
Battery talk time up to 9 hours
Standby time up to 11 days
WiFi capable
Internal memory 8GB (device only)
Access to over 1,000,000 apps and more on Google Play
Supports microSD memory card up to 32GB (not included)
5MP camera/5MP front-facing camera/video recorder
A-GPS/GPS capabilities
1.1GHz quad-core processor
Proximity sensor
Bluetooth 4.1 wireless technology
Hearing Aid Compatible (HAC) Rating: M3/T3
Reviews
Babygirl
Great phone
Great phone for the price me and my husband paid in April. $59.99. But now the Lg Premiere is $49 and was $129 then. And the two phones are exact except PREMIERE = a 5.3" HD touchscreen and 8 megapixel rear camera w/selective auto-focus. To where the TREASURE= a 5.0 reg touchscreen no HD at all, 5 megapixel. Rear camera with / sub-par optical sensor instead of the auto-focus on thenew premiere. THEY BOTH are a 5.1 Lollipop android OS, both are only 8GB internal memory /with half system apps that cant be moved to SD card and both automatically turn wifi on regardless. So as long as you are upto date on technology. And put a 32 GB SD card at time of activation the PREMIERE will be the best for its price of $49 right now. And you can purchase a 2-yr replacement pkan for an extra $5, that covers it if its broke, list , stolen, etc... And if it tears up internally walmart has their return policy for 15-30 days also.
princessjessicasue
Great Phone....A Real Treasure
I just bought this phone and have only had it for a day now, but I wanted to leave a review since there aren't any yet. Walmart didn't have a display model out, so I couldn't really look at it like I wanted to while it was just in the box. I went online to check the reviews and there weren't any yet, so I kinda took a gamble by buying it, but I'm glad I did. For a pretty reasonable price, this phone has a nice size screen and what seems to be a great camera so far. I haven't downloaded many apps, just a few for my kids, but they seemed to download very quickly. I would say the biggest thing that was different about this phone is that the volume and the power key are not on the sides of the phone like all of the others I've had. They are on the back, right below the camera lens. That seemed really awkward at first, but now that I've been using it a while, it's actually really convenient since I usually have my finger in that spot when I'm holding my phone anyway. All in all, I'd say its a pretty nice phone considering it being such a great price.
rockingraver09
So far I am impressed!
I wanted to leave a review even though I just purchased the phone this morning. I had accidentally broke my last Straight Talk Phone. With the refund through the Walmart Protection Plan, I decided to come on Walmart online and take a look..and noticed this phone. It was on sale, which was excellent for me. I went ahead and purchased it and picked it up at my local Walmart. So far, I am very impressed with it! The phone runs quick and well. I was able to get my apps put back on my phone and my phone number transferred to this one quickly. I love the tap feature to light the phone up so I don't have to keep pressing the button on the back. The phone is easy to handle in my hand and the screen size is perfect for me. I also love the fact that the battery can come out so in case I have any problems, I can take the battery out...and I can add a SD card for more memory. The ringer is loud and that is important to me. All in all, I highly recommend purchasing this phone and trying it out for yourself. I don't need a huge fancy phone for my needs..this one is great!
Dissatisfiedcustomer
Faulty SIMcards Buyers beware
My SIM card says it's invalid. My plan is paid for and this is a new phone. Took forever to talk to Straight talk's customer service and finally she made a ticket up for them to send a new SIM card. She could not tell me how long it would take for me to get it. Just kept saying 3-5 working days but couldn't clarify whether it would take them that long to get their act together and mail it to me or if I would have the SIM card in 3-5 days. Just kept saying it's possible. She said I will get an email when they get ready to send it. I haven't heard anything yet does it really take that long to put in the order to send a SIM card? Very dissatisfied and annoyed that I still am paying service for their faulty SIM card and they aren't in a hurry to send me one so I can use my phone.
Cyrus
It just works!
Nothing fancy about this phone, it just works. Speedy, display is just fine, feels comfortable to handle and has all the features (good camera etc.) a person would need. Best of all, with the Straight Talk service you can get off the big telco gouge merry-go-round. I recently took a 2-week cross country trip and it worked flawlessly (good signal) everywhere we went.