Straight Talk Samsung Galaxy S6 16GB Prepaid Smartphone, Blue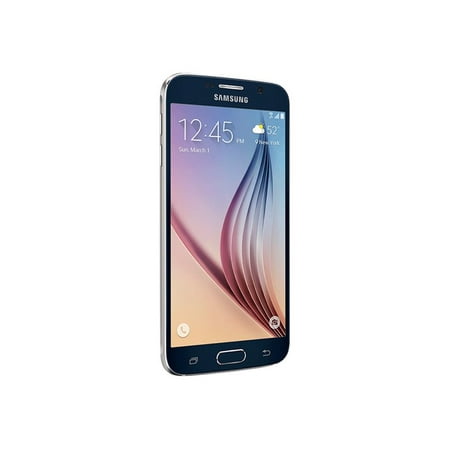 MSRP :

$301.65





Sale :

$299

Sold & shipped by Walmart
Product Description

Additional Information

Reviews
Product Description
This Straight Talk Samsung Galaxy S6 LTE S906C Prepaid Smartphone serves as a useful alternative for people who don't want to commit to a month-to-month cell service plan. With this prepaid phone, you can pay as you go, allowing you to track the amount of money you're spending easily. This prepaid smartphone comes fully loaded with a wide variety of applications, including WiFi, GPS and Bluetooth. With it, you can access over a million other apps on Google Play. It comes with a camera, which allows you to snap shots and share them with friends, plus a video recorder. The MP3 player allows you to listen to your favorite music on the go. This Samsung Galaxy smartphone comes with up to 23 hours of talk time.
Additional Information
Straight Talk Samsung Galaxy S6 LTE Smartphone:
4G LTE network
5.1" quad HD Super AMOLED display
2.1GHz dual-core processor
16-megapixel camera
5-megapixel front-facing camera/video recorder
Android 5.1 (Lollipop) OS
WiFi capable
Bluetooth v4.1 wireless technology
Access to over 1,000,000 apps and more on Google Play
MP3 player
Proximity sensor
A-GPS/GPS capabilities
Talk Time up to 23 h
Standby Time: up to 12 days
Easy to use Android smartphone
Reviews
CharleneD23inArkansas
Great Phone ! !
I am very pleased with my new (Samsung Galaxy s6) phone. I really didn't want to be out this much money, but I bit the bullet and just paid it. I read a few negative reviews about people saying they had a hard time activating and what a hassle it was. So that worried me a lil bit. Well I decided to give it a try and ordered online and had it shipped to my hometown store. When I picked it up I just took it back to electronics and had them do everything for me. I didn't have to do a thing. Not one thing and you couldn't ask for more than that. Coming from a Samsung 3 just let me say I LOVE my new phone. Sooo proud of my decision to give it a try. :)
xixi
it ok and up to date but......
It does not take an SD card so space is super limited, by the time it transferred my games more than half the space had been used. The back does not come off and my galaxy phones have had a tendency to freeze after a while so I am waiting to see how that goes. So far not a big fan of the new set up like how what use to be the option button is now how you close out the programs and ect. Also the fingerprint system is really weak you have to put your finger on there just right and even then sometimes it doesn't read it. Only had it for a week but I'm sure I'll get over it but defiantly not worth the $700 I paid for it.
My2seasons
Galaxy s6 is not to bad
I have had the galaxy s3 for 2 years and loved it so I was nervous about upgrading. I just received the s6 a few days ago and so far it's pretty good. I don't like the fact that the battery doesn't come off (reminds me of the iPhone) and the camera doesn't take the best pics. It makes your face look long. The iPhone takes better pics in my opinion. The features are basically like the s3 with a little extras. It is just a tad bit bigger than the s3. It does work good on Straight Talk. Hope this helps.
Rickynnc
Love this phone.
Someone wrote a review of this phone saying that it does not have a SD card slot, but it does. It is under the power button on the right side. You have to insert a needle like device to unlock it. I like this phone better than the S7.. Camera is excellent on this phone and it is a very attractive phone.
KAllen
Great Phone!
My Samsung Galaxy III was submerged in water so I decided to upgrade when purchasing a new phone. This phone is slightly larger and includes fingerprint I.D. which I really like. It has a lot of new features that you are sure to love.