Straight Talk Samsung Core Prime 4G LTE Prepaid Smartphone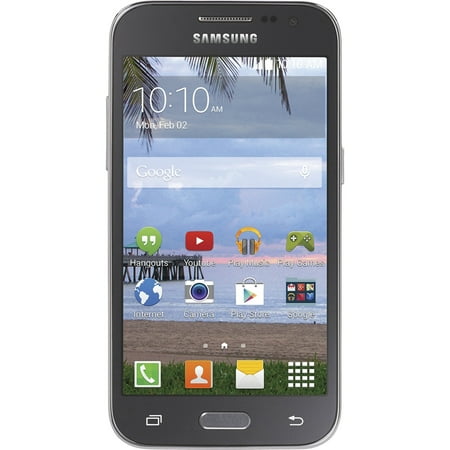 MSRP :

$79





Sale :

$49

Sold & shipped by Walmart
Product Description

Additional Information

Reviews
Product Description
Yes, the name sounds like it's straight out of a sci-fi movie. As it turns out, the phone itself might be, too. Featuring a simple and elegant design and a powerful 1.2 Ghz quadcore processor, the Galaxy Core Prime allows you to multitask quickly and efficiently, whether you're surfing the internet, navigating your way through town or browsing the Google Play store. With a brilliant 480x800 resolution touchscreen, front and rear camera and up to 12 hours of battery life, the Galaxy Core Prime is a modern-day prepaid smartphone that feels like it belongs in the next generation.
Additional Information

Straight Talk Samsung S820L Prepaid Galaxy Core Prime LTE Smartphone:
4G LTE network
Android 4.4 (KitKat) OS
1.2GHz quad-core processor
WiFi capable
4G LTE smartphone features Bluetooth v4.0 wireless technology
5-megapixel camera, 2- megapixel front-facing camera, video recorder
Access to over 1,000,000 apps and more on Google Play
Supports microSD memory card, up to 64GB (not included)
Internal memory: up to 8GB
MP3 player
Talk time: up to 22 hours
Standby time: up to 14 days
Straight Talk Samsung smartphone includes activation card, services guide, charger and quick user guide
Reviews
Jayjay
Poor choice
I have had this phone almost a year now at first i thought i was going to love the galaxy core prime i was wrong. It was ok for the first month or so until it started getting really hot and saying sims card not detected restart phone it did not do the phone no justices to restart it cause it did not fix it you did better takeing the battery out and sims card out. The phone got worse at the sims card not detected thing when i would get on youtube or i could not finshes any thing. It started doing the sims thing when i tryed to make phone calls. Not only that it started flashing when i tryed to push numbers to make a phone call. I understand its not walmarts fault the phone is like it is. By far worst phone i have ever had in my life. If i new what i new now i would have not bought it $99.00 its not worth the price.
Josh
Samsung galaxy core prime
I bought this phone on Wal-Mart web site and after I activated it and added a service plan of $45 it still will not activate.
MT64Ms
Great phone for an even greater price!
I absolutely LOVE this phone. I purchased one 3 years ago for $79. Now I bought the same phone again. (for $49!!!!) It takes great pics (even compared to expensive phones). I have traveled from MS to PA twice, it picked up GPS and info better and faster than my travel companion's very expensive phone. The reason I replaced it was because after 3 years it had started getting slower and the battery would not stay charged as long, guess you can expect that after 3 years, huh.... Before I got this one I decided to try a Premiere, it was too big to hold comfortably and the pics were not nearly as good even though it was supposedly an upgrade. I only used it 3 weeks and got my money back . This phone's features are better, hands down. the size is great. I also like the feature of getting a flashing light when I get a message ( pink for email, green for FB messenger & blue for text message. I would highly recommend this phone and I will use this for 3 years, Lord willing! I was SO excited when it was available again.
Irish
The worst phone i have ever bought.
My husband purchased this phone for me at $99 in January when I was in the hospital. It was "touchy" at first- being very sensitive and going to things I did not want o do. I thought it was me but as time has gone by it has put icons on the phone without me doing anything. That was bad enough but then it started hanging up in the middle of calls. Now it dials people all by itself when it's sitting on the table. It also changes the date and time settings to weird time zones and does not always ring when calls or messages come in. It also reassigns numbers to names that do not belong to the number. The latest problem is the earpiece - I can barely hear the other party with the volume set to max. It no longer holds a charge and I have all apps turned off. I rely on my cell phone as it is May and I am still in a hospital bed and cannot get up and walk very far. You may think I'm losing it but I would love to send this phone to Walmart and Samsung to drive them up a tree.
thisissempiternal
ugh
I just got this phone three months ago and I'm already having problems with it! At first it started out taking forever to send my messages. that, or I'd get duplicates of what people would send me and it would take forever to receive them. It also started behaving really slow and glitching out a little. Finally, when my service ran out two days ago, my phone was okay until yesterday and then it started saying 'searching for signal'. I added a phone card earlier ($45 plan) thinking the reason it said that was because my plan ran out and it would fix the issue, but it is still saying it!. this is ridiculous! I've only had this phone three months. Before anyone asks, yes I have dropped my phone a few times before, but in the past two weeks or so I haven't. I don't think that would be what is causing the issue right niw.... I'd like to please find out how to fix my problem. that, or get a new phone that I can transfer my number and service onto. thank you for your time