Straight Talk 1,500 Mins/Unlimited Text Monthly $30 (Email Delivery)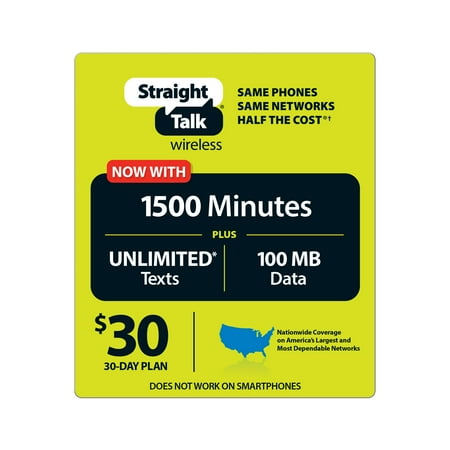 Sale :

$30

Sold & shipped by Walmart
Product Description

Additional Information

Reviews
Product Description
Get access to nationwide service on Straight Talk's reliable network with no activation, reactivation, cancellation, daily access or overage fees. This card includes a 30-day plan with 1,500 minutes, unlimited text or multimedia messages and 100MB of Mobile Web access.
Additional Information

Straight Talk 1,500 Mins/Unlimited Text Monthly $30 (Email Delivery):
Nationwide service on Straight Talk's reliable network
No activation, reactivation, cancellation, daily access or overage fees
30-day plan
1,500 minutes
Unlimited text or multimedia messages
100MB of Mobile Web access (on Mobile Web-enabled phones)
Calls to 411 at no additional charge
Not compatible with Androids, iPhones or smartphones
Straight Talk SIM cards are not compatible with this plan.
You will receive a confirmation email from Walmart.com within minutes of successful order placement.
A second email from [email protected] with access to your PIN will be delivered within 60 minutes*
If you have issues receiving your email, go to the following webpage to access your purchase: www.walmart.e-deliverygroup.com. Enter your email address used to order on Walmart.com, your billing ZIP code and your Walmart.com Order Number (your order number can be found on your confirmation email from Walmart.com or in your Account Order History on Walmart.com).
To view frequently asked questions about this product visit www.walmart.e-deliverygroup.com/faq.html
There are no returns or refunds on electronically fulfilled PIN numbers. Walmart.com is not responsible for stolen or misplaced PINs.
*Pins are usually delivered in minutes or, at most, within 48 hours depending on additional order validation required by Wal-Mart or your credit card company.
Reviews
Oversight
Not for Straight Talk smart phones
I purchased my son a ST smart phone for Easter b/c I cannot afford anymore contract phones in my household of 6. This was my trial run for a potential change to Straight Talk. However, can't use the $30 card for smart phones. Yes the card states that but it can be overlooked. We're a military family and taking a $30 hit matters. There should be an exchange compromise from ST for these situations. Very disappointed.
JadeBluLevi
I prefer the unlimited more
I use more than 1, 500 min.a month so I prefer the $45.00 plan.
kaufmanj1973
StraightTalk refuses to allow BYOP
Straight Talk supposedly has a bring-your-own-phone plan. I have an existing phone (from Tracfone, which is the EXACT SAME COMPANY as Straight Talk) that I wanted to activate with Straight Talk service. That's why I bought this item. I then tried to use the BYOP section of the StraightTalk website to activate the phone. No deal, wouldn't allow me to do so. It recognized the phone when I entered the phone's MEID/IMEI number, but refused to allow me to activate it on Straight Talk. The message I received was something like "Congratulations! You're already receiving great ..." whatever on Tracfone. Trust me, Tracfone is NOT a bargain when they make you pay per minute. Anyway, I contacted StraightTalk and went through their entire phone tree only to be told that, while they do have a BYOP program, any phones from Net 10 and Tracfone are specifically EXCLUDED from their program. No explanation why -- and there shouldn't be a valid reason why, since they are the SAME company. So, here I sit with this $30 piece of cardboard that I cannot use.
SenoritaC
Cannot DownGrade to this Plan !
Learned the hard way that the $45 plan I choose was more than I needed. Very rarely use the call side of the plan. Use 99% of the time for texts. SO I bought a $30 plan - found that I am NOT allowed to change the plan. ST added the $30 plan and I lost a week of service. To explain - $45.00 bought 30 days of full service. Tried to change the plan - they added the card and I got only 21 days of full service. I was told that I would have to purchase a totally new ST service and change the number in order to have a $30.. plan. Voice mail recordings are always static and are not always clear. Customer service is poor. I have called in a few times for help. When the rep is done with the task they have just hung up. This caused me to have to call back, hold through the queue and then ask for help again for the other questions I needed hello with. When you want to add a pre-paid card in reserve - you must call or chat in. I need a second phone for my crafting business - I defiantly will NOT be buying that service with Straight Talk.
SenoritaC
Striaght Talk Phone Services
When I started using Straight Talk for my phone service it was an excellent deal. But, today I would say it is average, mostly because many of the major providers offer the same service for the same price or in some cases less. The second thing I based this review on is service, can I make a call & can I receive my calls, and customer service. Making calls along the I-5 corridor is excellent but the further you move from the corridor the worse it gets, it is the same with receiving calls. Customer service is poor in my opinion, I had to by 2 sims because Straight Talk sent me the wrong one and even though the customer service agent said I would not have to pay for the correct sim and would receive a free month of service I ended up paying for the new sim card and never received any airtime to make up for what I lost while I was waiting for the correct sim to arrive. The reason I give 4 stars is because with the BYOD (Bring Your Own Device) I was able to use my Dell Venue Pro windows based phone OS 7.8 and despite the poor start I have received relatively good service since.