Straight Talk Broadband 4GB $40 (Email Delivery)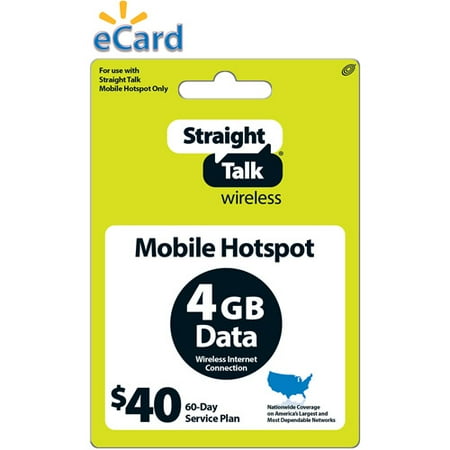 Sale :

$40

Sold & shipped by Walmart
Product Description

Additional Information

Reviews
Product Description
Additional Information
Straight Talk Mobile Hotspot (3G):Wireless Internet connectionNo software to installConnect your laptop or tablet and enjoy Internet connectionConnect up to 5 WiFi devicesUser-friendly web interfaceNo contractNo monthly fees or chargesFlexible data cardsYou will receive a confirmation email from Walmart.com within minutes of successful order placement. A second email from
[email protected]
with access to your PIN will be delivered within 60 minutes.*If you have issues receiving your email, go to the following webpage to access your purchase: www.walmart.e-deliverygroup.com. Enter your email address used to order on Walmart.com, your billing ZIP code and your Walmart.com Order Number (your order number can be found on your confirmation email from Walmart.com or in your Account Order History on Walmart.com).When your purchase is complete and you have received your PIN access email you will have the option to send your eCard as a GIFT after you login to www.walmart.e-deliverygroup.com. To view frequently asked questions about this product visit www.walmart.e-deliverygroup.com/faq.htmlThere are no returns or refunds on electronically fulfilled PIN numbers.Walmart.com is not responsible for stolen or misplaced PINs.*Pins are usually delivered in minutes or, at most, within 48 hours depending on additional order validation required by Wal-Mart or your Credit Card company.
Reviews
Tina
the best plan
We use straighttalk hotspot and this card for 2 years now, and are very happy. the price is $10 per GB, it lasts for two months, and covers all our mobile Internet needs. Hotspot internet speeds are great, the hotspot is very dependable. Of course, this is not the amount of Internet you need to watch movies, but to look up places while on the road, it's great. The hotspot covers 5 devices, too. 2 years ago we dumped Verizon after being customers for many years, separated cell service (pageplus) and mobile Internet (straighttalk) and saved nearly 10 times on our cell phone bill, paying only for what we need in cell service, separately, and mobile Internet, separately, without any surcharges or overages.
applevalley12
Just works
Bought the straight talk wifi hotspot and then purchased the card as we travel in an RV and stay at places for an extended time. Plugged in charged loaded card followed directions and on line in no time and where we are now get very good reception sometimes faster then our home internet. Glad I got it and am able to surf internet and do email without heading out to local starbucks, save money that way!!
notebrokerus
Good Value for my use
This is a good value for my use, which is searching the net for all types of information and email. It would not be very good for those who watch videos and the like. The data would be used very quickly.
countryboy
freedom
I live and work in a "fringe" area and this hotspot allows me to use my notepad. Make sure you know whose phone service is strongest: in my case its Verizon; buy the hotspot that uses their signal. The printed directions didn't agree with the directions in the booklet. Call the helpline and let them walk you through it. Don't waste time decoding their confusion. I wasted a couple of days.
Five0
Verizon
I have been very satisfied with coverage travelling around eastern Virginia and all across North Carolina. I use this with my RCA Viking Pro and my Acer Aspire with great reliability. Straight Talk is an affordable solution but I would like to have an affordable plan that gives 50GB for $100/mo then I could be free of my Internet provider completely.