Straight Talk Broadband 7GB $75 (Email Delivery)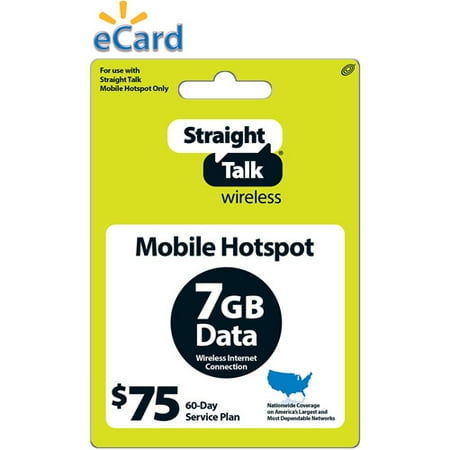 Sale :

$75

Sold & shipped by Walmart
Product Description

Additional Information

Reviews
Product Description
Additional Information
Straight Talk Mobile Hotspot (3G):
Wireless Internet connection
No software to install
Connect your laptop or tablet and enjoy Internet connection
Connect up to 5 WiFi devices
User-friendly web interface
No contract
No monthly fees or charges
Flexible data cards
You will receive a confirmation email from Walmart.com within minutes of successful order placement.
A second email from [email protected] with access to your PIN will be delivered within 60 minutes.*
If you have issues receiving your email, go to the following webpage to access your purchase: www.walmart.e-deliverygroup.com. Enter your email address used to order on Walmart.com, your billing ZIP code and your Walmart.com Order Number (your order number can be found on your confirmation email from Walmart.com or in your Account Order History on Walmart.com).
When your purchase is complete and you have received your PIN access email you will have the option to send your eCard as a GIFT after you login to www.walmart.e-deliverygroup.com.
To view frequently asked questions about this product visit www.walmart.e-deliverygroup.com/faq.html
There are no returns or refunds on electronically fulfilled PIN numbers.Walmart.com is not responsible for stolen or misplaced PINs.

*Pins are usually delivered in minutes or, at most, within 48 hours depending on additional order validation required by Wal-Mart or your Credit Card company.
Reviews
Tophawk36
Not the best value
Usually when you buy more data the price comes down per gig instead of going up. The other options allow you to buy data for 10 dollars a gig but this charges you more. You could by 3 of the 50 dollar cards and get 15 gigs of data for 150 or buy 2 of these and get 14 gigs of data for 150. This option really makes no sense to me. I would think they would make it cheaper per gig the more you buy instead more expensive.
Tophawk36
'STRAIGHT TALK' MI-FI devices are 'WINNERS'!
The Straight Talk Mobile Hotspot, and the associated plans, are, without question, the "BEST" options on the market to access the Internet via MI-FI devices. I previously had bought a Verizon Ellipsis JetPack mobile hotspot device and dealt with major problems with connectivity and data loss throughout the first 4 days which consumed several hours talking on the phone with customer service during several phone calls during that time not to mention that I had to go back to BestBuy 2 times after originally buying the device for the device to be exchanged and their Verizon representative try to resolve the matter. I will 'NEVER' buy another Verizon MI-FI product nor will I recommend Verizon to anyone I know. Walmart's 'STRAIGHT TALK' is a 'WINNER'!
Gina
Minimum use recommended
Minimum use recommended I witched three movies off vudu and was out of data so only get this service hotspot if your going to use very little
Pedaupusher
in a remote mountain area, could not get WiFi
Visiting my daughter last summer in VA, the area we were in we could not get internet. I was in my motor home and stopped and bought this at Walmart. It's not for constant use as that would be very expensive, but I had to stay in contact with certain people via computer. I used it on several computers and had no problems. I would download mail, did some surfing, and get off, then I would do my responses via email offline and when I went on again they were sent. I was there 3 weeks, got a $75. card and when I left I gave the whole thing to the Granddaughter as she was going to college and an internet connection was very handy. I had not used all the card and she had a part time job so it was worth it to her.
Cristy75
Data card for straight talk hotspot
I use a lot of Data on my computer every other week. This seems to work best for me and my pay from working rolls in.